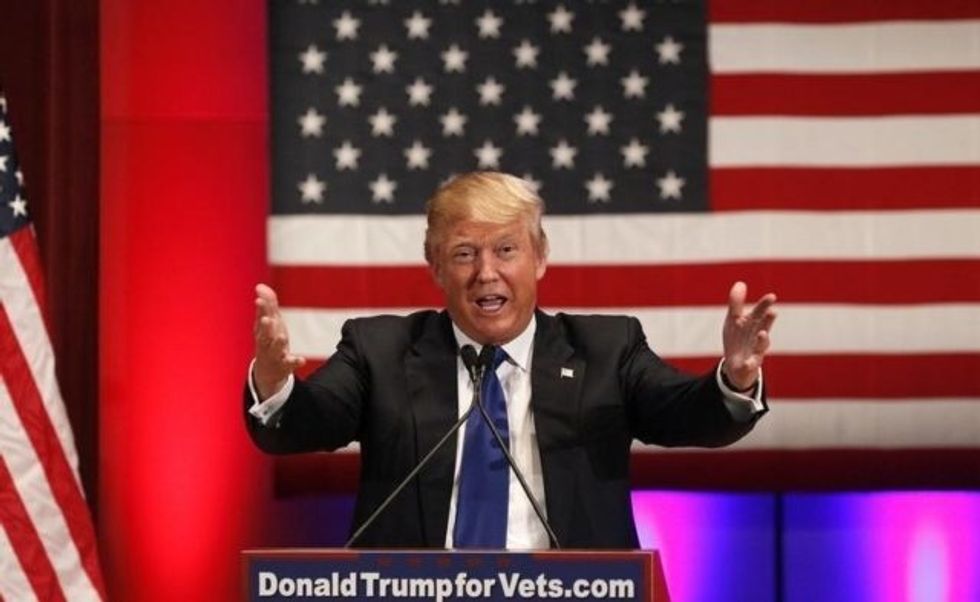 Reprinted with permission from Uexpress.
Sociopaths live as permanent imposters. They function largely by imitating the behavior of others. Amoral and utterly lacking in normal emotional bonds, such individuals know right from wrong; they just don't give a damn. Their world divides into user and used; morality consists of fear of getting caught. And whatever happens, somebody else is always to blame.
The formal term is "narcissistic personality disorder," defined by the Mayo Clinic as "a mental condition in which people have an inflated sense of their own importance, a deep need for excessive attention and admiration, troubled relationships, and a lack of empathy for others. But behind this mask of extreme confidence lies a fragile self-esteem that's vulnerable to the slightest criticism."
Sound like anybody in the news?
How such individuals often self-destruct is by venturing out past the boundaries of imitable behavior. My book "Widow's Web" describes the bizarre antics of an Arkansas woman who murdered her husband in his bed, concocting a series of wild alibis involving hit men out of Chicago that detectives never credited for a minute. But they also never found a murder weapon. Friends and family didn't know what to think.
That is, until four months after her husband's death, when the widow threw a champagne party celebrating her non-indictment and called in the press. See, just as the relentless skepticism of homicide cops was new to her, she'd no idea how to play the challenging role of victim's wife. Photos of her gleefully popping champagne with her new boyfriend on the front page of the statewide newspaper stunned relatives and friends who'd been previously unable to imagine her guilt.
Then they got scared, fearing they could be next. Indeed, Mary Lee Orsini was only getting started.
More from the Mayo Clinic: Sociopaths typically "have a sense of entitlement and require constant, excessive admiration." They "believe they are superior" and "belittle or look down on people they perceive as inferior." They characteristically "behave in an arrogant or haughty manner, coming across as conceited, boastful and pretentious," and "react with rage or contempt and try to belittle (critics) to make themselves appear superior."
Mostly that's because such individuals harbor "secret feelings of insecurity, shame, vulnerability and humiliation."
"Moral imbeciles" was the 19th-century term. Penitentiaries are full of them, as is any institution where conscienceless kissing up, kicking down and shameless prevarication pay off. Alas, there's no known treatment. Sociopaths are best understood as one of nature's bewildering little tricks, like ticks and water moccasins.
The classic study is Hervey Cleckley's 1941 book, "The Mask of Sanity." But it's when the mask slips that things can get strange.
My God, she had a champagne party and invited Channel 4?!
Who knew, for example, that millions of Americans would react with shame and horror to the policy of tearing brown-skinned urchins "invading" the United States from their mothers' arms? Not Donald J. Trump, for whom such children are equivalent to vermin "infesting" the country, like cockroaches, or rats.
My God, he kidnapped 2,500 children and held them hostage?!
Utterly lacking in normal human compassion, Trump had no way of anticipating how his barbarous policy would look to ordinary citizens. His clumsy efforts to lie his way out of the political trap his cruelty and incompetence created only made things worse.
Anyway, it looks as if a line may have been crossed. Never one for understatement, Esquire's political blogger Charles P. Pierce writes: "You can feel the difference in the air. The members of the governing party, uneasy about the prospects for this year's midterms anyway, are fairly trembling at the moment, seeing in their mind's eyes a hundred 30-second spots of weeping toddlers behind chain-link walls …
"The country's head is clearing. The country's vision is coming back into focus, and it can see for the first time the length and breadth of the damage it has done to itself. … The hallucinatory effect of a reality-show presidency is dispersing like a foul, smoky mist over a muddy battlefield."
George F. Will, The Washington Post's longtime Republican columnist, has had it, urging readers to support Democrats in November to protect the Constitution from Trump: "… to vote against his party's cowering congressional caucuses is to affirm the nation's honor while quarantining him."
GOP campaign consultant Steve Schmidt has formally renounced the Republican Party, no longer the party of Lincoln, but the party of Trump.
Conservative columnist Kathleen Parker laments that kidnapping children "should be appalling to anyone with a heartbeat, but guess what? It isn't."
She notes that while 58 percent of Republicans endorse Trump's actions, two-thirds of Americans do not.
You do the arithmetic. The overall GOP share of the electorate is noticeably diminished. Other polls show that upward of 75 percent of Americans actually favor immigration, correctly seeing it as essential to the nation, as it has been throughout our history.
Trump's mask is definitely slipping.