If You're Black, A Gun Won't Save You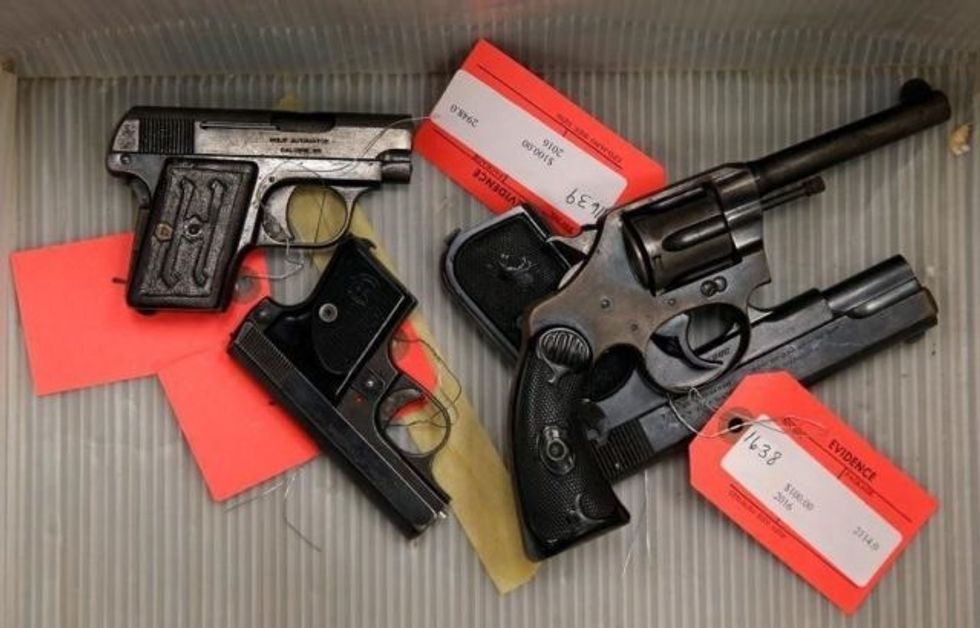 Reprinted with permission from Uexpress.
For decades now, the gun lobby has vigorously promoted the dangerous view that citizens of the United States have the right to openly carry firearms wherever they want — while shopping at the mall, while eating in a fancy restaurant, while dancing in a crowded nightclub, even while engaging in worship at a church or synagogue. Its members carry their irrational ardor for weapons even further: If there were more guns among us, we would be safer, they claim. It's the infamous "good guy with a gun" theory.
The gun lobby has touted this nonsense so loudly and for so long that even some black men have begun to believe it. The theory goes something like this: The "good guy" would pull out his gun, fire with precision through a crowded mall or restaurant or movie theater and kill the bad guy, much like a Hollywood action hero.
That claptrap doesn't hold water whether the hypothetical "good guy" is black, white or brown; studies show that even trained police officers miss their targets more than half the time. But this is an especially dangerous notion for a black civilian to believe. Here's the problem: He won't be perceived as the "good guy," the hero, the savior. He'll be seen as the criminal and shot dead, likely by police.
That unfortunate truth was presented again on Thanksgiving at a shopping mall in Hoover, Alabama, just outside Birmingham. A fight broke out in the Riverchase Galleria around 10 p.m. as the mall was crowded with shoppers. Shots were fired, and two people were struck. When Hoover police arrived, they saw 21-year-old Emantic "E.J." Bradford Jr., who was black, near the skirmish. One officer fired a shot that killed him.
The next morning, according to published reports, Hoover police identified Bradford as the suspect who had wounded two patrons in the mall shooting after a quarrel with other young men. But by Friday evening, that version of events had changed. He was involved in the altercation, they said, but he had not shot anyone. The shooter was then still at large, they said.
By Monday, Hoover officials were again blaming Bradford for his own death at the hands of police. "We can say with certainty Mr. Bradford brandished a gun during the seconds following the gunshots, which instantly heightened the sense of threat to approaching police officers," an official statement read.
Later Monday, though, the official version of events changed yet again. Bradford may not have been "brandishing" a gun — waving it in a threatening manner — but simply holding it. Some spectators have said he was trying to help shoppers get to safety; Benjamin Crump, his family's attorney, says he had a permit to carry a concealed weapon. (The Galleria forbids firearms, but Alabama law permits citizens to openly carry handguns, even without a permit.)
Two days after Bradford was shot dead, an Illinois family gathered to lay to rest a former security guard, 26-year-old Jemel Roberson, who was shot dead by police as he was trying his best to be the "good guy with a gun." Roberson, who was black, was employed as a security guard by a suburban Chicago nightclub, Manny's Blue Room Lounge, where gunfire broke out in the wee hours of Nov. 11. When police arrived, Roberson, who was armed, had pinned a suspect to the ground.
But Roberson was the one killed by police, who apparently believed he was a criminal. Roberson's family has said that he aspired to be a police officer.
The brilliant lawyer Bryan Stevenson, who has helped save many prisoners from the death penalty, says that these tragic shooting deaths continue because the nation has not "changed the narrative," that it perpetuates the centuries-old lie that all black men are dangerous. I agree. But it is difficult to "change the narrative" when the man in the Oval Office, President Donald J. Trump, revels in racist stereotypes, keeps company with white supremacists and turns up the megaphone to spout the rhetoric of racial resentment and division.
I keep waiting for the loud voices of the gun lobby to speak up, to protest the deaths of young black men like Bradford and Roberson, to remind police officers of these citizens' right to carry firearms. But they have been conspicuously silent. Black men, apparently, are not permitted to be "good guys with guns."