If You're Losing Faith In Humanity, Look To Baseball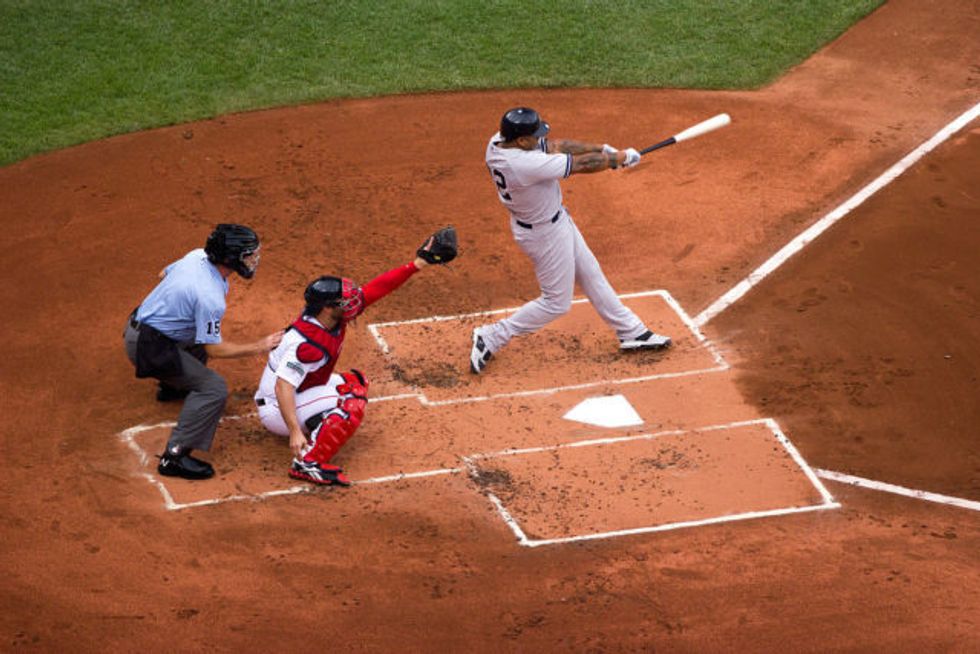 Reprinted with permission from Uexpress.
During a grim and sorrowful time in the United States, I've found my spirits lifted by the Boston Red Sox. Not simply because my team — I watched large parts of every game this season — won the World Series. They've done that before. Nor even because the 2018 Red Sox were simply the best baseball team I've ever seen during my lifetime as a passionate fan.
It was more because of the way the Red Sox did it, embracing a kind of fraternal spirit increasingly rare in today's USA — an athletic brotherhood transcending race, nationality, language and religion.
Watching the familiar ritual of the winners hugging, high-fiving and carrying little children around the Dodger stadium infield after winning Game 5 felt like a throwback to a better time.
In the wake of the atrocity in Pittsburgh, I felt exactly like The Washington Post's Alyssa Rosenberg: "For a few hours Sunday night … the final game of the World Series felt like America as it could be …. When our most basic rules are regularly trampled, even a tiny, temporary restoration of the moral order provides some warmth against the encroaching cold."
Of course, every MLB club's team picture these days looks like the United Nations: black and white, Dominican, Mexican and Venezuelan, and in Boston's case, Taiwanese and Aruban as well. But the Red Sox were also among the happiest teams I've ever seen. If there were any malcontents on the bench or in the bullpen — as there nearly always are among highly competitive professional athletes — they were impossible to identify.
Under the leadership of rookie manager Alex Cora, the Red Sox came to embody much of what's best about America: a passion for excellence, a personal and communal determination to succeed, and an unwillingness to be divided.
According to The Boston Globe's terrific baseball writer Alex Speier, the team's "remarkable cohesion" owes itself largely to Cora. Red Sox players unanimously praise his (bilingual) communication skills and his regard for them as individuals with lives off the baseball diamond. The new Red Sox manager didn't ask for a signing bonus before coming over from the Houston Astros; he asked for a planeload of hurricane relief supplies for his hometown of Caguas, Puerto Rico.
It's no exaggeration to say that the Red Sox and Houston Astros organizations provided more effective Hurricane Maria relief than the White House. Less bureaucracy, superior leadership.
After closer Craig Kimbrel's first child was born last February with a defective heart requiring several rounds of surgery, his teammates stayed in close touch after he left the team. As did his manager.
"He's been a friend, he's been a manager, and he's put my feelings and emotions in front of a lot of things," Kimbrel told Speier. "You talk about family, my family at home, we went through a lot, but I was able to cling to the family I had around me here all year long, the guys I spend most of my time with. Those guys were big for me all year."
Yes, the Red Sox have baseball's highest payroll. But paychecks don't win ballgames. From the start, Cora encouraged his players, individually and in groups, to believe in themselves and each other. Given Boston's notoriously surly and negative sporting press, this could be a hard job.
I live far from the city's infamous talk radio stations, but the Post's Dan Drezner reports that he "used to listen to WEEI at times just to laugh at the new and innovative ways some of the hosts would find to rag on this team." The team that won a franchise-record 108 regular-season games.
One Boston Globe sports columnist appeared to take sadistic pleasure in predicting disaster. After the Red Sox lost the marathon Game 3 in the 18th inning, it was clear to him that Cora had burned his bullpen and blown the World Series. In the locker room, Cora asked losing pitcher Nathan Eovaldi to stand, and the team gave him an ovation for his gritty performance.
He always had their backs, and the players had each other's. Local media mobbed left-handed pitcher David Price, a proud and aloof individual to begin with, like a flock of crows. Disappointing playoff performances had made him a target. It was alleged that he hated Boston and wanted to leave.
Then Price and his best friends went out and beat the Yankees, and the Dodgers, twice.
But his players give most of the credit to Cora, a leader with small-d democratic instincts and a strong will to compete, for turning the Boston Red Sox into a close-knit band of brothers.
OK, so Yankees outfielder Aaron Judge maybe gave him a boost, walking out of Fenway Park after hitting a home run to defeat the Red Sox in Game 1 of the AL divisional playoffs with a boom-box playing "New York, New York."
That was the Yankees' last win of 2018.
You can email Gene Lyons at eugenelyons2@yahoo.com.