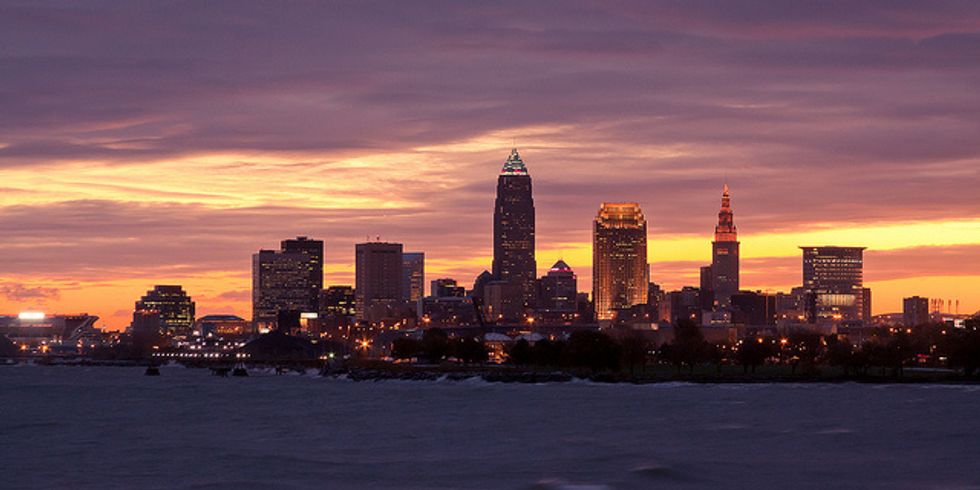 Last Sunday, 88-year-old Lois Mickey Nash sat in church as talk swirled around her about an upcoming march through the streets of Cleveland, and she made a decision.
"I'm going to march," she said to herself. Not her usual thing to do.
After church, she announced her plans to her 89-year-old sister, Catherine Mickey Johnson, and to her niece, too.
"I'm going to march," she told them. "I need to see everyone come together."
This was the day after a common pleas judge absolved Cleveland police Officer Michael Brelo, who is white, in the shooting deaths of two unarmed civilians who were black.
This was just two days before the city of Cleveland and the Department of Justice would announce an agreement on the conditions of a court-ordered consent decree to improve the relationship between police and the neighborhoods full of residents who do not trust them.
On Tuesday, Lois joined hundreds of prayerful, peaceful people of the Greater Cleveland Congregations coalition. Lois is black, and many of her fellow marchers didn't look a thing like her. On the outside, I mean. Only on the outside.
They came from churches, synagogues, and mosques, and some came just because they felt welcome. They gathered in a hotel in downtown Cleveland and nodded as organizers asked them not to carry political signs and to ignore whatever got yelled at them. Then they headed toward the Justice Center, where they rallied, and then on to the steps of City Hall, where they rallied again.
They prayed and listened to speeches and sang songs of the civil rights movement. Every so often, someone would shout "thank you, officer" to police who had closed the streets to traffic.
It was hot, and Lois slowed down some, but she did not stop. "I needed to see everyone come together," she told me a few hours later. "Just like one family, like we're all God's children. I looked around and thought, 'This is the way it's supposed to be.'"
The most revealing story about Lois Mickey Nash during our two-hour interview involves her, a hot rod and two white guys ready to race.
This happened in a suburb just east of Lois's home in Cleveland.
"Sometime in the '60s," she says. "Things were different back then," she quickly adds.
Lois was a courier for a dental supply company, and she drove to make deliveries all over northeast Ohio. On this particular day, she had just pulled up to the intersection of Cedar and Lee roads in Cleveland Heights.
"I was waiting at the light," she says. Minding her own business, she adds. "Then two white guys pulled up next to me."
I am listening to this story in the living room of Lois's niece Kathryn Johnson, who lives in her childhood home with her 89-year-old mother, Catherine, in Cleveland's Fairfax neighborhood. Mother and daughter sit in comfortable chairs and lean in as if this were the first time they've ever heard Aunt Lois's story. As I quickly learn, these three women have a habit of paying rapt attention to one another.
Wiry and feisty, Lois shows no signs of last year's concussion from falling at church, which laid her back for six months. She raises her right foot and starts pumping it in the air.
"They were revving their engine," she says, referring to those white guys. "You know, like this." She growls. Vroom, pump, vroom, pump.
"So I did this." She raises her right foot again and revs her own engine. The volume of the vroom suggests her engine was louder.
"What happened?" I ask. She shoots me a look I haven't seen since my mother died in 1999.
"I raced 'em. That's what."
"Who won?" I ask. That look again.
"You know I did."
After the race, the two guys motioned for her to stop. She pulled over, and then she gave them what they wanted.
"I raised the hood of the car and let 'em get a look," she says, beaming. "They were amazed. They kept pointing to the engine and saying, 'Where did you get that?'"
When I ask whether that could happen now, her smile evaporates, and she collapses into the back of the sofa. "No," she says, shaking her head. "I still like my hot rods, but I would never try to do that with white guys again. Too dangerous."
She shakes her head. "Like I said, that was a different time."
That's another reason she marched Tuesday. She remembers.
She remembers how she and her sister grew up with Italians and Hungarians and Jews. How they shopped at their stores and sat down at one another's dinner tables. How she could rev her engine at a stoplight and a couple of white guys never doubted her intentions.
"That could happen again, you know," Lois says as her sister and niece nod. "If we all pull together."
We're going to spend months here parsing the contents of this consent decree. We'll hash out what is and isn't happening in Cleveland fast enough, soon enough, big enough. It's exhausting to think about.
But for me, for just a moment, hope swept in on the heels of 88-year-old Lois Mickey Nash. If she can believe in change, then so will I.
Connie Schultz is a Pulitzer Prize-winning columnist and an essayist for Parade magazine. She is the author of two books, including …and His Lovely Wife, which chronicled the successful race of her husband, Sherrod Brown, for the U.S. Senate. To find out more about Connie Schultz (con.schultz@yahoo.com) and read her past columns, please visit the Creators Syndicate Web page at www.creators.com. 
Photo: Sunrise over Cleveland, Ohio (Chris Capell/Flickr)