Businesses Close As Immigrants Stay Home To Protest Trump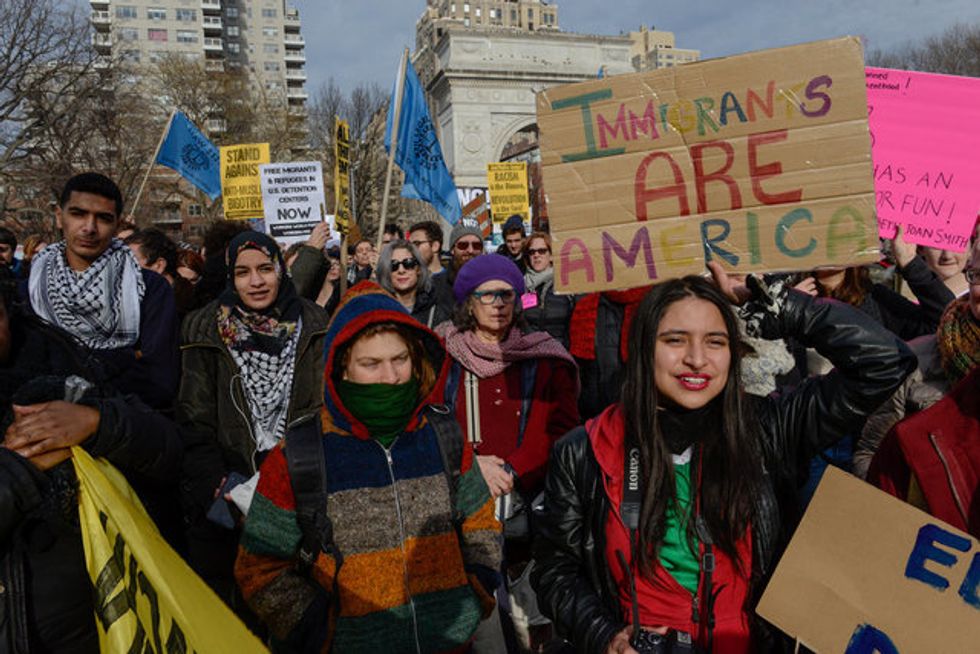 NEW YORK (Reuters) – Dozens of restaurants, bars, and other businesses in cities around the United States shut their doors on Thursday to show support for "A Day Without Immigrants," a walkout aimed at protesting President Donald Trump's policies.
Activists called on immigrants to stay home from work, avoid shopping and eating out, and skip classes in an effort to highlight the vital role they play in U.S. society.
The protest was prompted by Trump's vows to crack down on illegal immigration and his executive order, which was put on hold by federal courts, that temporarily banned travel to the United States from seven Muslim-majority countries. Immigrant rights' groups expressed alarm after federal raids last week in which more than 680 people illegally in the country were arrested.
Many Restaurants, which often depend heavily on immigrant staff, closed for the day in cities including Washington, D.C., New York, and Chicago.
Celebrity chefs such as Jose Andres in Washington and Rick Bayless in Chicago shuttered several restaurants in solidarity with protesters. A number of restaurateurs whose eateries were remaining open said they would donate part of the day's proceeds to pro-immigrant groups.
"People that never missed one day of work are telling you they don't want to work on Thursday," the Spanish-born Andres said in an interview at his restaurant Oyamel, which was closed on Thursday. "They want to say, 'Here we are,' by not showing up. The least I could do was to say, 'OK, we stand by you.'"
In New York, the owners of the popular Blue Ribbon restaurants said they would close several eateries despite the economic impact.
"It's really a show of support for our staff and as a team and a family as a whole," said co-owner Eric Bromberg.
The nature of the action made it difficult to ascertain how many immigrants were participating, although there were rallies scheduled later on Thursday in Chicago, Houston, and Raleigh, North Carolina.
The protest is the latest in a series of collective actions since Trump took office from women's groups, immigrant groups, and other activists.
(Reporting by Gina Cherelus in New York, Timothy McLaughlin in Chicago and Liza Feria and Ian Simpson in Washington; Writing by Joseph Ax; Editing by Scott Malone and Bill Trott)
IMAGE: People participate in a protest against U.S. President Donald Trump's immigration policy and the recent Immigration and Customs Enforcement (ICE) raids in New York City, U.S. February 11, 2017. REUTERS/Stephanie Keith