Immigration Reform May Not Have Killed Cantor, But It's Definitely Dead In The House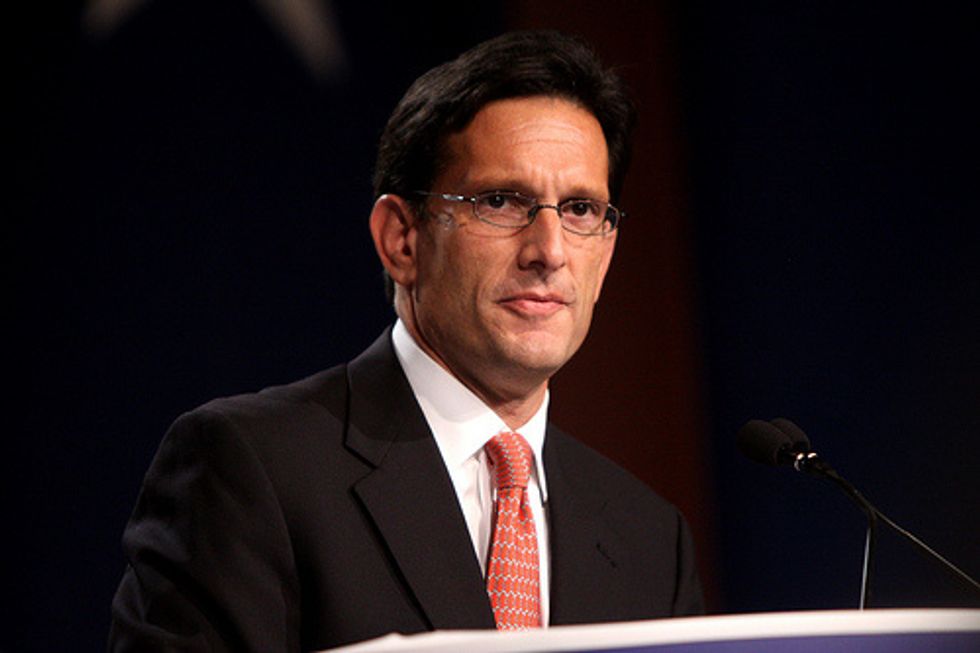 Eric Cantor's shocking loss to David Brat in Tuesday's Republican primary has been widely attributed to his occasional calls to reform America's broken immigration system. But while it's true that Brat hammered Cantor on the issue throughout the campaign, it's not clear that "amnesty" was the reason that the House Majority Leader is soon to be out of a job.
The available polling of Virginia's seventh congressional district does not suggest that immigration reform was the issue that swung the election. A survey released by left-leaning Public Policy Polling on Wednesday finds that immigration reform is actually quite popular within the district. According to the poll, conducted by phone on election night, 70 percent of Republican voters in VA-07 support the bipartisan immigration reform legislation which passed the Senate last summer. Only 27 percent oppose it. Furthermore, 84 percent of Republican voters say it is important to fix the immigration system, while just 15 percent say it is not important.
Of course, previous polls of VA-07 were proven completely wrong on election night, and PPP's numbers should similarly be taken with a grain of salt. But there are other reasons to believe that immigration isn't solely responsible for Cantor's defeat.
For one, if Republicans in the district really were looking for a candidate who would kill immigration reform efforts, they could do a lot worse than Eric Cantor. Despite his mild tone on immigration issues, the majority leader has gone out of his way to kill even the most politically benign reform measures (such as the ENLIST Act, a bipartisan provision which would have allowed undocumented immigrants who were brought to the country as children to serve in the military.) And Cantor spent millions making sure that his constituents knew that he is "the No. 1 guy standing between the American people and immigration reform," while Brat spent only $122,793 total in his campaign to brand Cantor as an "amnesty" advocate.
Furthermore, other Republicans representing conservative electorates have not suffered from their actual support for immigration reform. As many Democrats have pointed out, while Cantor was conceding defeat on Tuesday night, Senator Lindsey Graham (R-SC) — a member of the "Gang of Eight" that crafted the Senate's immigration reform bill — was crushing his primary opponents in a landslide, despite their charges that his re-election would lead to "Grahamnesty." Similarly, Rep. Renee Ellmers' (R-NC) support for immigration reform did nothing to stop her from winning her primary.
It seems likely that Cantor's personal unpopularity had more to do with his stunning loss than the charges that he is weak on immigration reform. The aforementioned PPP poll found Cantor's approval rating at 30 percent within the district, with 63 percent disapproving. The Republican leadership of the House fared even worse, with a 26 percent approval rating and 67 percent disapproval. As Jeff Schaprio writes in the Richmond Times-Dispatch, Cantor never realized the danger of being the public face of an unpopular Congress within his district:
Cantor's maneuvering on immigration was illustrative of a larger issue: a perception within Republican circles that Cantor, in his determination to succeed John Boehner as Speaker, seemed more interested in positioning for the next phase of the nonstop news cycle than embracing a distinct agenda.

Further, Cantor — a self-styled Young Gun, who along with Paul Ryan, the 2012 vice presidential nominee, was a symbol of Yuppie Republicanism — became a distant figure to many of his Virginia constituents, seen only on Sunday talk shows and in the pages of national newspapers.

Cantor's priority was traveling the country, raising money from corporate and financial leaders. The torrent of Cantor-generated cash would shore up a smaller but more influential constituency for the often-aloof lawyer: a handful of conservatives within the Republican caucus who would decide the speakership.
Even if immigration reform did not kill Cantor, however, his loss almost certainly cements its death in the House of Representatives. Although Cantor was not a helpful advocate for reform, he at least paid lip service to the idea that the immigration system must be changed. After seeing Cantor fall to a challenge from the right — and watching most of the media blame it on immigration — it's hard to imagine other House Republicans doing the same, much less actively voting on legislation.
Cantor's loss will ignite a competition to replace him as majority leader, or even to challenge John Boehner (R-OH) as House Speaker. Whoever wins will need to consolidate right-wing support, and arguing that the House majority should partner with Democrats on immigration reform is not a good way to do so.
It's now almost impossible to imagine the House moving on immigration reform until after the 2014 midterms. And by then, the 2016 presidential primary campaign — and the inevitable sprint to the right that it inspires — will be getting underway.
Photo: Gage Skidmore via Flickr
Want more political analysis? Sign up for our daily email newsletter!