In 24 Years of Town Hall Debates, The Winners, The Losers, And The Weird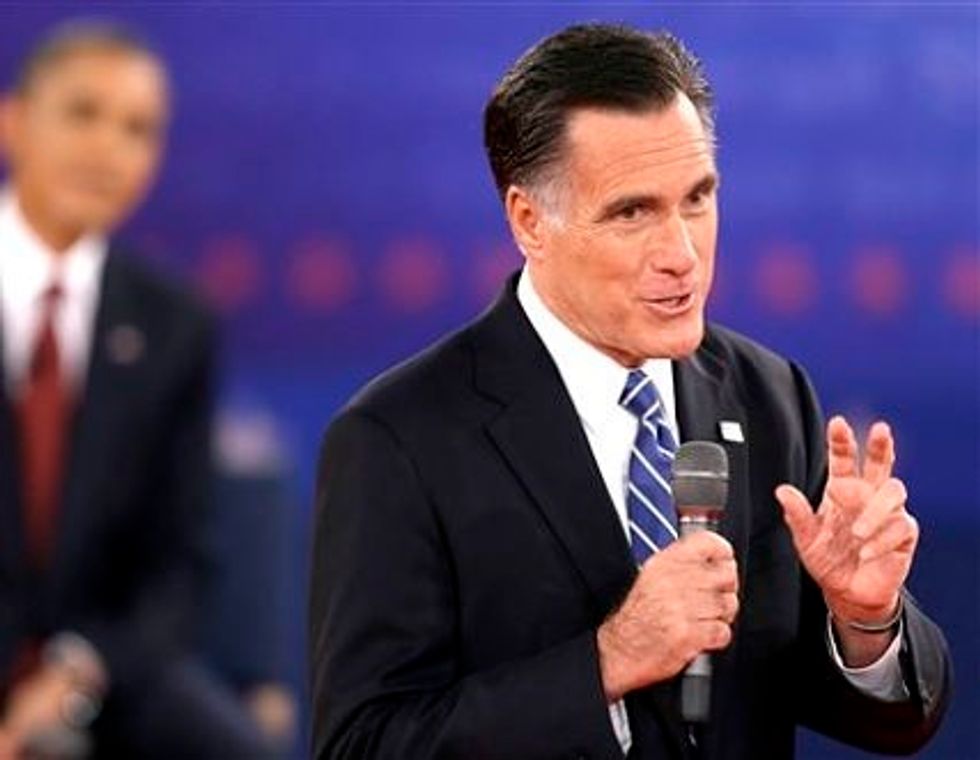 In the 24 years since the debut of the town-hall format in an American presidential debate, there have been winners, losers and some memorably weird moments.
Sunday's debate at Washington University in St. Louis, to be moderated by CNN's Anderson Cooper, is the second of three presidential debates in this election cycle and the only town hall debate — which features the candidates in a more informal setting fielding questions from undecided voters.
The debate pits two candidates headed in opposite directions. Republican nominee Donald Trump had a rough first debate on Sept. 26 and a series of controversies and gaffes since then has diminished his odds of winning the election: on the FiveThirtyEight.com election website, his estimated chances have fallen from 45.2 percent to 18.6 percent. After Friday's release of a tape that captured Trump's lewd remarks about women in 2005, the 70 year-old businessman will need a stellar debate to stop the political bleeding. Hillary Clinton will need a steady debate performance to maintain her lead.
What follows is a glance at the winners, losers, and weird moments at previous presidential election town hall debates:
2012 Hofstra University, Hempstead, NY, moderated by CNN's Candy Crowley
In the first debate, President Barack Obama seemed tired and withdrawn, which let challenger Mitt Romney come away in polls as the winner. Obama, however, stepped up his game in this second encounter. And Romney's comment about having "binders full of women" when asked about finding qualified women to serve in his administration, if elected, was the line everybody remembered weeks later.
2008 Belmont University, Nashville, TN, moderated by NBC's Tom Brokaw
Democratic nominee Obama came into this second debate after a strong showing in the first debate and maintained his momentum with another solid outing. Republican John McCain created a stir when he referred to Obama as "that one" at one point and also created a buzz with what appeared to be absent-minded wandering around the stage while Obama spoke.
2004 St. Louis University, St. Louis, MO, moderated by ABC's Charles Gibson
President George W. Bush had been criticized for too much scowling in the first debate, and softened his appearance in this second debate. Bush and Democrat John Kerry came into the event even in the polls and exited the same way. This debate featured some contentious back-and-forth over the "weapons of mass destruction" not found in Iraq.
2000 St. Louis University, St. Louis, MO, moderated by PBS's Jim Lehrer
This debate was nearly postponed after the death of Missouri Governor Mel Carnahan and his son Randy the day before in a plane crash. Democrat Al Gore had endured withering criticism after the first debate for sighing too much when Republican Bush spoke. In this debate, seen as a draw by many, Gore created a stir by walking into Bush's personal space while he was answering a question.
1996 University of San Diego, San Diego, CA, moderated by PBS's Jim Lehrer
Republican Bob Dole needed a boost after a rough outing in the first debate, but couldn't gain any traction on incumbent Bill Clinton's double digit lead in the polls. Voters remembered Clinton's line that "defended" Dole as not too old to run for president at age 73, while criticizing his ideas as outdated. There were only two debates in 1996 instead of the normal three.
1992 University of Richmond, Richmond, VA, moderated by ABC's Carole Simpson
Would you believe the first presidential debate this year wasn't won by a Democrat or Republican but by an Independent candidate —  as Ross Perot shone against incumbent George H.W. Bush and challenger Bill Clinton in the new town hall format. Bush suffered the very first "gotcha" moment when cameras caught him looking at his watch while a voter was asking a question. He failed to make a move in this debate to shake things up.
IMAGE: In this Oct. 16, 2012, file photo, Republican presidential candidate, former Massachusetts Gov. Mitt Romney speaks while President Barack Obama listens during the second presidential debate at Hofstra University in Hempstead, N.Y. (AP Photo/David Goldman, File)