In Baltimore, Riots Appear Where Urban Renewal Didn't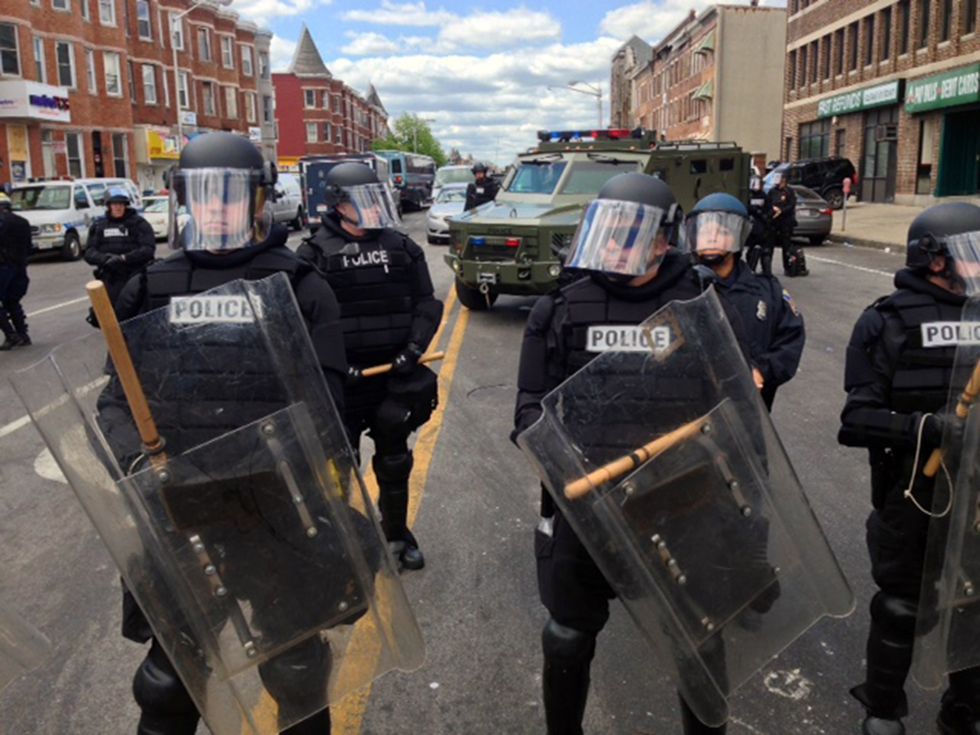 By Noah Bierman and Joseph Tanfani, Tribune Washington Bureau (TNS)
BALTIMORE — Tanishia Lewis and her young children were filling trash bags in a parking lot Tuesday morning, joining others who hoped to quickly erase the scars left by rioters. But the problems in her West Baltimore neighborhood run much deeper than a night of burning and looting, and won't be easily scrubbed away.
"I have to go outside my community to go to the supermarket," she said. "I don't feel safe for my kids playing in the playground.
"There are some really good people here," said Lewis, 31, who works for a nonprofit community group and still lives in the neighborhood where she grew up. But "there's no investment."
Downtown Baltimore has seen large-scale projects dating to the 1990s — a popular aquarium and a trendsetting baseball stadium, to name two — that have turned the Inner Harbor into a prime example of urban renewal, admired and imitated by city planners around the nation.
But the poor neighborhoods of West Baltimore that formed the epicenter of this week's riots could be mistaken for parts of Detroit. Block upon block of three-story row houses lie vacant, with smashed-in windows, boarded doors and garbage. In the commercial blocks, a yellow ribbon promising "Coming soon: 99 cent store!" is faded and frayed, placed above one of many storefronts that have only shards of glass in the window pane. A few shops that remain in business cash checks, sell discount cellphone plans, and rent furniture.
Until Monday, there had been one bright spot amid the despair: a relatively new CVS pharmacy, hardly a luxury showcase but good enough to fill prescriptions and sell milk in a neighborhood that had little.
Now, after it was burned by rioters Monday, it is a bleak symbol, the spot where angry protesters, police in riot gear, and live television trucks converge to tell a story of an American city in distress.
"This is a ghost town. The only store we have, they burned down," said Ashley Ewell, a 27-year-old debt consolidator, standing near looters this week.
Mayor Stephanie Rawlings-Blake lamented the lost jobs in a neighborhood that badly needs them.
"What are they going to do?" she said.
It's no coincidence that the incident that touched off the unrest happened just six blocks from the CVS. Freddie Gray, the 25-year-old who died last week after he was injured in police custody, was a product of this neighborhood too.
Gray is the latest and most incendiary example of the mutual distrust between police and many black Americans. Some Baltimore residents, echoing complaints from other troubled cities, say the police act almost as a force of occupiers instead of public servants.
"They're more like an overseer," said Damon Speaks, a black property manager here who said police once chased him, rather than a white burglar, when he reported that an intruder had broken into one of his buildings.
But Gray's family decries the violent retaliation of Monday's riots.
"They say they're doing all this for my cousin," said Jazz Aiken, 19, while buying a grape snow cone a few blocks from the CVS on Tuesday. "But that's not why they doing it.
"You've got some people that don't got jobs," she said.
This neighborhood, site of the gritty television drama The Wire, has followed a familiar pattern of urban decay: a decline of good jobs, interstate highways that ripped across historical enclaves, and public housing projects that became magnets for crime.
Generations of families who have grown up here in poverty say the brutal 1968 race riots that followed the assassination of the Rev. Martin Luther King Jr. have become part of the neighborhood's narrative fabric, and the community has never fully recovered.
For four days that year, the city was under virtual siege, with bombs going off, buildings burned and looters rampaging. There were hundreds of injuries and thousands of arrests, and federal troops had to be called in to bring the city under control.
"History repeats itself, I guess," said Briana Moore, 22, a junior at Coppin State University in Baltimore, as looters raided the nearby Mondawmin Mall. "To me this is stupid. This is not going to solve anything. Breaking into malls, breaking into liquor stores, what does this have to do with Freddie Gray? This ain't about justice no more."
The Rev. Jesse Jackson Jr. on Tuesday walked past the burned CVS store, handing out voter registration forms, as a scrum of reporters and residents trailed him.
"People need houses, health care, jobs, and education," he said. "That costs, but it costs a lot more not to do it."
Robert Everett, a 51-year-old construction worker, grew up hearing tales from his relatives about the heyday of Pennsylvania Avenue, the neighborhood's main artery, when it was filled with clubs featuring Cab Calloway and Fats Waller. A statue of Billie Holiday, who spent her childhood in Baltimore, stands near a theater where she performed.
"I ain't ever seen nothing like this," Everett said. "It's crazy, man, just crazy."
Lewis, the community group worker who spent Tuesday cleaning up, lives on what she said is a good and safe block. She believes there are some subtle signs of gentrification: a few more Latino and white residents than she remembers and a proposal to knock down a housing development and replace it with a more modern complex of retail and residential units.
Even though she earned a college degree in social work and might have more options than others, she does not plan to leave.
"It's where I'm from," Lewis said. "I know it's going to change soon for the better."
Then she paused, as if to convince herself. "Hopefully soon."
(Staff writers W.J. Hennigan and David Lauter contributed to this report.)
(c)2015 Tribune Co., Distributed by Tribune Content Agency, LLC.
Photo: Baltimore police officers standby on Pennsylvania Avenue on Tuesday, April 28, 2015. (Carolyn Cole/Los Angeles Times/TNS)