In Blustering Speech, Trump Hints At Anti-Semitic Themes — And Future Mayhem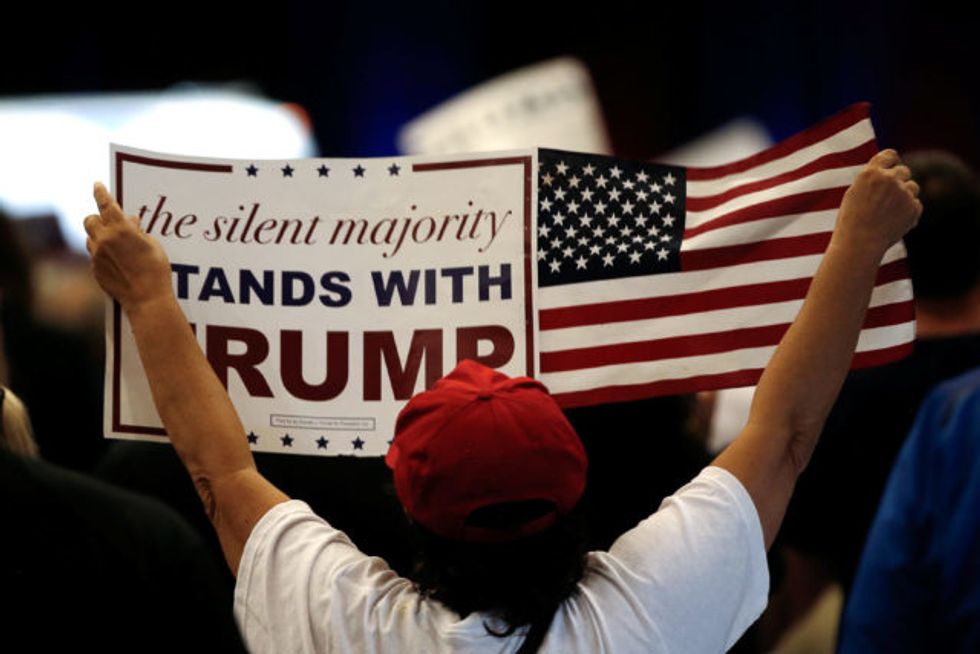 It would be tempting to label as "unhinged" the speech Donald Trump delivered in West Palm Beach on Thursday—a speech in which he dog-whistled a worldwide conspiracy against him (without actually uttering the word "Jews") and disparaged the appearance of women who have accused him of sexual assault and transgressions.
But it was not unhinged. The speech was hinged to the original purpose of his campaign: to trade on the resentments of a restive remnant of white America—angry white men and the women who love them—and set the stage for mayhem in the wake of his likely electoral defeat.
This was not your standard, off-the-cuff Trump rant. This was a scripted speech, delivered with a teleprompter. It was crafted. It featured the key words of right-wing complaints: "sovereign," "global bankers" and "slander." Really, it came right out of a Nazi propaganda playbook. And when one considers the themes common between Nazi propaganda films and the films made by top Trump campaign staffers Stephen K. Bannon and David Bossie (as analyzed by AlterNet), we should hardly be surprised.
Trump began with an attack on the New York Times (whose majority owners are a Jewish family), which he said was engaged in a conspiracy of global proportions with the Clintons, international bankers and major corporations, all to stop him from winning the presidency.
"For those who control the levers of power in Washington and for the global special interests, they partner with these people that don't have your good in mind. Our campaign represents a true existential threat, like they haven't seen before. This is not simply another four-year election. This is a crossroads in the history of our civilization that will determine whether or not we, the people, reclaim control over our government," Trump told a cheering crowd. A few beats later, he said, "We've seen this firsthand in the WikiLeaks documents in which Hillary Clinton meets in secret with international banks to plot the destruction of U.S. sovereignty in order to enrich these global financial powers, her special interest friends and her donors."
He then went on, at great length, describing what he alleged was coordination between the New York Times and the Clinton campaign, noting the newspaper's Wednesday night report detailing allegations by two women who said Trump had sexually accosted them. Of course, he contended the women were liars. He also offered a disquisition on previous New York Times pieces about his behavior with women. It was all a grand conspiracy, he said, not just against him, but against the United States of America.
The agenda of the "media establishment," Trump said, was to elect "crooked" Hillary Clinton, in the service of "special global interests rigging the system." There are a lot of ways in the land of Wingnuttia to telegraph that your target is Jews, and these are two of them. Remember them: You'll be hearing a lot in coming days about the "media establishment," "global special interests," oh, and "bankers."
"Anyone who challenges their control," Trump continued, "is deemed a sexist, rapist, xenophobe and morally deformed. They will attack you. They will slander you. They will seek to destroy your career and your family. They will seek to destroy everything about you, including your reputation. They will lie, lie, lie, and then again they will do worse than that. They will do whatever is necessary. The Clintons are criminals. Remember that, they're criminals."
When the crowd began chanting, "Lock her up!" Trump chimed in, "So true. Honestly, she should be locked up. She should be. Should be locked up."
Of his accusers, Trump told his audience to have a good look at them, implying they weren't good-looking enough to have attracted his attention. Of the women interviewed by the New York Times, Trump said, "You take a look at these people. You study these people and you'll understand also. The claims are preposterous, ludicrous, and defy truth, common sense and logic."
Speaking of Natasha Stoynoff, the People magazine writer who Wednesday nightpublished an article detailing what she said was an assault by Trump against her at his Mar-a-Lago home, Trump said, "Take a look. You look at her. Look at her words," he said. "You tell me what you think. I don't think so. I don't think so."
Trump went on to say he has evidence to refute the claims made against him in the New York Times report, evidence he would reveal "at an appropriate time." He also promised to take down the Times—put it out of business—with a lawsuit he is preparing against the newspaper. It is telling that one of his big supporters is Peter Thiel, who took down Gawker by backing Hulk Hogan's privacy-violation lawsuit against the website.
Perhaps most chilling in all of the hate-stoking and conspiracy-mongering Trump demonstrated Thursday is his assertion that "this is war"—that the "media establishment" and the Clintons are engaged in a conspiracy that is making war on the American people "no matter how many lives they destroy."
"For them, it's a war," Trump said. "And for them, nothing at all is out of bounds. This is a struggle for the survival of our nation."
Trump has learned well from his white nationalist friends. After all, the guy who likely wrote Thursday's script—Trump campaign CEO Stephen K. Bannon—is the one who boasted of providing "the platform for the alt-right," that anti-Semitic, misogynist movement from which Trump has derived such succor.
With Thursday's speech, Trump has baldly laid out his true agenda: a post-election insurrection.
IMAGE: A supporter of Republican presidential nominee Donald Trump holds a sign at a Trump campaign rally in West Palm Beach, Florida, U.S., October 13, 2016.   REUTERS/Mike Segar
Reprinted by permission from Alternet.