In Chicago Shelters, Immigrant Kids Mull Escape — Or Suicide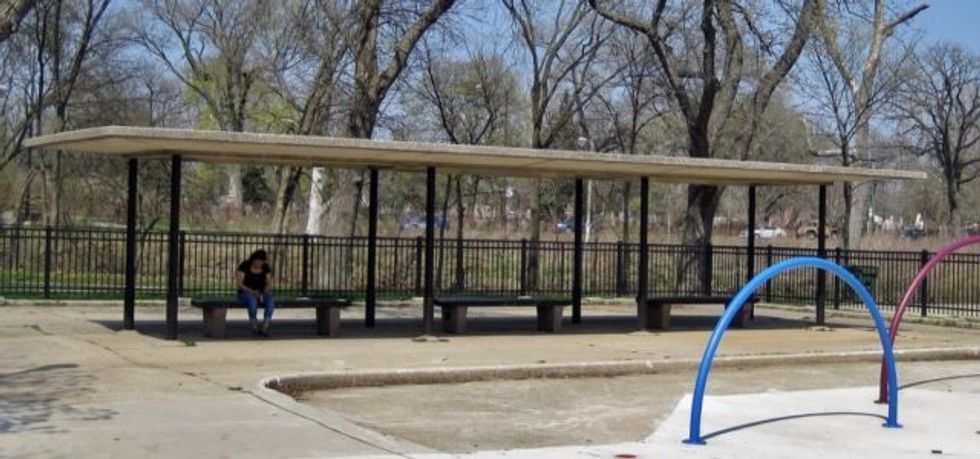 Reprinted with permission from ProPublica.
This story was written by Melissa Sanchez, Duaa Eldeib, and Jodi S. Cohen.
One 16-year-old from Guatemala said he wanted to "quitarme la vida," or "take my life away," as he waited to be released from a Chicago shelter for immigrant children. He was kept there for at least 584 days.
A 17-year-old from Guinea went on a hunger strike, telling staff members he refused to eat until he saw evidence they were trying to find him a home. He was released nearly nine months after he entered a shelter.
And a 10-month-old boy, forcibly separated from his father at the U.S.-Mexico border in March, was bitten repeatedly by an older child and later hospitalized after falling from a highchair. He was detained for five months.
ProPublica Illinois has obtained thousands of confidential records about the nine federally funded shelters in the Chicago area for immigrant youth operated by the nonprofit Heartland Human Care Services — some dating back years, others from as recently as last week.
The documents provide a sweeping overview of the inner workings and life inside one of the country's largest shelter networks for unaccompanied minors, including children separated from their parents under the Trump administration's zero-tolerance policy.
While the records focus on Illinois shelters, they provide a rare glimpse of a secretive detention system that holds children at more than 100 sites across the country. They include descriptions of serious incident reports filed with the federal government, caseworkers' notes on family reunifications, employee schedules, daily rosters, internal emails and more.
The documents reveal the routines of life inside the shelters, days punctuated by tedium and fear as children wait and wait and wait to leave. They spend their days taking English lessons and learning about such peculiarities as American slang, St. Patrick's Day, the NFL and the red carpet fashions at the Academy Awards. They complain about the food and mistreatment by staff. And they cry and write letters and hurt themselves in despair.
In what they say and write, and in what is said and written about them, one truth becomes abundantly clear: The longer children are detained, the more they struggle.
And the time they spend inside is getting longer. The average length of stay nationally in fiscal year 2017 was 34 days. It grew to 57 days in June amid the Trump administration's border crackdown that divided families, and then more recently to 59 days, federal officials told ProPublica Illinois last week.
But that figure masks the harsh reality that some children have spent hundreds of days waiting to leave. In Chicago alone, 27 children who were in Heartland's care during the month of July — including several from India, Guatemala and Nepal — had been held for 200 days or more, records show. A 17-year-old from Honduras had been in custody the longest: 598 days.
"It's traumatic to have this indefinite detention," said Emily Ruehs-Navarro, an assistant professor of sociology at Elmhurst College near Chicago who has studied shelters for unaccompanied immigrant children. "It's a vicious cycle where the longer kids stay, the more trauma is compounded on their situation."
Children — many of whom are reeling from the trauma of rape, violence or other abuse in their home countries or during their treks to the United States — languish as caseworkers try to find sponsors and persuade them to undergo background checks. Those without relatives or family friends in the U.S. remain in custody even longer, sometimes rejected by long-term foster care programs already filled to capacity.
As caseworkers try to find placements, the older teens live in fear of turning 18. Records show that immigration officials, almost without fail, arrive on the children's birthdays to take them into custody.
Heartland acknowledged that extended stays lead to some children "becoming frustrated and losing motivation and hope," the agency wrote in a 2017 report to the federal government. When children are left inside for extended periods, the report continued, there is "no incentive" for them to behave.
Both Heartland and federal officials say they work hard to quickly find homes for children. The federal government makes the final call on when children can be released from a shelter.
In a statement to ProPublica Illinois, Heartland officials declined to comment on specific incidents involving children, but acknowledged that those affected by the zero tolerance policy "don't want to be with us at all — they just want to go home."
"That can play out in deep feelings of despair, unhappiness, wanting to escape, and even suicidal thoughts," they said. "This has nothing to do with the shelter and everything to do with the trauma and horror these children have lived through — coming to a foreign country, being brought to an unknown place without your loved one, and suffering emotionally from being forcibly separated from their parents."
Classes, Acculturation and Despair
Records reveal a regimented existence inside the shelters, with employees controlling nearly every minute of a child's day. Though children attend class and play games and sports outside, they must walk in single-file lines and, for the most part, can't move about buildings without permission.
"You wake up by 7 a.m., have a shower, then they give you breakfast," recounted a 16-year-old from Nigeria who, along with two sisters, spent more than a month at a shelter this spring.
"I went to a lot of classes," recalled a 15-year-old from Brazil now living with her mother in Philadelphia. "Three to four classes in the morning, then three more after lunch."
Children spend hours each day in class, mostly learning English. Schedules and other records document regular activities around mental health and vocational education, from building positive relationships to writing a resume. Children who behave go on field trips to Chicago's major cultural destinations, including art and science museums.
The records describe regular "community meetings" at the shelters during which children can voice their opinions. During one meeting in early 2017, children at the Casa Guadalupe shelters in suburban Des Plaines complained about finding hair in their food. That prompted management to remind staff to wear gloves and hairnets.
At another shelter, children requested coffee, hair bands and different shampoo.
The children, records show, said they were being unfairly punished by staff when other children acted out. In response, management talked to employees about how "sometimes our typical response is not an appropriate consequence."
Other complaints, described in the documents and ProPublica Illinois interviews with children, involved food — not having enough of it or being forced to eat everything on their plates.
Nearly a dozen children who were recently released from a Heartland shelter told ProPublica Illinois they were grateful for the care they received: three meals a day, a bed and a roof over their heads.
A 16-year-old from India, who spent 114 days at Heartland's largest facility on Chicago's South Side, reported no problems during his time there and said he made some friends. He's now happy to be with family in New York, his aunt said.
"He was alone and no family (was there), so that thing was very hard for him," she said.
For the most part, several children said, shelter employees were kind. But they repeatedly also said employees would sometimes threaten to slow reunification efforts when children refused to take part in daily activities — as some children sometimes did if they were "too sad" to participate.
Heartland said such threats are not its policy. Ruehs-Navarro said children with repeated behavioral problems, or those who express suicidal thoughts or other psychological needs, may spend longer inside shelters because their caseworkers must ensure potential sponsors are prepared to provide the support they need.
"It's supposed to be a protective measurement," she said. "It's not supposed to be a punishment, but it ends up being a punishment."
For the 16-year-old who cried out that he wanted to "take my life away," life before the shelter was already traumatic: He told Heartland staff that he came to the United States in early 2015 to flee violence in Guatemala, where he said he had been shot at twice and extorted by a gang.
As months passed in the shelter, new problems emerged. He talked about suicide, running away and hearing voices. More than a year later, documents note he became upset after receiving an update from his caseworker about the effort to place him with a sponsor. He punched a door in anger.
He didn't leave until four months later, in late 2016. It's unclear where he went.
"Just Wait Until the Paperwork Is Done"
Heartland, which cares for some 3,000 unaccompanied minors each year, receives more federal funding to do this work than all but three other organizations in the country. Heartland is part of a larger nonprofit organization called Heartland Alliance, which is based in Chicago and works on a range of issues, including human rights, housing and health care.
A former senior official with the Department of Health and Human Services said Heartland has a reputation for longer lengths of stays than the rest of the nation's shelter network in part because it cares for a disproportionate number of children with physical and psychological challenges.
Advocates for immigrant children and some Heartland employees say there's another reason for the more recent increases in lengths of stays: the public attention on children separated under the Trump administration's zero-tolerance policy, as well as a court-ordered deadline to reunite those families. Together, those factors put pressure on shelter staff to prioritize those cases at the expense of other children in the shelters.
Heartland officials said the arrival of children under the zero-tolerance policy has not had a "significant" effect on getting other children back to their families. Instead, they point to other reasons for the delays, including more onerous federal requirements for potential sponsors. All household members, for instance, now need to be fingerprinted.
And new federal regulations require information on sponsors to be shared with Immigration and Customs Enforcement, which could deter possible sponsors with household members who are undocumented immigrants. In the case of one 16-year-old from Honduras, records describe a delay after the "sponsor was scared to go to a police station for fingerprinting."
The records obtained by ProPublica Illinois show how the process of matching children to sponsors — relatives, friends or foster families — can be drawn out. Shelter staff must ask for copies of birth certificates, photos or other documents to try to confirm relationships.
A relative of one 17-year-old who was released this summer told ProPublica Illinois how he sent letters to the boy's mother in Bangladesh and waited for her to sign them and mail them back. He said he had to constantly reassure the teen, who was held for 11 weeks in Chicago, that he would be released soon.
"I told him, 'Just wait until the paperwork is done,'" he said.
Cost is another factor. Federal guidelines require sponsors to pay for the plane tickets from a shelter to a new home for both the child and an escort. But many sponsors, often part of the same family, have little money to begin with and have gone into debt to send the children to the U.S. One mother, for instance, told authorities she sold her home in India to pay for her child's journey here, according to documents.
In another case, a potential sponsor for a 17-year-old Guatemalan boy told shelter staff he had asked the boy's relatives for 30,000 quetzales, or close to $4,000, to help pay for the costs of obtaining legal documents and a flight from Chicago to Florida. That sponsor was rejected, and a few days later, the boy told staff that "he wanted to kill himself due to receiving news that his sponsor was denied," according to the documents.
Heartland officials said they understand the concerns surrounding travel expenses — as much as $1,250, some families told ProPublica Illinois — and in cases of "extreme hardship," the federal government will cover the costs.
Several Heartland employees told ProPublica Illinois that staffing shortages also offer an explanation for growing lengths of stays. Family reunification specialists, they said, are sometimes asked to do other tasks, such as supervising children or cleaning up after meals. That takes them away from getting children safely placed with sponsors.
Federal monitors, in fact, reminded Heartland officials in an August 2016 email that family reunification specialists and clinicians "should not be assigned to other duties" because it "significantly and negatively impacts [level of care]."
But staffing woes continue. In July, a program manager at Casa Guadalupe sent an email to employees asking for volunteers to fill dozens of overtime shifts. One Sunday, the email shows, seven slots were available for a morning shift with 13 positions.
In another email a few days later, the program manager asked if staffers could work even part of a shift because the shelter "is in the need of help this week, especially Thursday, Friday and Saturday shifts."
In recent weeks, current employees said, Heartland announced it would bring in temporary workers to help out at its shelters, including its largest facility, in Chicago's Bronzeville neighborhood.
Heartland officials acknowledged their struggle to retain employees at the shelters.
"Our front-line staff have very tough jobs and can experience fatigue like many who do this work," they said in a statement. "Moreover, the fluctuation and unpredictability of the number of intakes into our program present challenges for retaining full-time staff."
The statement said that, when necessary, it "worked with specialized staffing agencies" and that those "temporary staff" go through background checks and training before they work with children.
Heartland regularly recruits for new full-time staff, and it recently hosted a job fair down the street from Casa Guadalupe focused on bilingual candidates, according to a flyer for the event. The former HHS official said that meeting children's language needs has long been a challenge for Heartland because the organization receives many of the non-Spanish speaking minors in federal care.
Officials from Heartland said the organization "has the capacity to accept a diverse population due to the many languages spoken by its staff."
Records show that, during July, about 60 percent of the minors in Heartland shelters were from non-Spanish-speaking countries, including India, Bangladesh, Brazil and Romania. At shelters across the country, the vast majority of children are from Central America and Mexico.
This summer, incidents related to staffing at Heartland shelters fell under unprecedented public scrutiny. Federal and state authorities opened investigations into the agency after news reports alleged staff at Casa Guadalupe gave a Guatemalan boy injections that made him sleepy.
Both investigations are ongoing, but Heartland officials said an internal review found no evidence to support the claims.
Lawyers for an 11-year-old boy sued Heartland in federal court in July alleging Casa Guadalupe staff was negligent for ignoring his cries for help, and claimed he was bullied and physically injured by an older child. Heartland has not responded to the filing in court, although officials from the organization have said they have found no evidence of negligence.
ProPublica Illinois previously reported that Heartland has been cited by the state Department of Children and Family Services several times in recent years for failing to provide appropriate supervision. In one case, children were found to have had oral sex in a common room at a shelter. In another, an employee allegedly engaged in a sexual relationship with a detained teen.
Heartland officials declined to address the specific incidents but said they "represent highly rare occasions."
A Fear of Turning 18
On a recent Thursday morning, more than a dozen boys and girls wearing matching polo shirts and jeans filed into the courtroom of Chicago immigration Judge Jennie Giambastiani, who handles the court's juvenile docket.
The children were being held in Heartland facilities and ranged in age from a 14-year-old Honduran girl with dark hair pulled into two bunches, to several 17-year-old boys with beards and mustaches beginning to sprout. Most of the children sat silently and looked down at their hands clasped in their laps. One teen periodically wiped his sweaty palms on his knees while another bounced his foot.
All were represented by attorneys from the National Immigrant Justice Center, also a subsidiary of the Heartland Alliance.
Giambastiani spoke briefly with every child — all but one through an interpreter — and asked the same questions: their name, age and, depending on the answer, how soon they would turn 18.
"Oh, that's coming up," she told one young man.
The judge turned to the attorney of another young man and issued the same warning she had repeated many times that morning: "With his 18th birthday looming, I don't want him to miss an opportunity" to be placed with a sponsor.
"Please be mindful of that," she added.
A child's 18th birthday is a dreaded milestone marked by the arrival of federal immigration agents at shelter doors, sometimes just after midnight. Current and former staff said they have overheard older children talk about running away as their birthday approached. Some have been successful.
In some cases, Heartland assigns a staff member to monitor the child.
Heartland officials said they "have not had a significant number of children turn 18 while they are in our care." But records show that, in July alone, at least six detained youths were picked up by ICE agents the day they turned 18.
A federal detainee locator showed that three of those teens remained in adult detention more than a month after they were transferred, including one in a county jail in Illinois that contracts with the federal government to provide immigrant detention. It's unclear if the other three 18-year-olds were deported or released.
Nationally, between 1,000 and 1,200 children who turned 18 while in custody of the Office of Refugee Resettlement were taken to ICE adult detention facilities in fiscal year 2017, according to a lawsuit filed in March by NIJC and the law firm Kirkland & Ellis. The suit seeks to halt the practice of automatically transferring 18-year-olds into adult facilities without considering "the least restrictive setting" — including non-detention placements — as required by law.
In some cases, teens who had secured placements were still transferred to ICE on their 18th birthday, according to documents filed in the lawsuit.
"The concerns and vulnerabilities of immigrant kids don't magically disappear on their 18th birthday," Kate Melloy Goettel, an attorney with NIJC, said.
What changes in adult detention is not all for the worse. On one hand, 18-year-olds can receive visitors, something that rarely happens at youth shelters because of the confidentiality around their locations.
But they lose access to free calls to families, daily classes and caseworkers. They trade in their plain shelter clothes for jail jumpsuits and, depending on where they are sent, their bunkmates for men and women charged with serious crimes. And instead of worrying about whether a sponsor will take them, the 18-year-olds wait to see if they will be eligible for release or whether their families can afford to bond them out.
Last week, a U.S. District Court judge denied a government request to dismiss the lawsuit and allowed it to move forward as a class-action suit to include all unaccompanied children transferred to ICE facilities after they turned 18.
Heartland officials said that they believe the right to seek safety and asylum extends to children who turn 18 while in shelters and that they oppose "the prosecution, detention and the return" of those children in search of such reprieves.
Sometimes, young people are so fearful of turning 18 — or were already 18 when they entered the country — that they lie about their birthdate or show fake birth certificates. Federal guidelines instruct staff who suspect supposed minors are actually adults to verify their age in part to avoid housing adults with children. Shelter staff can seek medical procedures such as forensic dental exams and bone density tests as part of the process.
Two Heartland workers said the evaluations are performed by an area dentist under the guise of a routine checkup. Heartland officials did not respond to questions about this process but instead referred to the federal guidelines.
The Heartland records show that in July, a young man from Ghana and a woman from Honduras in the shelters were turned over to ICE after "age redeterminations."
Beatriz, a 15-year-old from Brazil, recalled how another girl she became friends with during her nearly nine months at a Heartland shelter was turned over to ICE after staff discovered the girl was actually in her early 20s. Beatriz said her friend was eventually released from federal custody and now lives with relatives on the East Coast.
Beatriz, meanwhile, lives in Atlanta, though she recently returned to Chicago for an immigration court hearing. She said she often thinks about her time at the Heartland shelter, even searching for it online using Google Street View, remembering the name of the street and of a nearby school.
And she has remained in touch with the friends she made inside, including the young woman now on the East Coast, through a messaging app.
They named their WhatsApp group "Sweet Freedom."
ProPublica senior reporter Ginger Thompson and ProPublica Illinois news applications fellow Katlyn Alo contributed to this report. ProPublica is a Pulitzer Prize-winning investigative newsroom. Sign up for their newsletter.