In Conservative Indiana, Bemusement At Boycott Threats Over Religious Freedom law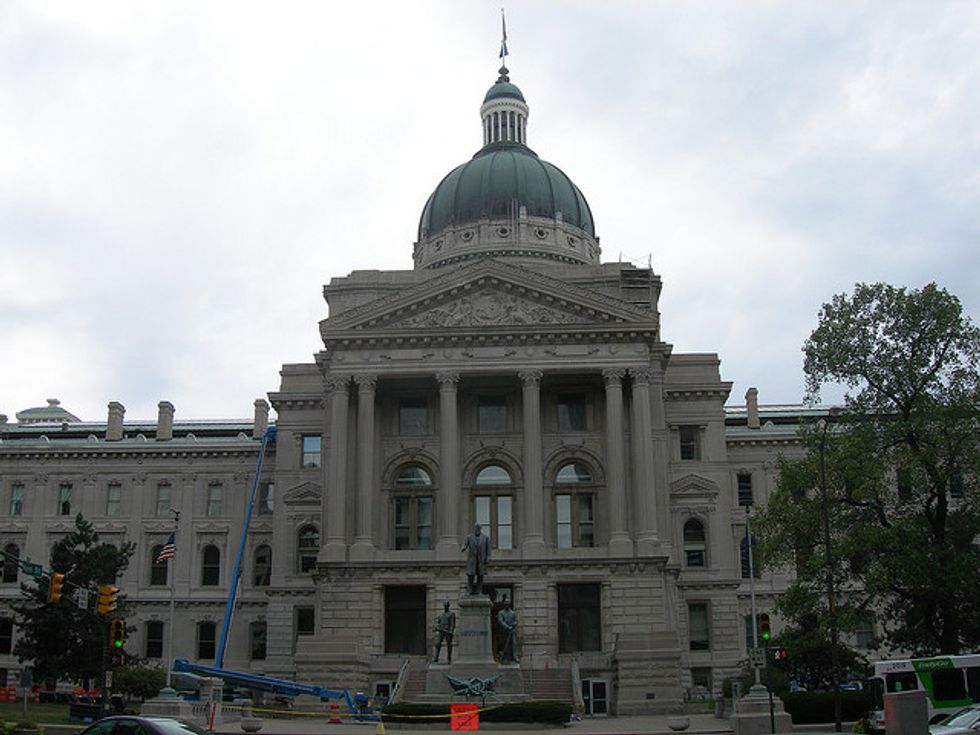 By Sarah Parvini and Nigel Duara, Los Angeles Times (TNS)
INDIANAPOLIS — Indiana conservatives watched their brethren in state after state approve legislation that, supporters said, was written to ensure the religious rights of their citizens. Kansas in 2013, Mississippi in April, and, on Friday, Arkansas.
It is a mystery, then, to many here that a new hashtag has popped up on social media: #boycottindiana.
Criticism of Indiana legislation as discriminatory against gays and lesbians erupted this weekend in a torrent of canceled construction, stalled convention plans and the specter of business leaving the state.
Social media focused anger on the Indiana Statehouse after Republican Governor Mike Pence signed into law far-reaching freedoms for religious beliefs, protecting those who say their beliefs forbid them from serving same-sex couples. It became the 20th state to pass such a law, and, for some reason, the first one with a target painted on its back for doing so.
"I don't understand why Indiana is getting a bad reputation," said Krissi Johnson, serving hot dogs at a community gathering inside the firehouse in Austin, southern Indiana. "It would make more sense if we were the only ones."
Pence's signature set off a quick series of denouncements from gay rights groups and politicians, even some Indiana Republicans, who question the fallout from the bill's prohibition against "substantially burdening a person's exercise of religion."
On Saturday night, the Indianapolis Star reported that Pence was willing to support legislation to "clarify" that the law does not promote discrimination against gays and lesbians.
Calling the furor over the legislation "the deepest crisis of his political career," the Star said Pence blamed the uproar on a "misunderstanding driven by misinformation."
Earlier Saturday, thousands marched against the legislation in Indianapolis with signs that included "LIBERTY FOR ALL HOOSIERS."
Salesforce.com, based in San Francisco, said it would stop sending staff to meetings in Indianapolis. Businesses began posting window stickers pledging to serve everyone.
The Christian Church (Disciples of Christ), headquartered in Indianapolis for nearly a century, said it may move its biennial convention, scheduled for 2017, out of the state.
"Purportedly a matter of religious freedom, we find (the law) contrary to the values of our faith, as well as to our national and Hoosier values," the church said in a letter asking the governor to veto the bill.
Similar legislation has failed elsewhere. In Arizona last year, Governor Jan Brewer, a Republican, vetoed a religious freedom bill after some companies expressed reservations about doing business in the state, though Arizona still has an earlier form of the law.
Some groups have already started that effort in Indiana. Angie's List withdrew an Indianapolis campus expansion project from consideration days before groundbreaking while it studies the the law. Seattle Mayor Ed Murray, a Democrat, said he would not permit the use of city funds for travel to Indiana. And the Indianapolis-based NCAA said it would re-evaluate its commitment to holding events in the state.
The freedoms ensured in Indiana's law come at the cost of the rights of gay, lesbian and transgender residents, opponents say. Most often, the friction points are weddings. So far, legal disputes have centered on photographers and bakers who said it violated their religious beliefs to provide services for same-sex weddings.
Indiana residents note that the same furor could have arisen at any time since similar legislation passed in states such as Alabama and Idaho. Bills are also pending in Georgia and South Dakota.
Sarah Winchester, a 32-year-old nurse, isn't thrilled with the new spotlight on her home state.
"It's annoying that Indiana is getting the attention," Winchester said in Austin. "Southern states have done similar things for years."
Study maps of conservative movements in the U.S., and it's clear that Indiana's vote to join the religious freedom states is consistent with its larger role as the northernmost conservative vanguard east of the Mississippi.
Whether they were states won by Republican presidential candidates Mitt Romney in 2012 and John McCain in 2008 or states that sued over the Affordable Care Act, Indiana's vote puts it neatly on the map of reliable conservative strongholds.
But the legislation could also be a rallying point for the gay rights movement that has won same-sex marriage rights in dozens of states.
By Saturday, activists including "Star Trek" actor George Takei were spreading #boycottindiana on Twitter. Apple Chief Executive Tim Cook denounced the law, as did filmmaker Adam McKay.
For some Hoosiers, it's all rather upsetting and sad.
If anything, said Lauren Warman in Indianapolis on Saturday, the law challenges her notion of what kind of state she lives in.
In a notion gently mocked by native author Kurt Vonnegut but central to Indiana's identity, being a Hoosier just means being nice. She called it "Hoosier hospitality."
"That's the thing with the bill," Warman, 22, said as she stood in Monument Circle with a friend. "It goes against what we've upheld: having people feel welcome here in our city."
––––
Duara reported from Phoenix.
Photo: Jimmy Emerson, DVM via Flickr