In Final Hearing, Select Panel Will Detail Trump's January 6 Dereliction
@Brandi_Buchman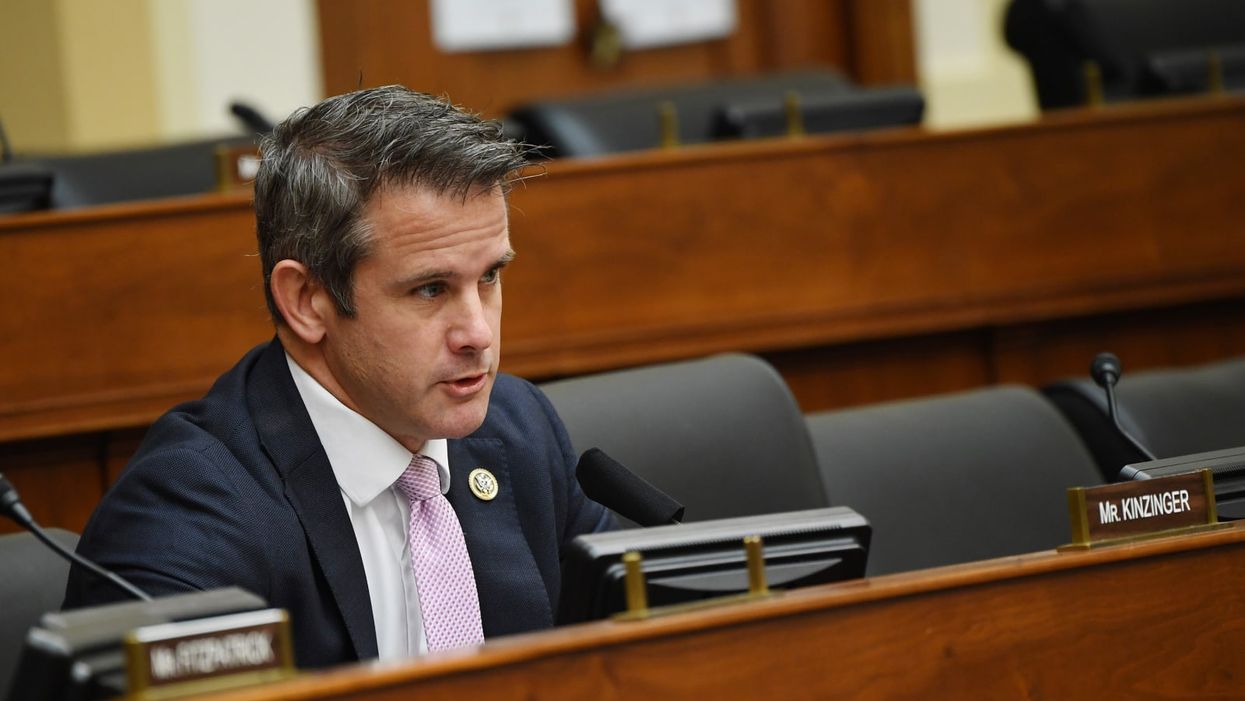 Adam Kinzinger, R- Ill., on Sept. 16, 2020. - KEVIN DIETSCH/Getty Images North America/TNS
Though their work will continue as they prepare an interim and then final report on the investigation into the U.S. Capitol attack and former President Donald Trump's attempt to overturn the results of the 2020 election, the House Select Committee meets for its final expected public hearing on Thursday at 8 PM ET.
Thursday's primetime presentation—estimated by one senior committee aide to last about two hours—will close out several weeks where investigators presented evidence and witness testimony carefully and methodically that supported their assertion that Trump, as committee member Rep. Jamie Raskin said in April, engaged in an "inside political coup" to retain power despite an electoral and popular defeat by Joe Biden.
The hearing is expected to be a gut-wrenching display of Trump's idleness on January 6 as his supporters, which included members of extremist groups like the Proud Boys, Oath Keepers and self-styled militia networks like the Three-Percenters, laid armed siege to the U.S. Capitol.
Reps. Adam Kinzinger, an Illinois Republican, and Elaine Luria, a Virginia Democrat, will lead the hearing. Chairman Bennie Thompson is expected to be in attendance remotely after contracting COVID-19 this week. He ordered the hearing to go on without him physically present, and a senior committee aide told Daily Kos Wednesday night he was "on the mend."
Live witness testimony is anticipated from former deputy national security adviser Matthew Pottinger and former White House deputy press secretary Sarah Matthews. Both resigned from their posts in the Trump White House in the immediate aftermath of the Jan. 6 attack. Both have previously cooperated with the committee, and their testimony is vital because they were among a select group of people close to Trump who vocally and abruptly ended their tenures after the attack.
Pottinger has said previously that he tendered his resignation shortly after learning on January 6 that Trump sent out a tweet urging then-Vice President Mike Pence to have the "courage" to stop or delay the counting of Electoral College votes.
Pottinger, a former Marine, was no less shocked when he heard unconfirmed reports circulating in the West Wing that suggested the White House may have delayed sending in the National Guard for backup.
Sarah Matthews has been a vocal defender of other witnesses who have come forward to offer their disturbing accounts of the insurrection, including Cassidy Hutchinson, a former aide to Trump's then-chief of staff, Mark Meadows.
Matthews, who currently serves as the communications director for a House committee focused on the climate crisis, resigned on Jan. 6 and has been forthcoming about her concerns over the attempted coup and its causes. She told The Washington Post after her resignation that January 6 "shook me to my core" when she saw people she knew running for their lives.
Critically, both witnesses may parse out more details about how Trump was already made aware that there was violence unfolding at the Capitol when he sent the tweet: "Mike Pence didn't have the courage to do what should have been done to protect our Country and our Constitution, giving States a chance to certify a corrected set of facts, not the fraudulent or inaccurate ones which they were asked to previously certify. USA demands the truth!"
In a private deposition with the committee, former Trump White House aide Ben Williamson testified that Trump was aware of how bad things had become at the Capitol when he sent that tweet. The attack had already been underway for an hour.
in a portion of her own recorded deposition aired prior to Thursday's hearing, Matthews testified that her immediate superior, White House press secretary Kayleigh McEnany, told her and other aides not to speak to the press during the assault.
"I think when Kayleigh gave us that order of 'don't say anything to the media,' I told her that I thought the president needed to tweet something," Matthews said. "And then I remember getting a notification on my phone.."
Matthews was with Williamson and other aides when they all got the Twitter notification at once.
"So, we knew it was a tweet from the President. And we looked down, and it was a tweet about Mike Pence," she said.
She described that tweet as the 45th president "pouring gasoline on the fire."
A senior committee aide told Daily Kos on Wednesday that the facts have spoken for themselves every step of the way in the committee's presentations. The evidence, the aide added, has been "compelling" and not credibly disputed.
Whether Trump or other members of his administration involved in the insurrection will face charges will be left to the Justice Department to decide.
Thursday's hearing will feature information too on those who frantically urged Trump to act during the 187-minute stretch of mind-numbing silence from the Oval Office as police pushed themselves to the brink to defend the building, lawmakers, staff, and journalists inside.
More context is expected to arrive on Thursday as well regarding the activities of Trump's family members, aides, and allies.
Spectators can expect to see a review of how the video message Trump pushed out on January 6 at 4:17 PM came together. Trump reportedly needed no less than three takes to get the video done because he kept moving off script. What America heard—and saw—in that notorious video was the best of a bunch.
"It was a landslide election and everyone knows it," Trump said at the very top of the video before moments later calling the election results fraudulent.
Trump's insistence on claims of widespread fraud in the election, witnesses from the Trump White House and Department of Justice have told the January 6 probe. never wavered, no matter who presented the facts to him. The video on the afternoon of January 6 is arguably some of the strongest proof to confirm that.
The committee has been mum on whether it will seriously push to have Trump or Pence appear for deposition before the interim report emerges but hopes are not high. Chairman Thompson has indicated, however, that Trump is welcome to testify—if he does so under oath.
Viewers of tonight's hearing can also expect to see and hear more testimony via video from Pat Cipollone, once Trump's White House attorney.
Reprinted with permission from Daily Kos, which will post a live blog during the hearings.