In New Hampshire, Christie Inches Closer To Saying He'll Run For President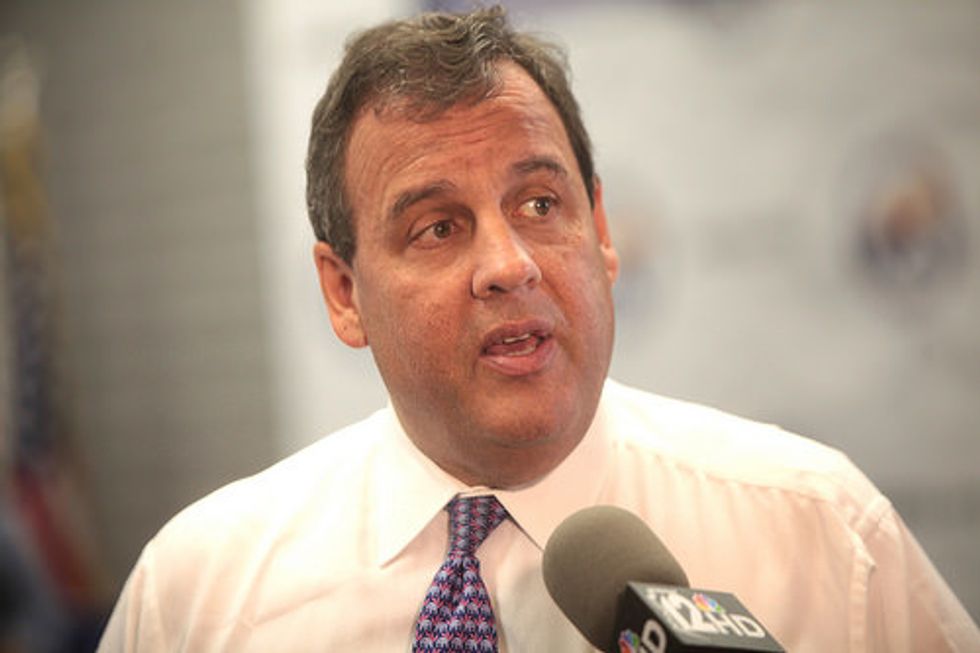 By Melissa Hayes, The Record (Hackensack, N.J.) (TNS)
LONDONDERRY, N.H. — He didn't walk out from behind a large blue curtain to the sounds of Bruce Springsteen. He didn't recite his "rules" for a town hall meeting. When it came time for New Jersey Gov. Chris Christie to remove his suit coat, he handed it to an aide, forgoing the signature toss.
And in a tightly packed room where aides couldn't always reach the people asking questions, Christie did something he seldom, if ever, has done in New Jersey. He offered his own microphone.
The differences in stagecraft between Christie's first town hall event in New Hampshire on Wednesday and the 134 he's held so far in New Jersey — 135 counting Friday's event in Hasbrouck Heights — were mostly subtle. But there was one major, distinguishing factor: Christie faced pointed questions on federal policy and national programs instead of the usual, parochial New Jersey concerns. Sometimes his answers were specific, like his opposition to taking Cuba off the state-sponsored-terrorism list and his support for vaccinations. But others were vague, with promises of more details to come.
His 90-minute question-and-answer session in Londonderry, N.H., had a smaller crowd than those in New Jersey — due to the small venue — and a different banner. But Christie still turned questions about his positions on the issues into attacks on President Barack Obama as he does in New Jersey. And Christie, who has not said he is actually running for president, often used his work as governor as examples of what he might do if he made it to the Oval Office.
It wasn't that long ago that Christie was seen as a front-runner for his party's nomination. But Wednesday, as he started his "Tell It Like It Is Town Hall Tour," Christie is just one face among two dozen declared and potential GOP candidates — a notion that wasn't lost on town hall attendees who said they wanted to compare Christie with others they've already seen up close.
Brian Dooley of Nashua, N.H., spent more than a year volunteering for Mitt Romney's campaign in 2012 and described Christie as having the "kinds of gifts" that worked for John McCain, who won the state's GOP primary in 2008 after holding more than 100 town halls. But he also wasn't ready to throw his support behind one candidate.
"I think it's too early in the process, and I think you have to walk for miles," Dooley said after the gathering in Londonderry "You have to get in the trenches and do the work. I think events like this, what he's been doing the last few days, it's very critical to whether he's going to go far down the road."
Christie, who has been struggling in presidential polls, has worked to set himself apart from the pack this week, kicking off the first of four days in New Hampshire on Tuesday with a speech at St. Anselm College in Manchester that called for overhauling Social Security, Medicare, Medicaid and disability. During radio interviews Wednesday he criticized potential opponents, businesswoman Carly Fiorina and former Florida Gov. Jeb Bush. Both of them, along with Christie, plan to be in New Hampshire to participate in a state GOP summit this week.
Christie also fielded questions and weathered a few jokes about the George Washington Bridge lane-closures scandal during a diner stop at Chez Vachon in Manchester on Wednesday morning. Christie is looking to use his skills as a retail campaigner and host of these town halls to introduce himself to critical voters and elevate his media profile in the state that hosts the nation's first presidential primary.
During the town-hall event Wednesday, Christie fielded questions on immigration, campaign finance, Cuba, federal health care, easing nuclear sanctions on Iran, federal education standards and the rising cost of college tuition.
He was also asked if he'd support a voluntary vaccination program — a topic that caused controversy when Christie was asked about vaccines during a trade mission to England in February. The governor didn't leave any room for ambiguity this time.
"I cannot be someone who supports voluntary vaccination," he told the roughly 200 attendees. "I think that would be the wrong step for the public health of our country."
Christie said he disagrees with Obama's plans to remove Cuba from the terror list, noting the country has been harboring Joanne Chesimard, who escaped from a New Jersey prison in 1979 after she was convicted for killing a state trooper and now goes by the name Assata Shakur.
The response impressed Dennis Martin, a Coast Guard veteran who asked the question.
"I wish this guy would run because we need someone like him," said Martin, who identified himself as an unaffiliated voter.
Christie said he also doesn't think the country should lessen sanctions on Iran because it would lead to a nuclear-weaponized Middle East.
And when asked about the influence of money on politics, Christie told attendees he supports unlimited political contributions, but they should all be publicly reported within 24 hours.
"The problem is that we have to be able to communicate to all of you and that gets increasingly, increasingly expensive and more difficult," he said. "I think what is corrupting in this potentially, is when you don't know where the money is coming from."
On immigration, Christie said the country needs to secure its borders, but he said he'd use technology and manpower rather than a wall. He said that the United States needs to crack down on companies who employ immigrants who are in the country without legal permission and added he doesn't agree with self-deportation because, "These folks are not going to leave on their own."
David McConville, a Republican who posed the question, said after the event that the governor's response was broad, but that's what he expected.
McConville, who went to St. Peter's Prep in Jersey City before moving to New Hampshire 35 years ago, said he likes Christie because he's from New Jersey, but he isn't ready to get behind anyone yet.
"We are blessed this time around with a whole array of very competent, very well-educated, very experienced politicians who can effect the sort of change we need to get to, to bring back our country," he said. "It's too early in the campaign — he hasn't even said he's going to run for president."
Christie closed the event with a familiar story about his final conversation with his mother, who died 11 years ago after battling cancer. He often shares the story about how they never left anything unsaid between them to explain his blunt style. On Wednesday he also used it in part to explain why he likes town halls.
"As we talk to each other, as we engage in conversation, you need to know where that conversation comes from," he said. "That's why I like to do this because in this kind of interaction that's completely unscripted and you have no idea what the heck anybody is going to ask you — think about this, we've gone from Iran to Cuba to vaccines to Medicare and Social Security — we've been all over the place in an hour and 40 minutes. What an amazing opportunity, what a great country we have."
(c)2015 The Record (Hackensack, N.J.), Distributed by Tribune Content Agency, LLC
Photo: Gage Skidmore via Flickr