In Surprise Testimony, Oath Keeper Claims Remorse For January 6  Violence
@next2godwin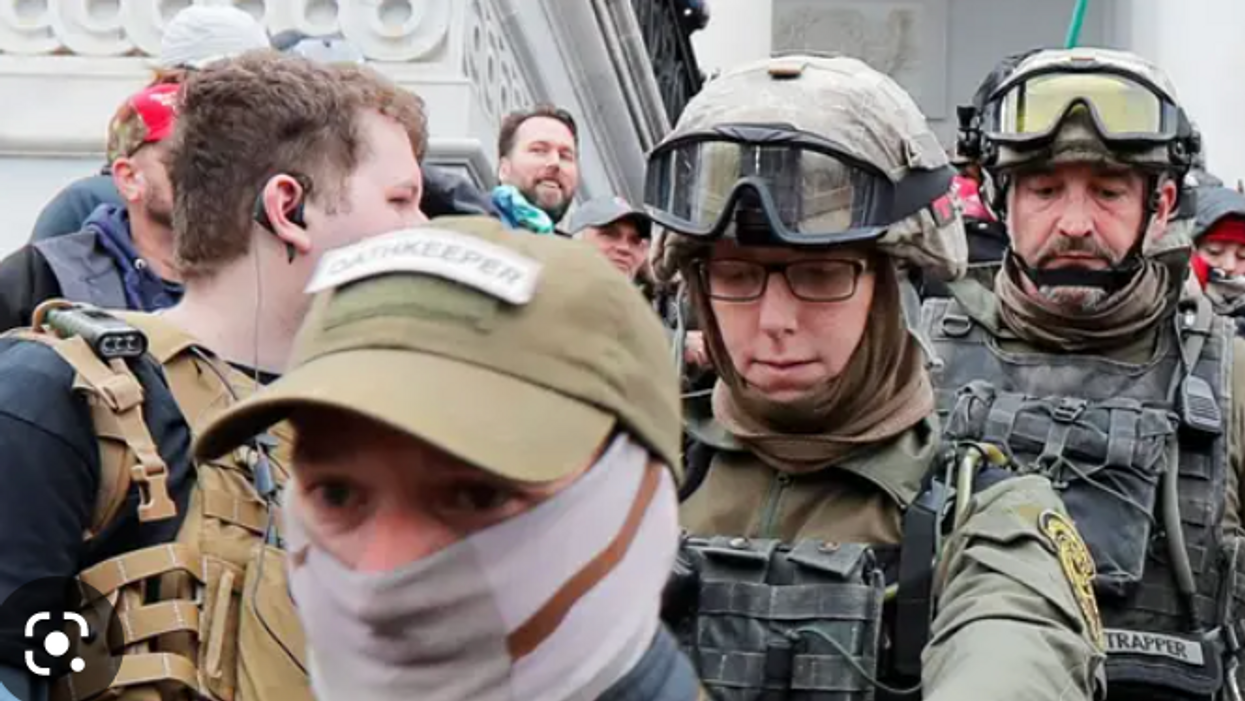 The high-profile seditious conspiracy trial of the far-right Oath keepers took an unexpected turn Wednesday when Jessica Watkins — a former US Army soldier and leader of the militia group's Ohio chapter — took the stand in her defense, expressing remorse for her role in the January 6, 2021, insurrection, and blaming her radicalization on fringe right-wing media, especially Alex Jones' Infowars.
Watkins and her alleged co-conspirators — Elmer Stewart Rhodes, the Oath Keepers' founder; Kelly Meggs, leader of the group's Florida chapter; Thomas Caldwell, retired Navy intelligence officer; and Kenneth Harrelson, a welder from Titusville, Florida — stand accused of planning "an armed rebellion" to stop with force the transfer of power from the 45th to the 46th President of the United States.
For over five weeks after opening arguments on October 3, federal prosecutors presented a litany of direct evidence of the discussions between the Oath Keepers of plans to use force to stop the transfer of power to then-President-elect Joe Biden. The five Oath Keepers pleaded not guilty to several charges stemming from the insurrection.
Watkins, prosecutors alleged, stormed the Capitol in tactical formation, coordinated the breach via a walkie-talkie app, and pushed against a police line outside the Senate chamber — all the while "clad in camouflaged battle fatigues, a tactical vest emblazoned with an Oath Keepers patch, combat boots, military-grade helmet, and radio equipment."
When Watkins took the stand, she apologized to Capitol law enforcement for interfering with their duties and tried to appeal to the jury — at times bizarrely — set to decide her guilt, claiming she had been unaware of any plans to storm the halls of Congress that day.
"It's the question I've been asking myself ever since," Watkins said, trying to explain why she went to the Capitol that day. "It was really stupid. I just got swept up there. It was like Black Friday."
Watkins, a transgender veteran, recounted to the jury her struggles in the military — at the time subject to the "Don't ask, don't tell" policy — which led to her "other-than-honorable discharge," according to CNN. She attributed her own use of "disgusting" homophobic slurs to her struggles with her identity.
Watkins blamed her indoctrination into the conspiratorial sphere of the conventional discourse on a "steady diet" of Alex Jones' ravings daily, disseminated on his right-wing disinformation platform, Infowars.
"I got a steady diet of InfoWars and Alex Jones. That's how I found the Oath Keepers in the first place. I probably watched five or six hours a day," Watkins said. "In hindsight, I feel like I was gullible."
It was on Jones' show that Watkins said she learned of the Oath Keepers, as Rhodes had made several guest appearances, and took up the militia group's mantle to protect a country she perceived was under attack from enemies within and outside.
"I put two and two together and thought that the United Nations is going to come in and go door to door," Watkins said. "It kind of got in my blood… so I don't know, I just couldn't help myself."
The Oath Keeper admitted she believed the 2020 election was stolen and, even now, still had "a lot of questions" about its legitimacy, despite the legion of authoritative sources debunking the Big Lie-inspired false voter fraud claims.
"It was a cool moment," Wakins told the jury, referring to her testimony that the MAGA mob parted to give way to the Oath Keepers. "Everybody was excited to see us…. I just felt, like, really American. There was no violence at all."
Like Caldwell and Rhodes, both of whom took the stand in their defense before she did, against the advice of their attorneys, Watkins struggled to justify her presence at the Capitol and her alleged violent lexicon cited by prosecutors during their argument.
"In my mind, I thought it was this heroic American moment where I thought people were going into our house; we were going to be heard," she said. "It was this moment where I lost all basic objectivity. I wasn't doing security anymore; I wasn't medic Jess anymore. I was just another idiot running around the Capitol."
Watkins admitted to entering the Capitol and apologized to the officers she impeded.
"I want to say I'm sorry to you," she told the jury, "but I'd rather say I'm sorry to Christopher Owens, the officer [of the Metropolitan Police Department] who was here. He was the one on the other side of it, protecting the Capitol from my dumbass."