In Test For Biden, Frustrated Cops Line Up Against Prison Reform
@reuters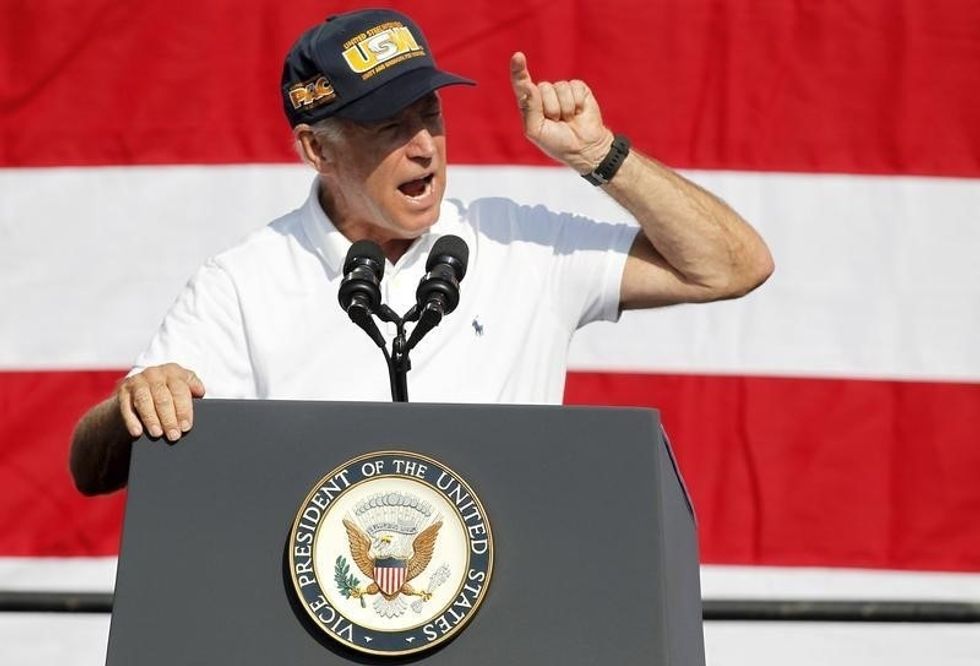 By Julia Edwards
(Reuters) – President Barack Obama's push for sentencing reforms that would decrease the number of Americans imprisoned – a key focus of his remaining time in office – has won support from an unlikely coalition of liberals and conservatives that includes civil rights groups, tea party Republicans and Koch Industries.
But the effort is running into opposition from a crucial constituency: the law-and-order lobby that represents American police.
Law enforcement groups have stepped up their efforts against proposals circulating in Congress to roll back tough mandatory sentences for drug crimes and focus more resources on reducing recidivism and alternatives to incarceration.
The opposition represents a personal and political challenge to Vice President Joe Biden, a longtime ally of law enforcement, who has been tasked by the White House with winning over skeptical cops even as he weighs whether to enter the race for the Democratic presidential nomination.
"Law enforcement will always be the bigfoot in the conversation," said Jesslyn McCurdy, legislative counsel at the American Civil Liberties Union, which supports sentencing reform. "If they are not on board with any deal, it would be difficult to get it through."
While Obama has made the public case for criminal justice reform himself, including a first-of-its-kind visit to a federal prison outside Oklahoma City in July, he has turned to Biden and Justice Department officials to make the case to police groups, people involved in those closed-door meetings say.
A former public defender, Biden has been a long-time advocate for police funding. In 1994, he was the Senate sponsor of a landmark crime bill signed by President Bill Clinton that put more cops on the street, imposed tougher sentences and set aside nearly $10 billion for prisons and new police hires.
At a time when relations between the Obama White House and police have been strained by a series of deadly altercations between officers and unarmed black men, including the 2014 shooting death of Michael Brown in Ferguson, Missouri, Biden has been a voice of solidarity with the beat cop.
In an essay published in April, and then in a breakfast meeting at the White House with police representatives in May, Biden has made the case for increased federal funding for policing as part of a more sweeping prison reform effort.
But, in what amounts to a rebuff of Biden's outreach, the National Sheriffs' Association, the oldest U.S. law enforcement lobby, has come out against any move to lower mandatory minimum sentences for drug offenders.
Biden continues to express optimism. "The Vice President has been asked to help lead reform efforts and use his unique standing with the law enforcement community to find consensus on a path forward," his office said in a statement.
Police advocates say the White House's push to reduce the prison population would risk a spike in drug-related crime and strain many local departments at a time when they face increased scrutiny, simmering tensions with the communities they serve and reduced federal funding.
State and local police departments are funded by local taxes, but the amount of federal funding to support hiring has plunged since the late 1990s.
In 1998, the Justice Department sent $1.4 billion to police through a grant program known as COPS. By 2014 that had dropped to $127 million, prompting hiring freezes or layoffs in departments across the United States in recent years.
In private meetings with police groups, the Justice Department has promised to back legislation that would allocate at least some of any savings from prison reform to policing, two officials said.
But so far, the bipartisan Senate bill the White House is strongly supporting, the Smarter Sentencing Act, makes no guarantees of funding for police.
A bill recently introduced in the House, the SAFE Justice Act, would specifically allocate funding for things such as body armor and law enforcement pensions. But the White House is still considering whether it will support that bill, introduced by Representatives James Sensenbrenner, a Wisconsin Republican, and Robert Scott, a Virginia Democrat.
'AS SMOOTH AS SANDPAPER'
It is not clear, however, whether even a bill that tied prison reforms to increased police funding would win law enforcement support.
Some groups, including the Federal Law Enforcement Officers Association, oppose lowering sentences on principle. Others, such as the Fraternal Order of Police, the nation's largest police organization, has expressed skepticism about sentencing reform, but has said it would be willing to consider changes that redirected savings from any reform to state and local law enforcement agencies if the money was approved by Congress.
"The White House and Justice Departments can hold out a carrot to law enforcement saying, 'We can save all this money and give it out in state and local grants.' But no president or attorney general can make that promise. It's up to Congress," said Jim Pasco, executive director of the Fraternal Order of Police.
A breakfast meeting with Biden and law enforcement groups at the White House in May went "as smooth as sandpaper," said Jonathan Adler, national president of the Federal Law Enforcement Officers Association.
In the meeting, Biden said he would do everything he could to bring more resources to police but also made the case that it was time to reexamine the U.S. incarceration rate, the highest in the world, participants said.
Adler said Biden's support for reduced sentences for prisoners serving time for drug crimes had cost him support. "The White House is not really assessing the wider damage these people cause," said Adler, whose group was one of at least six police groups invited to meetings at the White House.
Conservative proponents of reform, including Charles and David Koch, the billionaire backers of conservative causes, point to the more than $80 billion the United States spends on prisons annually as unsustainable. Among Republican presidential candidates, Ted Cruz and Rand Paul have both urged easing mandatory minimum sentences.
Since the early 1970s, the number of Americans in prisons has increased seven-fold. More than 2.2 million people, including a disproportionate numbers of blacks and Hispanics are serving time in U.S. jails and prisons.
Some law enforcement groups have expressed support for sentencing reform, including the Major Cities Chiefs Association and the American Correctional Association, which represents workers in the prison system.
(Reporting by Julia Edwards; Editing by Kevin Krolicki and Sue Horton)
U.S. Vice President Joe Biden speaks prior to the kickoff of the Allegheny County Labor Day Parade in Pittsburgh, PA September 7, 2015. REUTERS/Aaron Josefczyk