In New York Times Email, Barr Endorses Trump's Vendetta Against Clintons
@AlterNet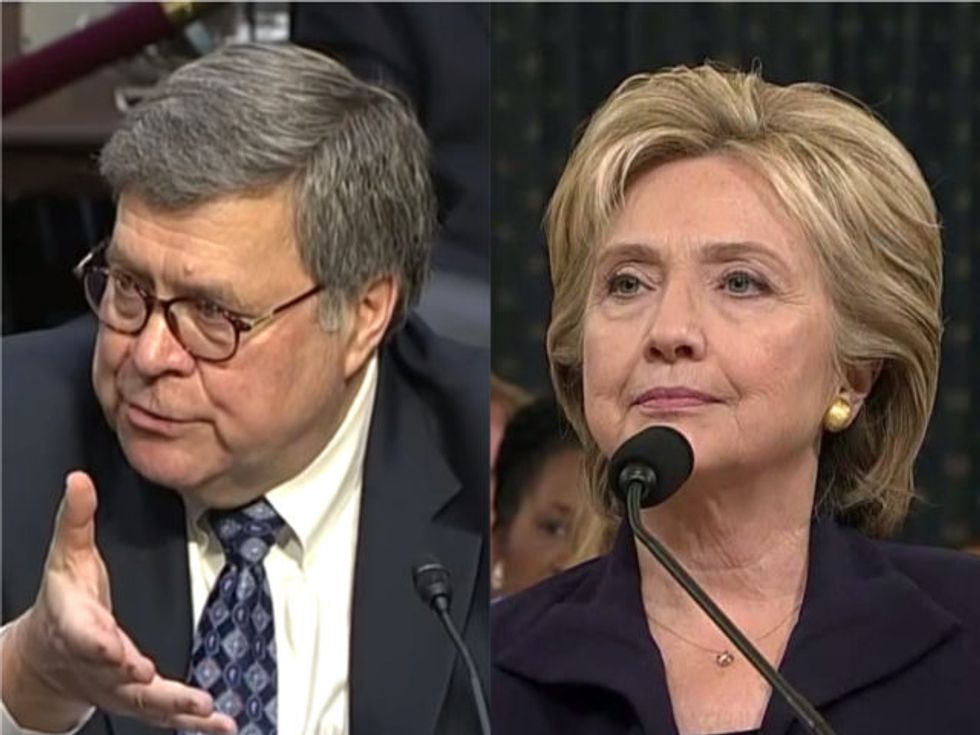 Reprinted with permission from AlterNet.
William Barr, President Donald Trump's pick to be the next attorney general, has a disturbing record of extreme partisan opinions on central matters of the rule of law — a record which many critics argue disqualifies him from serving at the head of the Justice Department.
A prime example of this extreme partisan bias was revealed in an email that he sent to the New York Times in 2017. Reporter Peter Baker shared the text of email in response to increased curiosity about the paper's reporting on his opinions:
Questions have been raised about what Bill Barr told us for a story in 2017. Here is his full email from then responding to our request for comment. We're grateful he replied and hope this clarifies any confusion. pic.twitter.com/xTCsJSpic2

— Peter Baker (@peterbakernyt) January 15, 2019
In the email,  Barr defended Trump's calls for his enemies — in particular, Hillary Clinton — to be investigated. Not only did he defend this norm-breaking and borderline authoritarian behavior, but Barr also agreed with the substance of Trump's call for an investigation. He similarly disparaged the basis for Special Counsel Robert Mueller's Russia investigation, despite the mountains of public evidence supporting its continuance and the fact that DOJ was certain to have additional confidential pieces of evidence supporting its decisions. (It has since proven to indeed have much more evidence in the matter than was publicly known at the time of the email.)
"I have long believed that the predicate for investigating the uranium deal, as well as the [Clinton] foundation, is far stronger than any basis for investigating so-called 'collusion,'" Barr wrote. "To the extent it is not pursuing these matters, the Department is abdicating its responsibility."
No wonder Trump picked him.
In this short email, Barr betrays the fact that he has completely bought into the right-wing conspiracies surrounding the Russia investigation, Hillary Clinton, and the Uranium One deal — which none other than Fox News' Shep Smith has rigorously exposed as nonsense.
The fact that he has clearly developed rabid partisan opinions on central matters of the rule of law should frighten any American. So too should the fact that, in swallowing this empty propaganda and then declaring as an outsider what the Justice Department should be doing, he has revealed himself to be bereft of good judgment.