India's Election Begins For Its 814 Million Registered Voters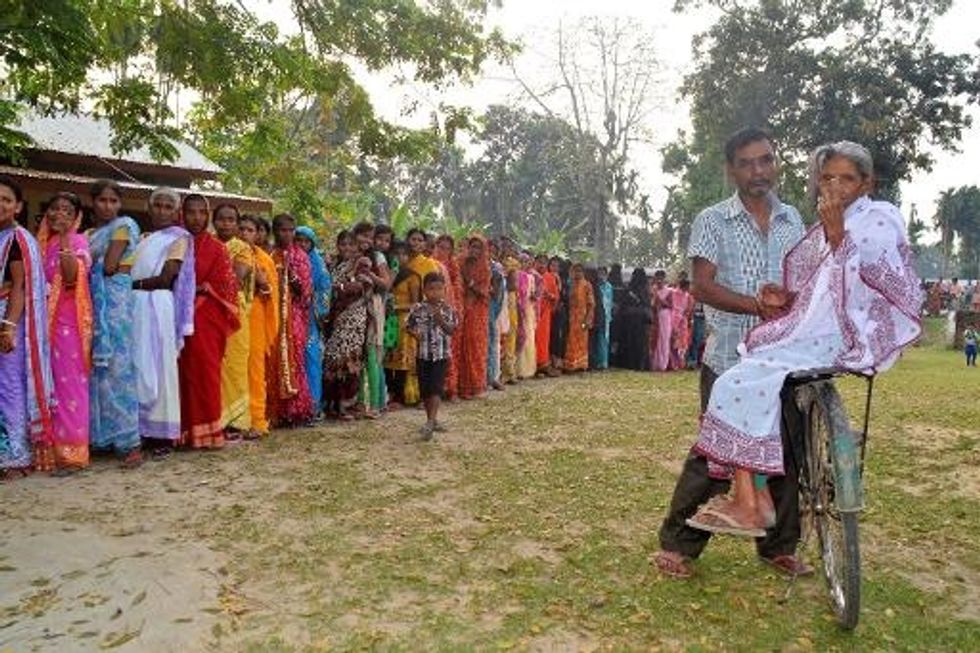 By Tanvi Sharma and Shashank Bengali, Los Angeles Times
NEW DELHI — Balloting began Monday in the world's largest election, as Indian voters frustrated by an economic slowdown and political mismanagement were expected to drum the ruling Indian National Congress out of power.
Six weeks of staggered voting began with residents in a handful of remote northeastern constituencies going to the polls. It was the first of nine days of balloting with 814 million registered voters spread across India's 935,000 polling stations.
Pre-election polls predicted a resounding win for the Hindu nationalist Bharatiya Janata Party, whose prime ministerial candidate, Narendra Modi, has captured the country's attention with a pro-business, anti-incumbency message. But Modi also is dogged by decade-old accusations that he didn't intervene to stop communal riots that killed 1,000 people, mostly minority Muslims, in the western state of Gujarat, where he has been chief executive since 2001.
The polls suggested that Modi's BJP will capture the most seats in India's 543-seat lower house of parliament, although likely not enough to win an outright majority, forcing it into a coalition with smaller parties. Results are expected May 16.
Despite India's often sclerotic politics, this election has fueled massive interest due to high levels of voter dissatisfaction, Modi's popularity and, in some cities, the advent of an upstart, anti-corruption movement called the Aam Aadmi Party. The party, whose leader is an unassuming former tax inspector named Arvind Kejriwal, has galvanized interest among India's 120 million first-time voters, although the party was not expected to win more than a few parliamentary seats nationwide.
"Thanks to the media and people speaking up, some sort of awakening has been noticed," Priyanka Bhatta, an administrative officer at a public school, said by phone from the lush but underdeveloped tea-growing state of Assam, where she stood in line for two hours to vote. "I feel not all is lost and not everything is about bad politics."
By the close of voting, officials said 72 percent of the 6.4 million eligible voters cast ballots in five constituencies in Assam, according to Indian media reports. The area is considered a Congress Party stronghold due to the many residents who depend on the center-left party's welfare programs.
But some voters said they were fed up with Congress — the party run by India's Nehru-Gandhi family for nearly all of its more than six decades as an independent nation — due to political stagnation and a series of high-profile corruption scams. Annual economic growth, which had reached nearly to double digits a few years ago, was just 4.9 percent last year, according to official figures.
"Corruption in Assam is the highest," said Nuzhat Nasreen, a 29-year-old who said she voted for the BJP candidate in her constituency of Tezpur. "The center (New Delhi) allots funds, international (aid agencies) also allot funds to the state, but nothing reaches the public. Mostly the population is below the poverty line in Assam and … they vote for the candidate they are told to vote for. I feel Congress has a strong hold here. I don't have high hopes but let us see what happens.
Photo via AFP