Indicted Giuliani Associate Will 'Comply' With Congress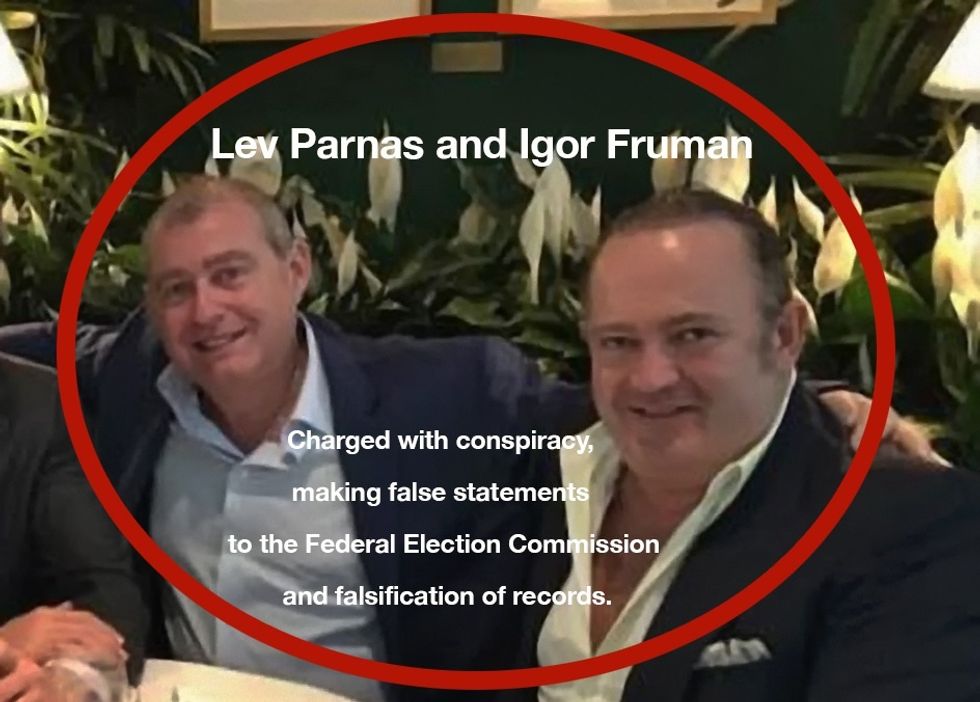 Donald Trump got more bad news on Monday, when news broke that an indicted associate of Rudy Giuliani who was in on efforts to get Ukraine to investigate Trump's political opponents may cooperate with impeachment investigators, the New York Times reported.
Lev Parnas — who was indicted for making illegal straw donations to a Trump super PAC — was formerly represented by a lawyer on Trump's legal team but is now represented by a new counsel who said Parnas is "willing to comply with the subpoena to the extent that it does not violate any appropriate privilege that Mr. Parnas may properly invoke."
Parnas' break from the ranks follows Trump's claim that he doesn't know who Parnas is.
"I don't know them," Trump said of Parnas and Parnas' associate Igor Fruman. "I don't know about them. I don't know what they do but I don't know, maybe they were clients of Rudy. You'd have to ask Rudy, I just don't know."
Photos of Trump and Parnas go as far back as 2014 and show that Parnas has had meetings with Trump and members Trump family's, including first son Donald Trump Jr.
There are also photos of Parnas being a VIP at a Trump rally.
"Mr. Parnas was very upset by President Trump's plainly false statement that he did not know him," Parnas' new lawyer, Joseph A. Bondy, told the New York Times.
Here's what else is happening in impeachment news:
The House on Monday began releasing transcripts from the depositions they've been holding. The first two transcripts were of interviews with former U.S. Ambassador to Ukraine Marie Yovanovitch and Mike McKinley, a former aide to Secretary of State Mike Pompeo. Yovanovitch's interview showed that she felt threatened by Trump and that in order to save her job she was told to praise Trump in tweets.
The House will release two more deposition transcripts on Tuesday from interviews with Trump donor turned U.S. Ambassador to the European Union Gordon Sondland and former special envoy to Ukraine Kurt Volker. Text messages sent by both Sondland and Volker are evidence that Trump was demanding Ukraine investigate former Vice President Joe Biden if the country wanted to receive critical military aid from the United States.
House Republicans — who had demanded that Democrats release the deposition transcripts — are now complaining that the deposition transcripts have been released.
Come back tomorrow for more impeachment news.
Published with permission of The American Independent.