Indonesia Tests Mental Health Of U.S. Teen In Bali Suitcase Killing
@AFP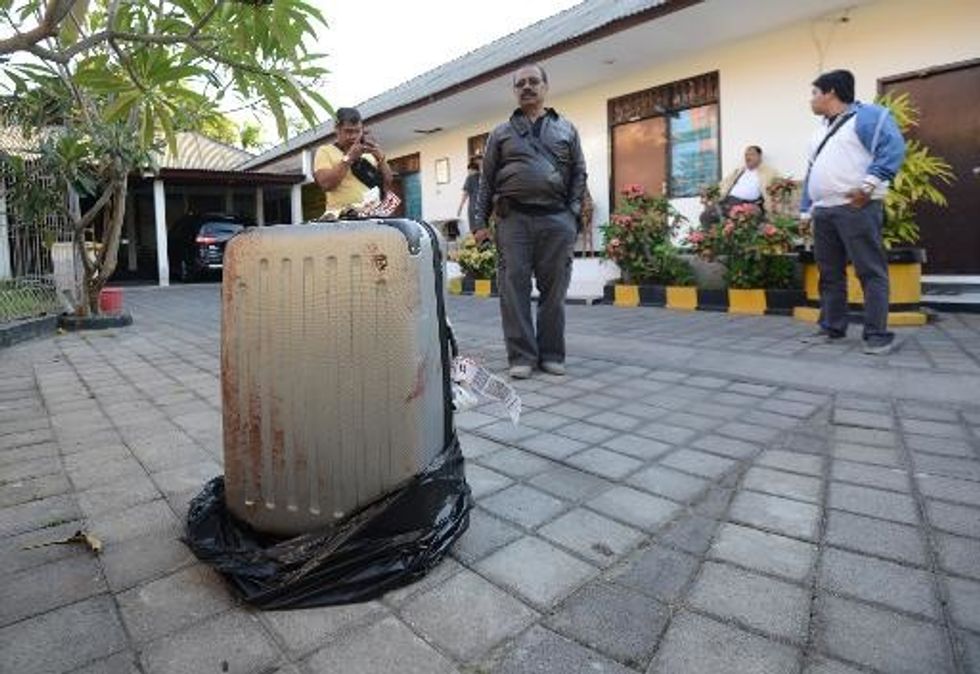 Denpasar (Indonesia) (AFP) — Indonesian police were Thursday conducting mental health checks on an American teenager suspected of killing her mother and stuffing her battered body into a suitcase on the resort island of Bali.
Heather Mack, 19, broke down in tears during questioning and claimed three men had sought to rob her and her mother in the luxury hotel where they were staying shortly before the death, police said.
However police said Mack and her boyfriend, 21-year-old Tommy Schaefer, who have both been arrested in connection with the gruesome killing, had now been officially named suspects and insisted there was strong evidence against the pair.
The half-naked body of Sheila von Wiese Mack, 62, was found Tuesday stuffed into a suitcase in the boot of a taxi in front of the five-star St. Regis hotel in the upscale Nusa Dua resort area of Bali.
A doctor said the victim had wounds to her head and appeared to have put up a struggle. The suitcase containing her body was smeared with blood, and wrapped in a bed sheet.
Heather Mack and her boyfriend fled the hotel after her death but were caught early Wednesday on another part of Bali and have been in custody since.
Police cited a taxi driver, who said the pair had sent the suitcase containing the body down to his vehicle before fleeing.
Local police chief Djoko Hari Utomo told AFP Thursday that Mack and Schaefer had been questioned separately and CCTV footage had been examined.
He said they were undergoing psychiatric tests to check for sign of mental instability.
"They had not made any statements confessing or denying the charge. But (Heather) Mack told police investigators that three local men had entered their room and tried to rob them, perhaps suggesting she was not involved," he added.
Haposan Sihombing, an Indonesian lawyer appointed by police to represent Mack, said she had claimed her mother told the men to leave after they entered the room the pair were sharing.
Utomo said she broke down during questioning by investigators late Wednesday, but he added the evidence against her and Schaefer was strong.
CCTV footage showed the couple lugging the suitcase containing the victim from their hotel room down to the lobby using the emergency exit staircase, he said.
Mack has demanded legal representation from the United States, Sihombing told AFP, adding she was now refusing to talk to police until she has a U.S. lawyer.
Under the Indonesian legal system, suspects are only formally charged at their first court appearance, which takes place once police have finished their investigations.
AFP Photo/Sonny Tumbelaka
Interested in world news? Sign up for our daily email newsletter!