Inmates To Butchers: Bill Would Create Meat Processing Program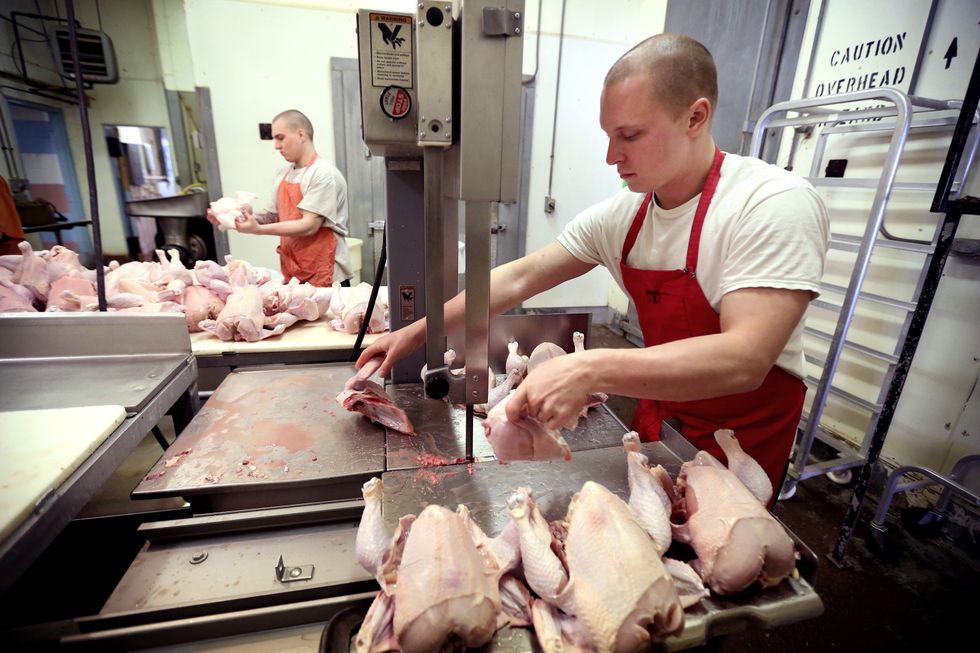 By Jenna Ross, Star Tribune (Minneapolis) (TNS)
SAGINAW, Minnesota – The men filed into the locker room, throwing on red aprons and rubber boots.
"Same jobs as yesterday," supervisor Michal Jasek told them.
One guy heaved a huge bucket from the walk-in refrigerator. Another started the bandsaw. Then they broke down the hundreds of chickens they had slaughtered that morning — slicing skin, cutting bone, weighing wings.
The workers at this meat-processing shop, part of the Northeast Regional Corrections Center, are inmates. Some state lawmakers hope they will become the next generation of butchers.
Under a bill introduced this month at the Legislature, work shifts at this minimum-security facility would become a formal curriculum, training the men for jobs in meat processing after they're out. New workers are needed in the industry, some experts say, as the demand for local meat grows and the owners of slaughterhouses and butcher shops grow old.
Two-thirds of the owners of Minnesota's small meat-processing facilities are at or near retirement age, according to a recent survey by the Agricultural Utilization Research Institute. Just one-third have succession plans, the survey shows.
"There's a need to take some action here and make sure that we don't lose this vital part of the agricultural infrastructure," said Paul Hugunin, with the Minnesota Department of Agriculture.
Each year, about 600 men serve short sentences at the Saginaw corrections center, a work farm started in the 1930s that sits on 3,200 acres north of Duluth. They grow hay on about 400 acres.
They plant potatoes, corn, and carrots. They raise chickens, turkeys, and pigs.
The inmates eat much of the meat for lunch and dinner, but the facility also butchers animals for farmers, for a fee.
The idea of a formal training program sprang from Representative Jason Metsa (DFL-VA), who was trying to think of "creative ways to attract more farmers to our area." He's pairing the pilot program with the corrections center's request for a new $1.2 million food-processing building — pitching a USDA-inspected facility as the answer to local farmers' laments about a lack of meat-processing spots in northeastern Minnesota.
Keith Nelson, a St. Louis County commissioner, told the House Agriculture Policy Committee last week that some producers in his district have to travel 250 miles round-trip to have their chickens readied for sale.
"There's a lot of us around that could gain a great deal of value from such an operation," said Nelson, a beef farmer who serves on the correction center's board.
___
PHYSICAL WORK
Knives, regulations, and a map of the Czech Republic hang in Jasek's office in the meat-processing plant. After growing up there, in a village of 300 people, Jasek traveled by bus and train for hours each day to study meat processing, part of a three-year degree.
In Minnesota, there is no such educational program for butchers and meat cutters — who, on average, make $18.53 an hour, according to the Minnesota Department of Employment and Economic Development. One in Pipestone shut down. But the University of Minnesota offers a broader meat-science degree.
Jasek, a St. Louis County employee, assigns the inmates simple tasks, he said. Some stay only a few weeks. Others he can train more thoroughly.
"It's hard work," he said, folding his broad-knuckled hands. "Physically demanding work."
Partly because of those demands, it's tough to find skilled help, said Mike Lorentz, chief executive of Lorentz Meats, a meat processing plant in Cannon Falls that specializes in organic and high-end protein. So he's glad the proposal is raising the issue.
The meat-processing industry is diverse — ranging from small retail shops to Hormel Foods' plants — so the training varies, too, Lorentz said. Working at an urban butcher shop might require wine-pairing knowledge, he said, while at Hormel, an employee might do a single cut all day long.
"For us, it's harder to train people up," said Lorentz, whose 30,000-square-foot facility employees 90 people. "The challenge with the bill is, who are you helping?"
___
RISE OF LOCAL MEAT
At the farmers market in Grand Rapids, Jane Grimsbo Jewett sells beef, pork, and chicken. But beforehand, her cows and pigs must travel to a meat processor in Foley — a 115-mile drive each way. The chickens trek to a processor 75 miles away.
"It's costly in terms of fuel and time," Grimsbo Jewett said.
But Grimsbo Jewett, a research fellow at the Minnesota Institute for Sustainable Agriculture, knows that building and upgrading meat processing facilities is costly, too. "A lot were built in the 1950s — or even earlier — and requirements have changed a lot," she said.
About 41 percent of Minnesota's small processing facilities have clocked more than 50 years, the survey by the Agricultural Utilization Research Institute shows. The Department of Agriculture offers grants to processors to buy new equipment or expand or upgrade their facilities, Hugunin said.
Southeastern Minnesota offers farmers "pretty good" options for meat processing, said Jan Joannides, executive director of Renewing the Countryside, a nonprofit. But in northeastern Minnesota, "there are real gaps in terms of availability."
In particular, there are few USDA-inspected facilities, "the gold standard," as Joannides put it. That inspection allows the meat to be sold in other states. Facilities inspected by state employees according to federal standards can sell to grocery stores and at farmers markets, just not across state lines.
There are few of either in northeastern Minnesota, said Jennifer Stephes, meat inspection supervisor for the Department of Agriculture. Her office has heard from farmers and local producers there looking for closer options.
"There's this growing interest among the public and among policymakers in having more local foods," Joannides said. "There are farmers out there willing to do it. But oftentimes it's the middle part that's a bottleneck."
A lack of inspectors might be contributing to the problem, Grimsbo Jewett said. Governor Mark Dayton's (DFL-MN) budget calls for five more meat inspectors, an increase of $250,000, citing "a significant increase in requests for inspections in the past six months."
___
'YOUNG AND DUMB to 'SOLID'
During a midafternoon break, the men gathered in the room with the smoker, opening its door to grab a few browned birds. They spread them on a sheet of butcher's paper, sliced them open, and dug in.
They paired the chicken with dark coffee, drunk from white mugs scrawled with their names and nicknames. Shawn Wirta's mug says, "BOSS."
Wirta was 17 years old and drunk when he crashed his grandparent's Buick, hitting a car turning into a driveway on Arrowhead Road in Duluth. A passenger in that car, a 22-year-old man, flew through the back window and died.
"It is what it is," Wirta said last week, shaking his head.
He came to this work farm in Saginaw a "young and dumb" kid. But 18 months of meat processing taught him about hard work. "When I came out of here at 19 years old, I was solid," he said. "I got out of here wanting to work. It fills up your day, it takes up your time, it keeps you out of trouble."
Wirta nabbed a job as a butcher, after "showing them what I could do," he said. He skinned hogs for a season, moving on to sausage making. "I could pretty much cut up any animal you want me to cut up."
He was sent back to Saginaw for leaving the state, not allowed under his probation. In a month, when he's released and his probation ends, Wirta plans to spend time with his three-year-old daughter, who visits him here twice a week. Then he'll head back to his farm in Florida, where he raises goats and chickens.
Photo: Jerry Holtvia via Minneapolis Star Tribune/TNS