Innovative Program Is Tailored To Prevent Homelessness Among Vets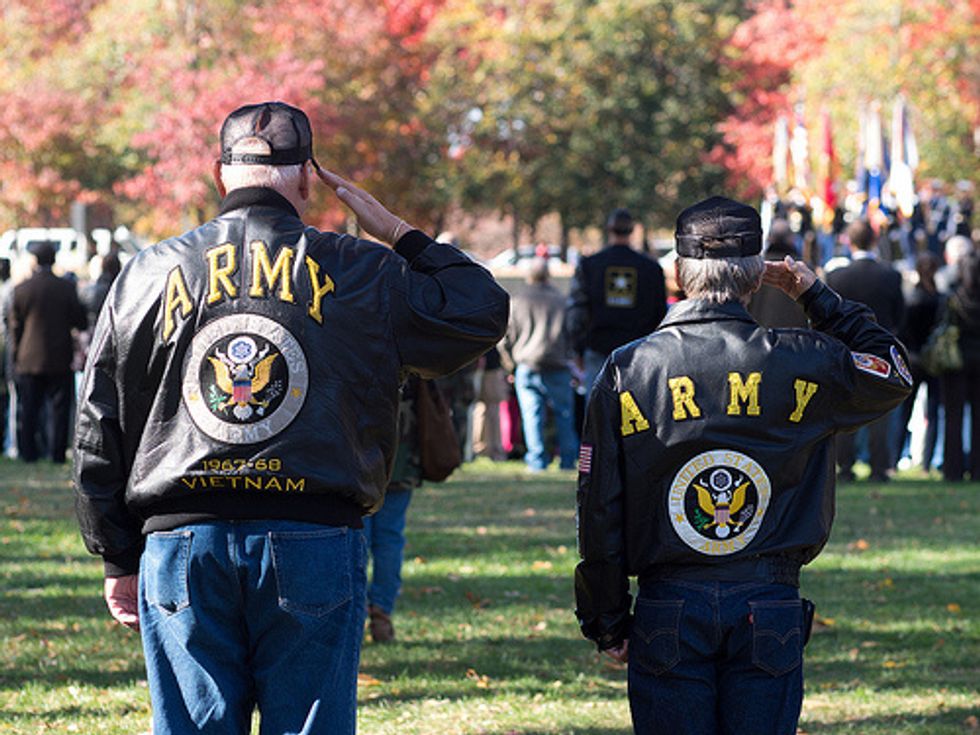 Tony Perry, Los Angeles Times
SAN DIEGO — Kris Warren, a Marine veteran with combat duty in Iraq, remembers the disorientation and other problems that kept him from re-entering civilian life.
Finally he mustered the courage to ask for help from the Department of Veterans Affairs in Los Angeles. With that help over months, he was able to reunite with his wife and children and avoid slipping into homelessness.
Now, Warren, 36, is part of an innovative VA program set to begin in San Diego: a residential treatment facility exclusively for Iraq and Afghanistan veterans in danger of becoming homeless.
"I know what it's like to walk up those stairs, prideful, and ask for help," Warren said.
Warren will serve as a social services assistant at the Aspire Center, a 40-bed, 30,000-square-foot residential rehabilitation facility in the Old Town neighborhood of San Diego, set to open Monday.
The VA plans to open five residential facilities nationwide in the next two years _ adding to the existing 107 centers.
The others will be in Philadelphia, Atlanta, Denver and West Palm Beach, Florida San Diego will be the only new center exclusively for Iraq and Afghanistan veterans, officials said.
There are other residential centers and related programs for veterans in San Diego, run by the military, the VA or nonprofit groups with VA financial support. All seek to help veterans regardless of when they served.
But to VA officials, San Diego seems an ideal location to test whether there is an advantage to having the Iraq and Afghanistan veterans together — veterans of roughly similar age who share common experiences and similar problems.
"When you have a tighter cohort, you can focus in on their specific needs," said Vincent Kane, director of the VA's National Center on Homelessness Among Veterans. "The older veterans are at a different station of life."
The San Diego region has 36,000 veterans from Iraq and Afghanistan among its 240,000 veterans.
Each year, 15,000 military personnel muster out of active duty from the region's Navy and Marine bases — many with post-traumatic stress disorder or traumatic brain injury.
One count had 286 veterans from Iraq and Afghanistan already homeless or at risk of quickly becoming homeless in San Diego County, but that figure may be low because of the limited method of finding the homeless or at-risk veterans, officials said.
When it comes to helping the Iraq and Afghanistan veterans, "this is the epicenter," said Jeffrey Gering, director of VA San Diego's health care system.
There will be challenges.
One will be devising a way to determine whether the approach is working. Keeping close watch on the homeless numbers is one way. Another will be watching to see how many of the veterans are able to leave and "live in the communities they fought to protect," Kane said.
A second potential problem comes from a VA rule that only veterans who have received an honorable discharge are eligible for treatment at the center.
Anecdotal evidence suggests that some veterans, suffering from PTSD or other problems, are receiving "other-than-honorable" discharges because of disruptive behavior. Veterans with that type of discharge will be interviewed and efforts possibly made to upgrade their "bad paper," Warren said.
One problem seemingly has been solved.
City Hall approval for the center was delayed because of opposition from officials and parents at the Old Town Academy, a K-8 charter school across the street from the former law school building that VA officials wanted for the $30 million project.
With mediation, a compromise was reached. The center will have additional security, and an advisory committee will include school officials and other neighbors.
Thomas Donahue, the academy's principal, said the school "is happy and excited to welcome the center to the neighborhood." Parents' concerns have been met and enrollment is booming, he said.
Within a few weeks, VA officials expect full occupancy at the facility: 34 beds for men, six for women.
Twenty-eight staff members will provide therapy for PTSD, vocational and occupational rehabilitation, mental health counseling and substance abuse treatment.
The goal is for the average resident to stay between 60 and 120 days, then leave with a VA follow-up plan.
The VA is determined that the Afghanistan and Iraq veterans will be treated better than the Vietnam veterans, many of whom languished for want of help in the immediate aftermath of that war. "Lessons have been learned from Vietnam," Kane said.
Before devising the San Diego center's approach, VA officials contacted centers in Palo Alto, California; Cincinnati, Denver and elsewhere. One suggestion that has been incorporated is to give veterans a sense of ownership by putting together a committee of residents to advise the director.
"We've done our homework," said Dimitri Perivoliotis, the center's psychologist.
Warren, who served in an artillery unit during the assault on Baghdad, will be at the center to watch over the veterans — as someone who understands what they've experienced.
"Where they go, I'll go," Warren said.
Photo: Cosmic Smudge via Flickr