We're Investigating Hate Across The U.S. There's No Shortage Of Work.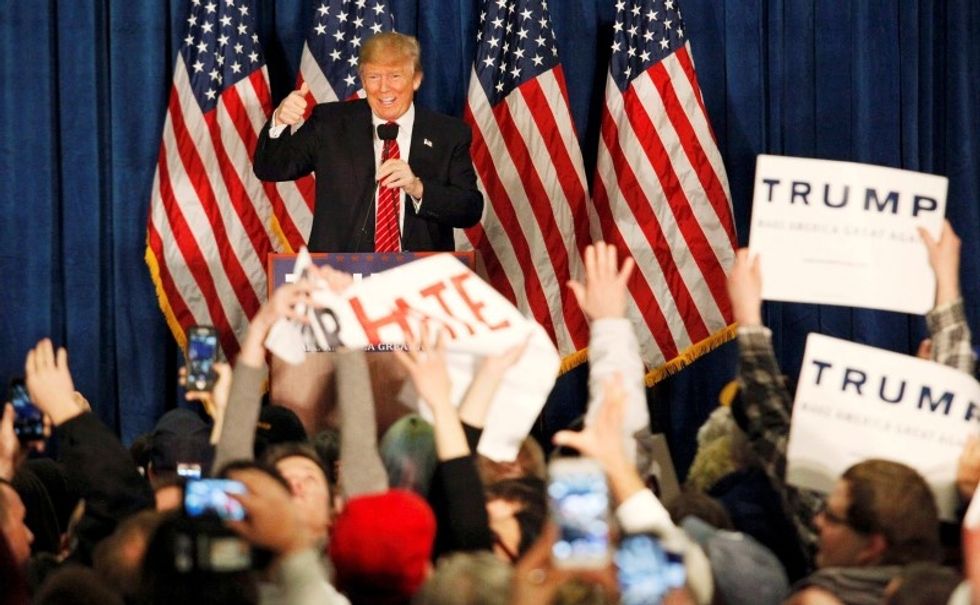 Reprinted with permission from ProPublica.
by Joe Sexton and Rachel Glickhouse ProPublica
An African-American homeless man slain with a sword on the streets of New York. A mosque attacked in Fort Collins, Colorado, its windows smashed by a man who finished off his assault by hurling a Bible inside the Muslim house of worship. A portion of Junction City, Wisconsin, evacuated after a man angry with his Hmong neighbor opened fire. A man arrested in Port St. Lucie, Florida, for trying to set fire to a convenience store he suspected was owned by a Muslim, after which he said he'd just been trying to "do his part for America."
That happened in the month of March in America. In fact, just a flavor of it.
There was also the Jewish cemetery vandalized in Rochester, New York. The man beaten with a pipe in a restaurant in Salem, Oregon, by an attacker who said, "Arab, you need to leave." The African-American family in Delano, Minnesota, who moved out of their home just months after moving in after it was ransacked and spray painted with epithets.
Earlier this year, ProPublica and a coalition of newsrooms set out to chronicle and report on hate crimes in the United States. The project, "Documenting Hate," was meant to provide some reliable information about an issue that has caused considerable alarm but been plagued by a lack of comprehensive data and sustained reporting.
With the help of civil rights groups such as the Southern Poverty Law Center and technology companies such as Google, First Draft Media and Meedan, we've been building a database of hate incidents — ranging from swastika vandalism to verbal insults to physical assaults. ProPublica and our media partners are working on authenticating these reports and spreading the word about how victims can share their stories.
It has been a grim accounting for some 170 reporters and editors from more than 40 newsrooms involved in "Documenting Hate."
The reporting has shown how hate has infiltrated many parts of public life, reaching cities big and small around the country: from a "mosaic of hate" in Boston as reported by The Boston Globe, to a white supremacy haven in Oregon reported by BuzzFeed, to a string of murders and hate incidents in Kansas City reported by The Huffington Post. Throughout the U.S., ethnic minorities have been targeted, as well as Jews and Muslims, ProPublica and Fusion reported.
We've received a significant number of reports to the database from minorities told to "get out of the country." Those targeted include immigrants, as Univision reported, as well as Latinos who were born in the U.S., as The New York Times opinion section wrote. Huffington Post compiled a list of nearly 100 ways this line of attack has been used against people of color.
Minorities have faced verbal abuse on public transportation, with numerous reports coming from New York City. The New York Times opinion section reported on two women of color who were harassed on the New York subway, and Univision wrote about a spate of verbal assaults against minorities on the public transportation system. The New York City Commission on Human Rights saw a 480 percent increase in reports of discriminatory harassment on New York's subways between 2015 and 2016, the Times found.
Schools and universities are confronting hate, too. We've received a number of reports about xenophobic incidents involving Latino children in schools, which Univision covered. White supremacy groups are using college campuses to spread their message, as ProPublica and The New York Times opinion section reported. And as Univision wrote, in some cases students are fighting back.
Victims have also reported being targeted in the workplace. A Massachusetts woman opened up to Univision about receiving a racist letter on her newspaper route, and a Venezuelan business owner saw his Seattle restaurant vandalized so many times that he gave up hanging a flag outside. And a St. Louis librarian told The Huffington Post about receiving an anti-Semitic voicemail at her job. We've also seen reports of hate online, like the case of a Jewish man in New Mexico facing an onslaught of hateful threats, reported by The New York Times opinion section.
Even the dead haven't been spared: The Times ran an essay by a ProPublica reporter whose St. Louis family was affected by gravestone vandalism — one of multiple incidents of its kind in the last few months.
As part of the "Documenting Hate" project, Google News has been compiling news articles about confirmed or potential hate crimes from across the country. One can select a week or a month, and be awash in reports of hate crimes — of arrests and arraignments, opened investigations and final sentences.
We happened to select March, but there's little to suggest any month would be that different.
The desecration of the mosque in Fort Collins, it turned out, wasn't the only recorded one last month. In Tucson, Arizona, a man broke into a mosque and tore up a Koran. The family in Minnesota was not the only one to see their residence defiled. A man in Troutdale, Oregon, a member of the Baha'i faith, came back from a trip to find his apartment covered in slurs accusing him of being a terrorist.
Two women were arrested and charged with hate crimes for their racial-expletive-filled attack on an African-American bus driver. A Sikh man in Kent, Washington, was shot, his assailant shouting at him to "go back to your country." A middle school in New Jersey saw its walls covered in threats of lynchings. A man in Chicago was taken into custody on hate crimes charges. He has a tattoo on each arm — "Jesus is Love" on one and a swastika on the other.
The last entry in the Google compilation for the month of March carried an extra note of sorrow. A man in Wisconsin who had survived a brutal gay-bashing assault six years ago was stabbed to death. Police were investigating the murder as a possible hate crime.
Correction, April 25, 2017: A previous version of this article incorrectly identified the Oregon town where a hate crime took place last month. It is Troutdale, not Troutman.
ProPublica is a Pulitzer Prize-winning investigative newsroom. Sign up for their newsletter.