Iran Boosts Oil Output, Foreign Firms Keen To Seal Deals
@reuters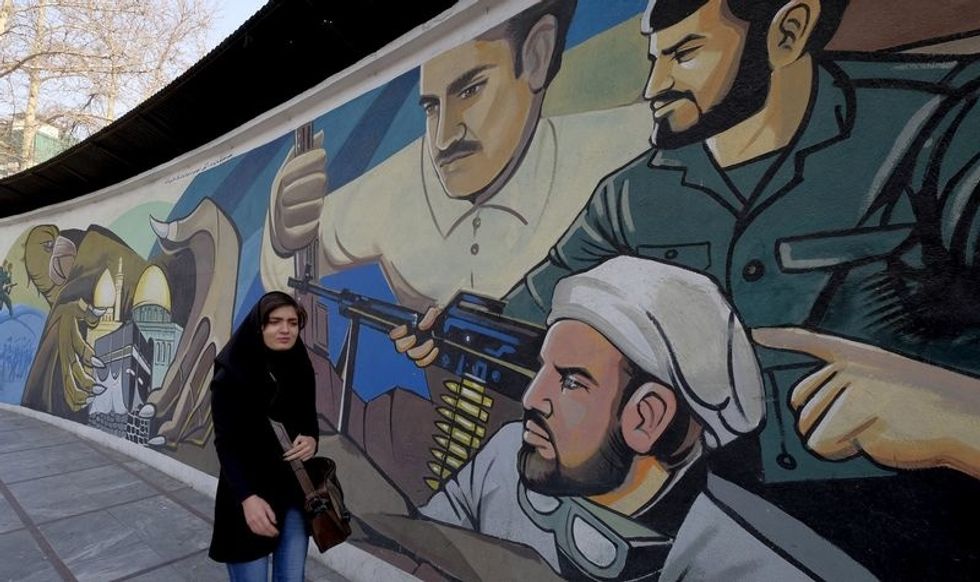 By Sam Wilkin and Bozorgmehr Sharafedin
DUBAI (Reuters) – Iran ordered a sharp increase in oil output on Monday to take immediate advantage of the lifting of international sanctions, and some foreign firms raced to snap up deals as Tehran emerges from years of international isolation.
Others were more wary, mindful of the risk of falling foul of residual U.S. penalties despite the lifting of nuclear-related sanctions on Saturday by the United States, European Union and United Nations.
Those measures were scrapped as part of a landmark deal between Iran and world powers, rewarding the Islamic Republic for scaling back its atomic energy program in ways that U.S. President Barack Obama said would prevent it from getting its hands on a nuclear bomb.
"We will be committed to the nuclear deal as far as the other side is," Iranian President Hassan Rouhani said on Monday, adding that his country was "morally and religiously committed not to seek weapons of mass destruction".
The agreement restores Iran's access to tens of billions of dollars in frozen assets, reopens the country to foreign investment and allows it to resume selling oil on world markets, albeit at a time when they are drowning in excess supply.
Deputy Oil Minister Rokneddin Javadi said Iran could increase output by 500,000 barrels a day "and the order to increase production was issued today".
The sanctions revoked at the weekend had cut Iran's oil exports by about 2 million barrels per day (bpd) since their pre-sanctions 2011 peak, to little more than 1 million bpd.
Oil prices touched their lowest since 2003 on Monday as the market braced for additional Iranian oil exports.
The lifting of sanctions opens up business opportunities across a host of sectors, from planes to telecoms.
"Iran is a huge market and in our focus," Kaan Terzioglu, head of Turkey's biggest mobile operator, Turkcell, said in an interview with Reuters.
He said Iran could be a target market as the company looks for regional acquisitions: "We are closely watching the Iranian market and in touch with all of its fixed line and mobile operators."
NEW MIDDLE CLASS
Dennis Nally, global chairman of PricewaterhouseCoopers, told Reuters before the start of this week's World Economic Forum in Davos that the audit and consultancy firm was seeing strong client interest in opportunities in Iran.
"Without question the energy, energy-related and infrastructure industries stand to benefit, but also sectors like retail, with the potential creation of a new middle class," he told Reuters.
A clutch of German firms were among those to signal their appetite to ramp up business ties with Tehran, and the Berlin government said it planned to revive state export guarantees for companies that wanted to do so.
Daimler said its trucks division had signed letters of intent with joint venture partners in Iran in order to re-enter the market, where it was selling up to 10,000 vehicles a year until 2010. Its rival Audi said it had representatives in Iran right now to discuss the "growing potential for luxury cars".
Herrenknecht, a family-run German tunneling company that helped to build the Tehran metro in the 1990s, said it expected Iran to put up new projects for tender, and it was ready to pounce on the opportunity.
Commerzbank, Germany's number two lender, also said it was considering the possibility of returning to Iran.
That announcement was especially striking, less than a year after Commerzbank agreed to pay $1.45 billion to U.S. authorities for sanctions violations partly linked to Iran. At the time, it joined a long line of foreign banks similarly penalized – France's BNP Paribas alone paid $8.9 billion.
For that reason, most international banks are expected to tread very carefully to avoid violating U.S. trade sanctions that remain in place.
DEALS AND DIPLOMACY
In further signs of likely deals in the pipeline, Switzerland's Zurich Insurance said it would look into insurance cover for corporate customers doing business with Iran, and the head of British Airways' parent company IAG said it hoped to start flying to Tehran "in the very near future".
Russia, another party to last year's nuclear deal, said it was looking to sell military helicopters to Iran and export more grain. India's national aluminum company NALCO said it would soon send a team to Iran to explore setting up a smelter complex worth about $2 billion, taking advantage of cheap and plentiful gas there.
Spain's foreign minister said Madrid and Tehran were discussing the building of an Iranian-owned oil refinery on the southern tip of Spain.
In a burst of diplomatic activity that will provide opportunities for discussing investment deals, Chinese President Xi Jinping will visit both Iran and its regional arch-rival Saudi Arabia this week.
In Rome, a diplomatic source said the Iranian president would travel to Italy and France next week on his first trip to Europe since the lifting of sanctions.
The nuclear deal removed restrictions that stifled Iran's economy for most of this decade – on banking, money transfers, insurance, trade, transport and technology procurement.
This will allow Iran to satisfy pent-up demand for goods and services that it had trouble obtaining at affordable prices under sanctions, from aircraft to factory machinery, medicines and some consumer goods such as cosmetics and branded clothing.
In an indication of the scale of potential deals, the transport minister said at the weekend that Iran intended to buy 114 civil aircraft from Airbus – a deal that could be worth more than $10 billion at catalog prices. Airbus said on Saturday it had not yet held commercial talks with Iran.
OPPORTUNITIES AND RISKS
Entering the Iranian market is not without risks: indebted local banks, a primitive legal system, corruption and an inflexible labor market. Many foreign companies will remain wary that sanctions could "snap back" if Tehran is later found in breach of the nuclear agreement.
"A lot of work has been done to get to where we are now. A similar and sustained effort will be required in the future," U.N. nuclear watchdog chief Yukiya Amano said on a visit to Tehran. "We must maintain the momentum."
U.S. companies look set to lag rivals from other countries in restoring trade with Iran, because Washington will retain broad sanctions that predate the nuclear crisis and were imposed over other issues such as terrorism and human rights abuses.
But U.S. business with Iran may still increase, after the U.S. Treasury said on Saturday that it would permit foreign subsidiaries of American companies to trade with Iran – a channel that big multinationals may be able to exploit.
A big foreign investment presence may take longer to rebuild than trade ties. Some firms may want to wait until they see the stance of the next U.S. president towards Iran; many will worry about "reputational risk", or exposure to legal action from shareholders or lobby groups, if they invest there.
Further complicating the picture, the United States imposed new sanctions on Sunday on 11 companies and individuals for supplying Iran's ballistic missile program, even as it removed the old nuclear-related measures and carried out an exchange of prisoners with Tehran.
The new sanctions are much smaller in scope, but Tehran denounced them on Monday. Foreign ministry spokesman Hossein Jaberi Ansari said they had "no legal or moral legitimacy", because U.S. weaponry sold to regional allies was used to commit "war crimes against Palestinian, Lebanese and most recently Yemeni citizens".
(Additional reporting by Bozorgmehr Sharafedin in Dubai, Edward Taylor, Irene Preisinger and Georgina Prodhan in Frankfurt, Michael Nienaber and Gernot Heller in Berlin, Conor Humphries in Dublin, Ben Hirschler in Davos, Angus Berwick in Madrid, and Jatindra Dash and Krishna N. Das in New Delhi; Writing by Mark Trevelyan; Editing by Peter Millership and Pravin Char)
Photo: An Iranian woman walks past a revolutionary mural in Tehran, Iran, January 17, 2016. REUTERS/Raheb Homavandi/TIMA