Iran Fills Heavy Water Nuclear Reactor Core With Cement: Fars
@reuters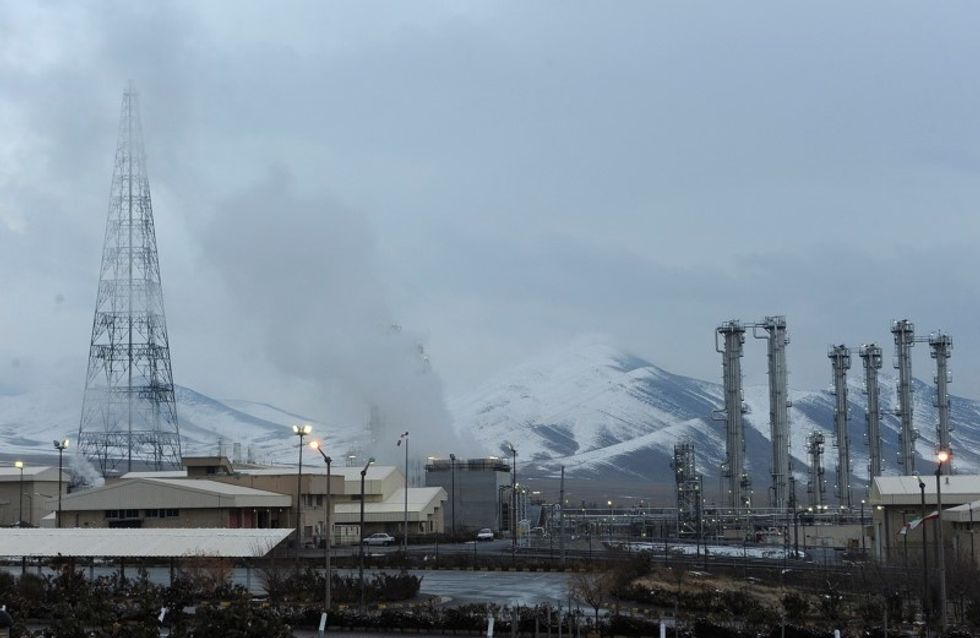 DUBAI (Reuters) — Iran has removed the core of its Arak heavy water nuclear reactor and filled it with cement as required under a nuclear deal signed with world powers last year, the semi-official Fars news agency said on Monday, citing an informed Iranian source.
Any such move, reducing the plant's ability to produce plutonium, might signal imminent implementation of the nuclear deal and clear the way for Tehran to receive relief from economic sanctions.
Separately, the European Union's foreign policy chief said that EU nuclear-related sanctions on Iran could be lifted soon.
"I can tell you that my expectation is that this day could come rather soon. The implementation of the agreements is proceeding well," Federica Mogherini said during a visit to Prague.
The fate of the reactor in central Iran was one of the toughest sticking points in the long nuclear negotiations that led to an agreement in July between Iran and six world powers, known as the Joint Comprehensive Plan of Action (JCPOA).
Under the deal's terms, Iran accepted that the Arak reactor would be reconfigured so it could not yield fissile plutonium usable in a nuclear bomb.
China, the United States, France, Britain, Russia and Germany have agreed to participate in the redesign and the construction of the modernized reactor.
The Islamic Republic has said that the 40-megawatt, heavy-water plant is aimed at producing isotopes for cancer and other medical treatments. It has denied that any of its nuclear activity is aimed at developing weapons.
Behrouz Kamalvandi, the spokesperson for Iran's atomic energy agency, said in an interview with Iran's Etemad newspaper published on Monday that "Iran has met its commitments under the July nuclear agreement earlier than expected".
"Implementation of JCPOA will finish in the next 7 days," he added.
Iranian President Hassan Rouhani said in a speech broadcast live on state television on Monday: "We are hopeful that the sanctions against Iran would be lifted in the next few days."
U.S. Secretary of State John Kerry said last week that "we are days away from implementation, if all goes well."
Some oil traders said oil's deep slide so far this year, including its 6 percent slump on Monday, was being fueled in part by signs that Iran might emerge from crushing sanctions sooner rather than later, allowing it to ramp up production after years of constraint.
"The firm push for normalization with Iran has taken the last shred of geopolitical risk out of traders' minds," said Clayton Vernon, a trader and economist with proprietary trading firm Aquivia LLC in New Jersey.
Iran said last year that it hopes to boost exports by some 500,000 barrels per day as soon as sanctions ease, a move dealers fear will add to a global surplus that has cut prices to 12-year lows near $30 a barrel.
More recently officials have suggested they would seek to avoid flooding the world with more unwanted crude, but provided no details on what that would mean in practical terms.
(Reporting by Bozorgmehr Sharafedin; Additional reporting by Robert Muller; Editing by Alison Williams, Warren Strobel and Howard Goller)
Photo: A general view of the Arak heavy-water project, 190 km (120 miles) southwest of Tehran January 15, 2011. REUTERS/ISNA/Hamid Forootan/Files