Iran Nuclear Negotiators Extend Talks 1 Week As Deadline Passes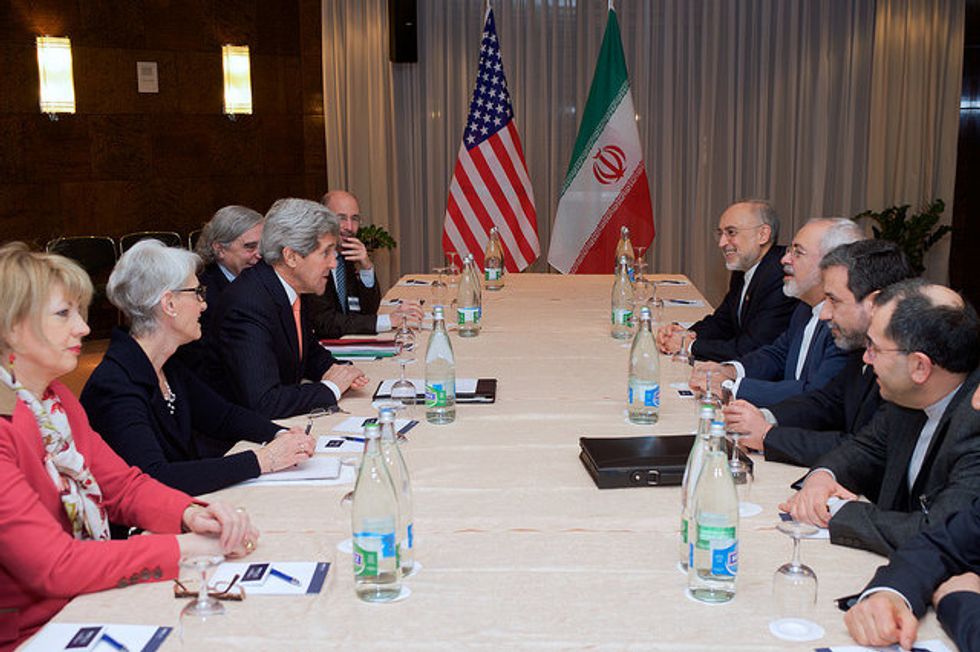 By Matthew Schofield, McClatchy Washington Bureau (TNS)
VIENNA — The latest deadline in the talks over Iran's nuclear program passed Tuesday with no deal, but there was an agreement to set a new deadline.
Negotiators have missed deadlines before. In April, they went an extra week in Lausanne, Switzerland, setting what they called the parameters for a final deal, which was to have been concluded by June 30.
It's that June 30 deadline that was extended Tuesday to give the negotiating parties, Iran and what's known as the P5+1, more time to work out the details of a comprehensive deal that would limit Iran's nuclear program and lift Western-imposed sanctions on Iran.
"The P5+1 and Iran have decided to extend the measures under the Joint Plan of Action until July 7 to allow more time for negotiations to reach a long-term solution — a Joint Comprehensive Plan of Action — on the Iran nuclear issue," U.S. State Department spokeswoman Marie Harf said.
The negotiations remain controversial in the United States, especially among some members of Congress.
Rep. Ed Royce (R-CA) the chairman of the House Foreign Affairs Committee, said in a statement that the deal has to be tough on Iran, especially when it comes to inspections to confirm compliance.
"The U.S. and its partners are offering Iran international acceptance of its nuclear program," he said. "Stop explaining Iran's position, and certainly don't do it by comparing Iran with the U.S. in any way, shape or form. The standard needs to be 'go anywhere, anytime' — not 'go some places, sometimes.'"
Having an agreement remains popular in Europe, however. Writing for the London-based policy think tank Chatham House, Patricia Lewis, an international security researcher, said that "Iran has shown that it can restrain itself in the chemical weapons domain. It should at least be given the opportunity to demonstrate the same in the nuclear realm."
In Vienna, the negotiators include U.S. Secretary of State John Kerry, the foreign ministers from China, France, Russia and the United Kingdom (representing the five permanent members of the United Nations Security Council) as well as the German foreign minister, in addition to Iran. They are expected to work through the July 4 weekend.
There were whispers Monday of a possible breakdown in negotiations, when Iranian Foreign Minister Mohammad Javad Zarif left Vienna to return to Tehran, claiming a previous engagement. But by late Tuesday morning, he was back meeting with Kerry. That meeting lasted an hour and 43 minutes.
That meeting, as is the case with many, was bilateral. After that meeting, Kerry spent two hours with Russian Foreign Minister Sergey Lavrov. In addition to meetings at the minister level, a senior administration official noted Monday during a background briefing that the meetings between staffs have been going on for weeks, and continue to go on until after midnight most days.
"We are still very focused on concluding a comprehensive agreement in this negotiating round, and no one is talking about a long-term extension — no one," said the official, who briefed on condition of anonymity.
Later, the official added: "We have come very far successfully negotiating and implementing the Joint Plan of Action and then getting agreement on broad parameters that we outlined in Lausanne. What we're trying to do now is to put all of the details behind those parameters — details which are so crucial to ensuring the world that this is a strong, long-term, verifiable deal."
(c)2015 McClatchy Washington Bureau. Distributed by Tribune Content Agency, LLC.
File photo: US Department of State, via Flickr