Iran Nuclear Talks Enter 'Final Phase'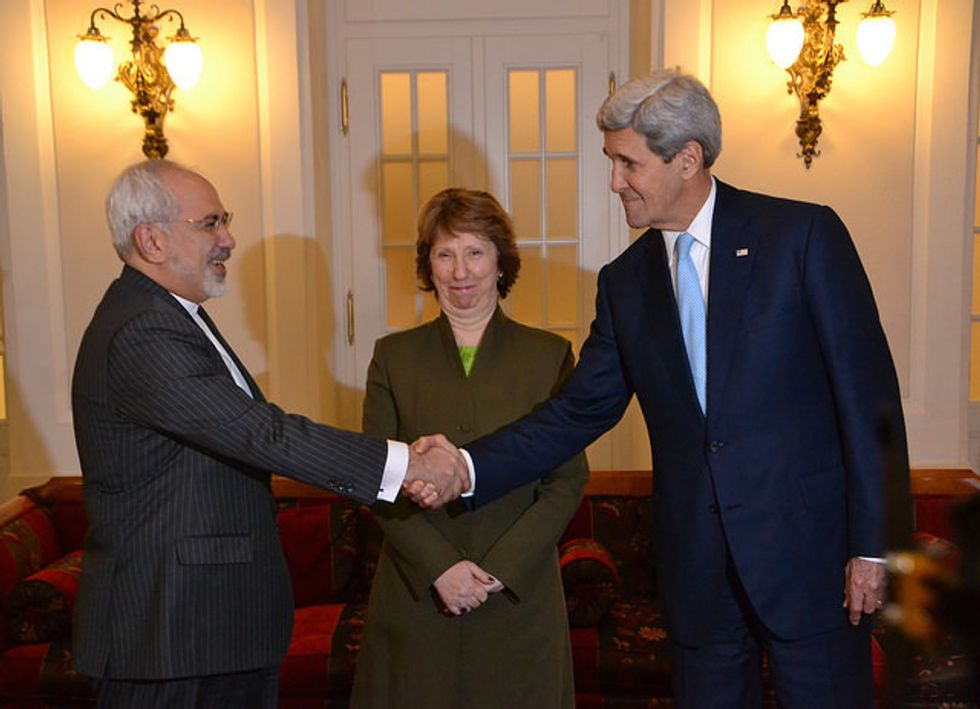 By Simon Sturdee and Daniel Rook, AFP
Vienna — Talks between world powers and Iran on a historic nuclear deal entered Sunday what France described as the "final phase," but Washington warned major issues must still be overcome.
Hopes grew that a breakthrough might finally be in sight after a flurry of diplomatic activity ahead of the latest deadline on Monday for an agreement.
"I hope we are finally entering the final phase of these marathon negotiations. I believe it," French Foreign Minister Laurent Fabius told reporters as he returned to Vienna on the haggle's 16th day.
The talks seek to nail down a deal curbing Iran's nuclear activities to make it extremely difficult for Tehran — which denies any such goal — to develop the atomic bomb. In return Iran will be granted staggered relief from painful sanctions, although the six powers insist on the option of reimposing the restrictions if Tehran breaches the deal.
Despite the air of optimism in the Austrian capital, U.S. and Iranian officials dampened speculation that an agreement was imminent.
"We have never speculated about the timing of anything during these negotiations, and we're certainly not going to start now — especially given the fact that major issues remain to be resolved in these talks," a senior U.S. State Department official said.
Iranian diplomat Alireza Miryousefi, writing on Twitter, quoted a senior official from Tehran as saying a deal by Sunday night was "logistically impossible" as the agreement being drawn up spanned 100 pages.
Earlier, U.S. Secretary of State John Kerry, who has been embroiled in talks with his Iranian counterpart Mohammad Javad Zarif in Vienna since June 27, was cautiously upbeat.
"I think we're getting to some real decisions. So I will say, because we have a few tough things to do, I remain hopeful. Hopeful," Kerry said, calling his latest meeting with Zarif "positive."
EU foreign policy chief Federica Mogherini who chairs the P5+1 group — the United States, Russia, China, Britain, France, and Germany — negotiating with Iran said on Twitter that these were the "decisive hours."
And a diplomatic source said Saturday as a flurry of bilateral and multilateral meetings went deep into the night that "98 percent of the text is finished."
Russian Foreign Minister Sergei Lavrov flew to join the talks in Vienna, his ministry said.
British Foreign Secretary Philip Hammond, however, left the talks on Sunday but was expected to return the next morning.
'Time To Decide'
Under the parameters of a framework deal reached in Lausanne in April, Iran is to slash the number of its centrifuges from more than 19,000 to just over 6,000 and sharply cut its stocks of enriched uranium.
Negotiators left the thorniest issues until last, including a mechanism for lifting interlocking EU, U.S. and U.N. sanctions.
A new hurdle was thrown up in recent days, with the Iranian delegation insisting a U.N. arms embargo be lifted once a deal is reached.
The talks have also stumbled on demands to give U.N. nuclear inspectors access to military sites, to probe suspicions Iran sought to develop nuclear weapons in the past.
A final agreement would be a diplomatic victory for U.S. President Barack Obama, who has made the talks a centerpiece of his foreign policy, and for his Iranian opposite Hassan Rouhani, a moderate seeking to end his country's diplomatic isolation.
Both have faced opposition from hardliners at home, as well as from Iran's arch-foe Israel, believed to be the Middle East's only nuclear-armed state, although it has never confirmed it.
Israeli Prime Minister Benjamin Netanyahu said Sunday that the deal would allow Iran to make "many nuclear bombs and gives it hundreds of billions of dollars for its terrorism and conquest machine."
Saudi Arabia and other Sunni-ruled Gulf Arab states are also deeply suspicious of Shiite Iran, accusing it of fomenting unrest in Syria, Yemen, and other flashpoints.
Obama, a Democrat, has faced persistent opposition to his Iran policy from the U.S. Congress, controlled by Republicans, who in a 60-day review period may try to scupper the accord.
Iran has for years faced U.N., EU, and U.S. sanctions that have placed restrictions on the country's oil and banking sectors, trade, and everyday life for the population of 78 million.
In Tehran, Iran's supreme leader Ayatollah Ali Khamenei said Saturday that the battle against the "arrogance" of the United States would continue even if there is a deal.
"This is an historic moment and there could be serious repercussions if negotiators fail to seize this opportunity to get a good deal," Arms Control Association analyst Kelsey Davenport told AFP.
Photo: Iranian Foreign Minister Mohammad Javad Zarif and U.S. Secretary of State John Kerry shake hands in Vienna, on November 20, 2014, with Baroness Catherine Ashton. (U.S. Embassy Vienna via Flickr)