Iran Nuclear Talks Expected To Last Right Up To Deadline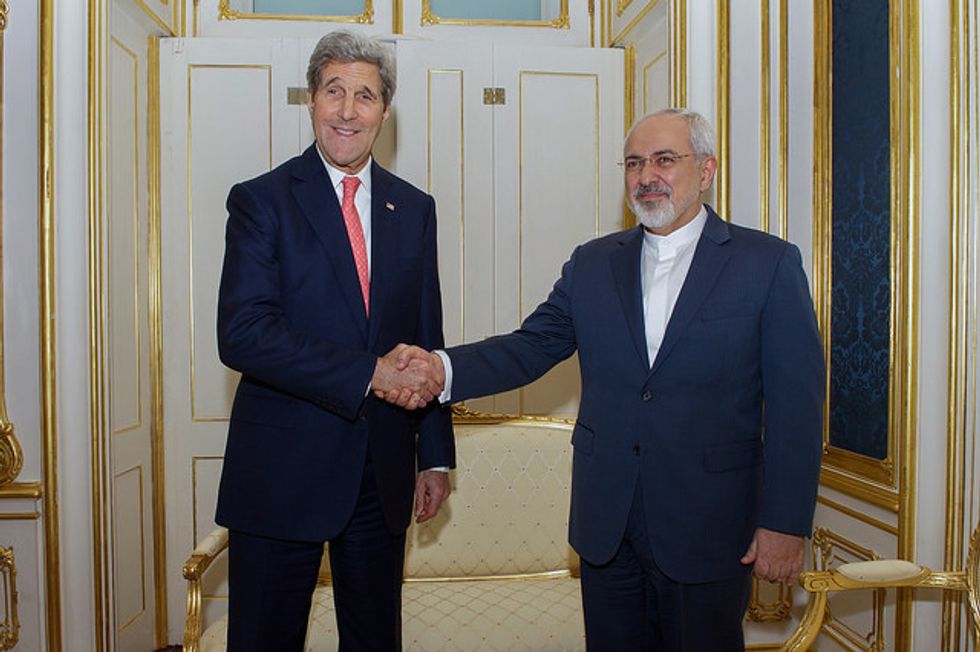 By Paul Richter, Tribune Washington Bureau (TNS)
LAUSANNE, Switzerland — Negotiations over Iran's nuclear program are expected to continue right up until their Tuesday night deadline, with Iran and six world powers still divided on a variety of issues despite marathon meetings between their foreign ministers, officials said Sunday.
While the negotiators are close to agreement on some difficult issues, they remain at odds on the pace for lifting United Nations sanctions on Iran, and the easing of restrictions on Iran's nuclear research and development in the last five years of the expected 10- to 15-year deal, a senior U.S. official said. Other issues, too, remain unresolved, said the official, who declined to be identified under ground rules often invoked by the administration.
Critics of the deal, including Israel and Saudi Arabia, renewed their concerns, while a former top administration intelligence official said the deal would be "dangerous" and that President Barack Obama's Middle East policy is one of "willful ignorance."
"One of the things that we have to keep in mind … is Iran is also a country with ballistic missiles, cyber capabilities. They are also still a state sponsor of terrorism," Lt. Gen. Michael Flynn said on Fox News Sunday.
Flynn, who retired last summer as head of the Defense Intelligence Agency, added: "And here we are dealing with them as though we're going to give them a carte blanche. … I mean, give me a break."
Iran and the six world powers are seeking a deal that would ease sanctions on Tehran if it agrees to accept restrictions aimed at preventing it from obtaining a nuclear weapon. The diplomats are aiming to complete a preliminary agreement, resolving all the major political decisions, by the end of the month. Then they would thrash out the details of a comprehensive deal by June 30.
The foreign ministers of all seven countries arrived at a five-star hotel in this lakeside city by Sunday night, with most committed to staying until the deal is done. U.S. Secretary of State John F. Kerry, French Foreign Minister Laurent Fabius and German Foreign Minister Frank-Walter Steinmeier have all canceled plans to leave early in the week.
Early Sunday, Kerry announced that he would not attend Monday's dedication in Boston of an institute honoring the late Senator Edward M. Kennedy, who served in the Senate with Kerry for 25 years.
Iran has been pressing hard to be allowed to step up research and development in the final years of the agreement so it can quickly ramp up enrichment to industrial levels.
The diplomatic bloc — which includes France, Britain, Germany, Russia and China — is also resisting Iran's demand that all United Nations sanctions be dropped at the beginning of the deal. The senior U.S. official said the American team remains committed to having the U.N. sanctions lifted gradually, as Iran complies with the requirements of the deal.
The U.S. official said the Obama administration plans to resolve all the major political issues in the agreement, and intends to explain those decisions to the public. Congress will be briefed privately, in detail.
But the administration faces a quandary because Iranian supreme leader Ayatollah Ali Khamenei is insisting that there can be no written agreement until a final one is issued at the end of June. The issue is difficult for the administration because it needs to build support for the diplomacy, which critics contend has given away too much to the Iranians.
The Iranians are in agreement with the Obama administration on provisions for aggressive monitoring and inspections of their nuclear program, the U.S. official said. Those provisions, which are to last indefinitely, are central to the effort to prevent an Iranian bomb, in the U.S. view.
Meanwhile, in Israel, Prime Minister Benjamin Netanyahu said the prospects were even worse than he had feared.
"This deal, as it appears to be emerging, bears out all of our fears, and even more than that," Netanyahu told his Cabinet in Jerusalem.
The senior U.S. official recalled that Obama's instructions last year were for the diplomats to determine by the end of March if it would be possible to reach an agreement. It is not clear that the two sides will be able to reach a deal, the official said.
In Washington, Saudi Ambassador Adel Jubeir expressed hope that a deal would be reached that would ensure regional stability.
Jubeir said Saudi Arabia wants to see a deal that denies Iran the ability to manufacture nuclear weapons. His comments came as Saudi Arabian warplanes struck Iranian-backed Houthi rebels in Yemen for the fourth straight day.
"I believe that the negotiations with regards to a nuclear program in Iran are something that the whole world wants to succeed," he said during an interview on NBC's Meet the Press. "We're waiting to see the results of the negotiations before we assess the deal."
___
Staff writer William Hennigan in Washington and special correspondents Batsheva Sobelman in Jerusalem and Ramin Mostaghim in Tehran contributed to this report.
Photo: U.S. Emabassy in Vienna via Flickr