Iran Talks Grind Into Overtime As Top Diplomats Leave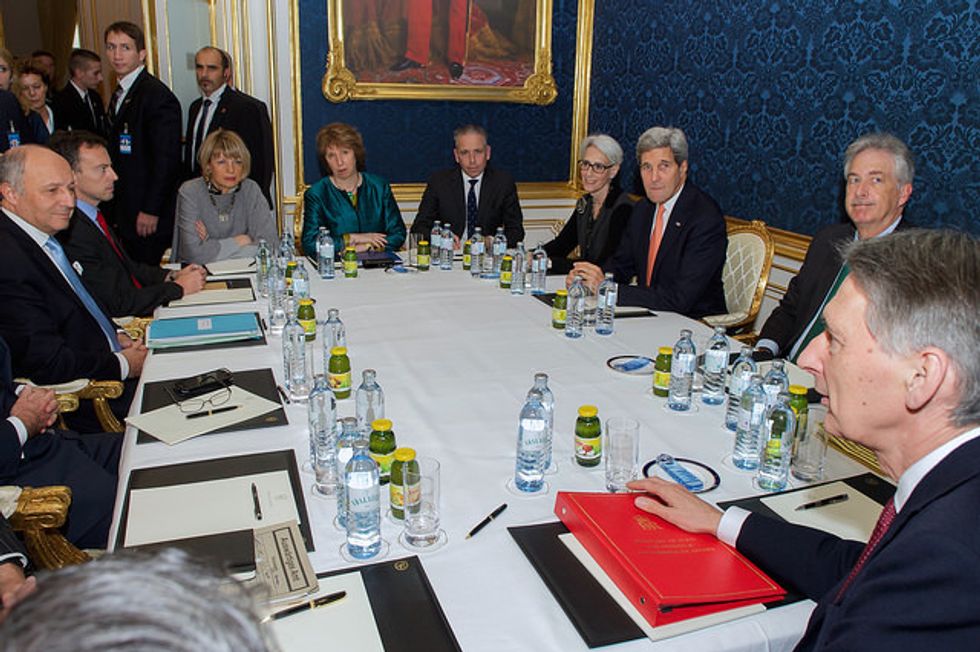 By Paul Richter, Los Angeles Times (TNS)
International talks over Iran's disputed nuclear program moved into wearying overtime Wednesday, with their future unclear and a shrinking corps of top diplomats taking part.
Secretary of State John F. Kerry and other negotiators, who are seeking a preliminary deal to limit Iran's nuclear program in exchange for easing sanctions, failed to meet a self-imposed deadline at midnight Tuesday but kept going in search of a breakthrough.
Diplomats insist the closed-door talks are making progress, and could produce an acceptable outcome at any time that would kick the negotiations into their final phase.
Yet major conflicts remain and much work is needed, French Foreign Minister Laurent Fabius and British Foreign Secretary Philip Hammond told reporters.
Fabius, Russian Foreign Minister Sergey Lavrov and Chinese Foreign Minister Wang Yi have already left Lausanne, leaving aides to negotiate for them.
One possibility is the talks will break up in the next day or so with only a general press statement, then resume after a few days to try to work out a detailed agreement that can help the Obama administration convince skeptics in Congress that it is making progress.
But a halt without a deal would be a setback for the White House, which is concerned that Congress will impose new sanctions that could wreck the talks when it returns April 13.
The five permanent members of the United Nations Security Council — the United States, France, Britain, Russia, and China — plus Germany have spent the last 18 months in intense talks with Iran in an effort to curb its nuclear program. Talks began more than a decade ago.
The diplomats missed two deadlines last year, and President Obama told them he wanted a definitive decision by Tuesday on whether an agreement with Iran was possible.
But the talks hit an impasse on several key issues, including the lifting of U.N. sanctions on Iran, and restraints on Iran's research and development that could help it modernize its ability to enrich uranium. Iran denies it is seeking to build nuclear weapons.
The talks have careened from optimism to pessimism and back over the last week. Diplomats said Tuesday morning that a deal was in sight, and the delegations had prepared large meeting halls to announce a deal, and some in the U.S. party had packed their bags to go home.
But the discussions seemed to run aground Tuesday afternoon. "The mood changed hour to hour," said one diplomat.
A senior U.S. official said in a statement before six p.m that American negotiators were "evaluating the best path forward."
"It's time for Iran to make the serious commitments that they know the international community is expecting them to make," White House Press Secretary Josh Earnest said in Washington.
Without those pledges from Iran, the U.S. and its five negotiating partners will have to consider "other alternatives," Earnest said.
Obama and his top aides held a late night secure video conference call with Kerry and his negotiating team and "thanked the team for their continuing efforts," the White House announced.
Photo: U.S. Embassy Vienna via Flickr