Iran, U.S. Upbeat After New Nuclear Talks Pledge
@AFP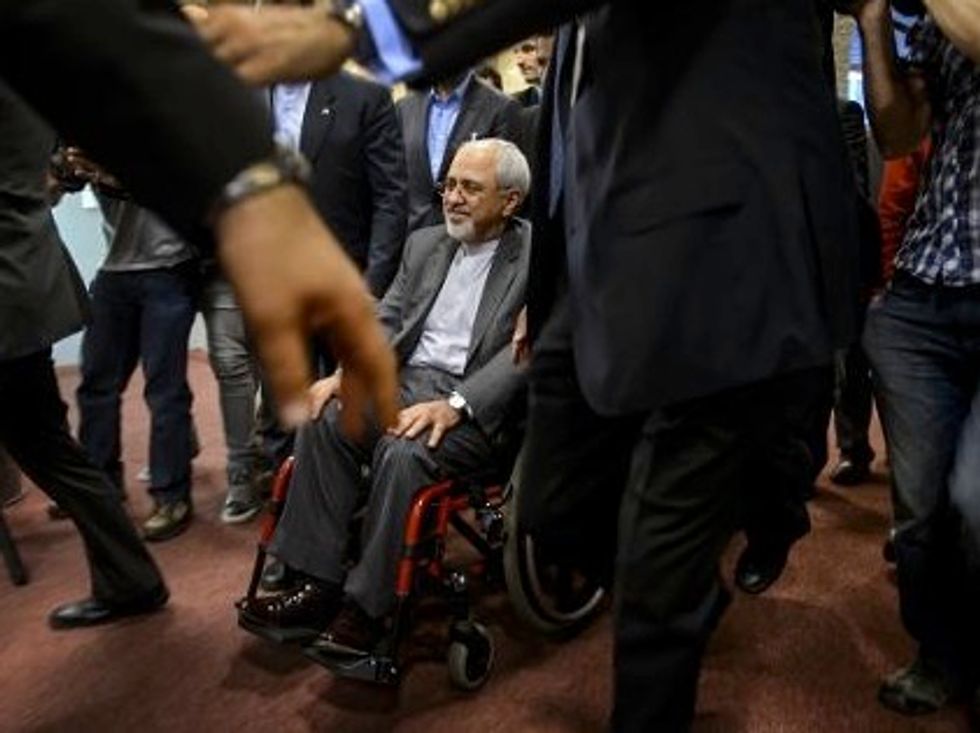 Geneva (AFP) – Washington and Tehran were upbeat after Iran agreed to hold fresh nuclear talks with world powers next month and made a "breakthrough" proposal to allow spot checks on its nuclear sites.
After the talks deal Wednesday, Iran said it was hopeful for a "new phase in our relations" with the international community.
The White House said Iran had shown a greater level of "seriousness and substance" than ever before at the two days of talks in Geneva.
Germany was also positive, saying the latest talks had boosted hopes for a diplomatic solution but a wary Russia warned there was "no reason to break into applause".
And Iran's arch-foe Israel, the Middle East's sole if undeclared nuclear-armed power that has not ruled out a military strike to halt Iran's nuclear drive, insisted Tehran should be judged by its actions.
European Union foreign policy chief Catherine Ashton told reporters the next meeting would convene in Geneva on November 7 and 8.
She read from what she underlined was an unprecedented joint statement agreed with Iranian Foreign Minister Mohammad Javad Zarif and herself as chair of the international negotiating team.
The EU is at the helm of the so-called P5+1 group — Britain, China, France, Russia and the United States, plus Germany — which has spent years trying to reach a deal with Iran amid fears that it is developing nuclear weapons.
The Islamic republic vehemently denies that and insists its nuclear program is for peaceful purposes.
The statement described this week's Geneva talks as "substantive and forward-looking", calling Iran's plan a "proposed basis for negotiation".
The talks were the first between all parties' nuclear negotiators since Iranian President Hassan Rouhani, seen as a relative moderate, succeeded conservative Mahmoud Ahmadinejad in August.
They ended a six-month freeze over Iran's refusal to curb uranium enrichment in exchange for easing the international sanctions battering its economy.
Amid signs of a thaw with the international community, Rouhani has pledged transparency on the nuclear programme and engagement with major powers to try to remove the sanctions.
"We hope that this a beginning of a new phase in our relations," Zarif told reporters.
While the details remain under wraps, Iran's lead nuclear negotiator Abbas Araqchi said its proposal involved "proportionate and reciprocal steps by both sides".
After an hour-long presentation Tuesday by Iran's team — in English, a first in the nuclear talks — Araqchi said the proposal had the "capacity to make a breakthrough".
Iran's plan contains three steps that could settle the nuclear dispute "within a year", Araqchi has said, the first achievable "within a month or two, or even less".
He said that snap inspections of Iran's atomic facilities were part of the last step.
White House spokesman Jay Carney said Iran's presentation at the talks was "useful", showing a "level of seriousness and substance that we have not seen before".
State Department spokeswoman Jen Psaki cautioned however that "a great deal more work that needs to be done".
German Foreign Minister Guido Westerwelle said the talks had "reinforced hope that a diplomatic solution is possible to completely calm our concerns about the nature of the Iranian nuclear program."
'No reason for applause'
But Russian negotiator Sergei Ryabkov was less than upbeat, saying the negotiating sides lacked mutual trust.
"The talks were difficult, sometimes intense, and sometimes unpredictable," he said.
Ryabkov agreed that the results were better than April's round in Kazakhstan — when Ahmadinejad was in power and the talks hit the wall.
"But this does not guarantee further progress. There is no reason to break into applause. Things could have worked out better," he said.
Iran has already drawn red lines, saying it will not accept demands to suspend uranium enrichment or ship stockpiles of purified material abroad.
"We will not back down on our rights," Zarif said.
"At the same time we feel there is no need for concerns about our nuclear program," he added.
Araqchi said: "Differences still exist and there are a number of them. But we are on a path to bridge those differences."
The rapprochement comes after Zarif held a landmark meeting with U.S. Secretary of State John Kerry during the U.N. General Assembly in New York last month, when Rouhani also spoke on the telephone with U.S. President Barack Obama.
While Western negotiators insist they will never leave room for Iran to develop atomic weapons, Israel has sounded the alarm over the thaw.
A senior Israeli official said early on Thursday that "Iran will be judged by its acts and not by its presentations."
"Until significant steps are carried out on the ground which prove that Iran is breaking up its military nuclear program, the international community must continue to impose sanctions upon it," the official said on condition of anonymity.
Israel's International Relations Minister Yuval Steinitz said Wednesday the country was watching the talks "with hope and with concern".
"We see the worrying signs and we don't want Geneva 2013 to turn into Munich 1938," he said on Israel's army radio, referring to Britain and France's failed bid to avert war by agreeing to Nazi Germany's annexation of swathes of Czechoslovakia.
AFP Photo/Fabrice Coffrini