Iran Will Be Judged By Its Actions, Kerry Tells Israel
@AFP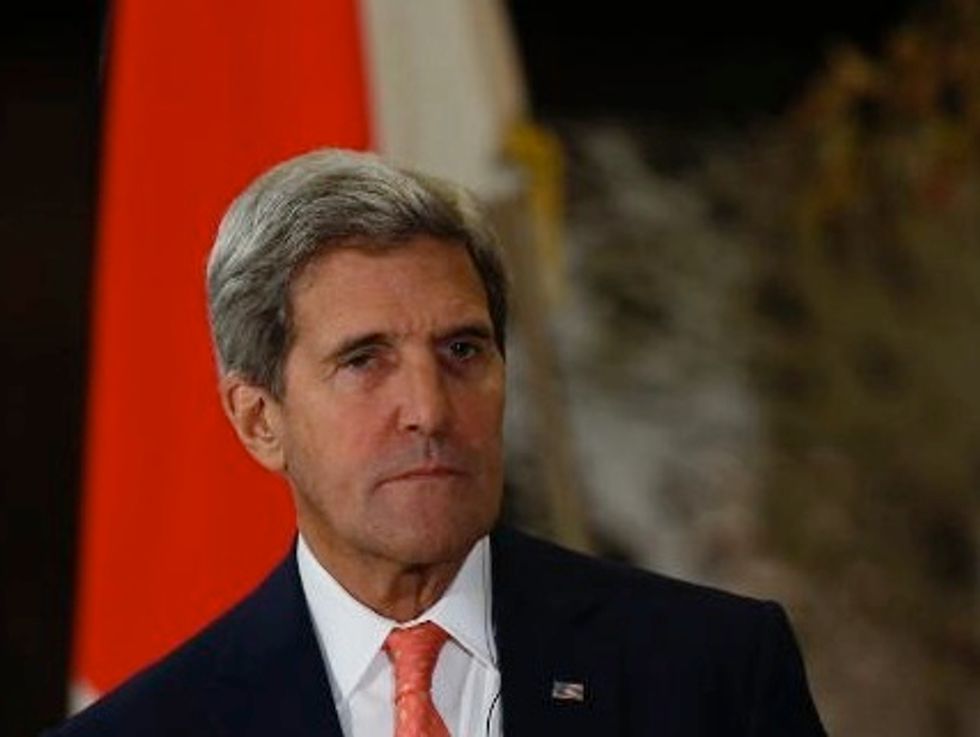 Tokyo (Japan) (AFP) – The United States will not take Iran at its word over pledges of openness on a believed nuclear weapons program, Secretary of State John Kerry said Thursday, after Israel threatened to act against Tehran.
The top U.S. diplomat said the new mood of co-operation that was on display around the United Nations General Assembly in New York had to be backed up by quantifiable deeds.
"I assure (Prime Minister Benjamin) Netanyahu and the people of Israel that nothing that we do is going to be based on trust," Kerry told reporters in Tokyo.
"This is going to be based on a series of steps to guarantee to all of us that we have certainty on what's happening."
Kerry, in Tokyo for talks on the U.S.-Japan security alliance, was speaking after Netanyahu told a U.N. summit Israel was ready to go it alone to stop Iran from making a atomic bomb.
"Israel will not allow Iran to get nuclear weapons. If Israel is forced to stand alone, Israel will stand alone," he said after days of overtures by Iranian President Hassan Rouhani, which included a number of US television interviews.
Western negotiators are to hold new talks with Iranian representatives in Geneva this month in a first test of the overtures.
International sanctions over what the West says is a nuclear weapons programme have badly hit Iran's economy and its leaders have made it clear they are looking for relief.
Kerry on Thursday moved to reassure Israel, saying no-one in the U.S. administration would be won over solely by the change in tone since Iran's new leader came to power, a period that has been marked by a huge upswing in diplomacy from the pariah state.
"We're going to look very, very carefully at this. We hope it could work because we think the world will be better off, the Middle East will be better off, Iran will be better off, Israel will be better off, if there is a way to achieve a verified, certainty to the elimination of a nuclear program for weapons purposes in Iran," Kerry said.
"Reaching out"
"The test we face now over these next weeks and months, not a long period of time, over a short period of time, is to determine whether or not that is in fact what Iran intends."
Kerry praised Rouhani for "reaching out" and said there were voices in the Iranian administration who wanted to go down "different roads", but he said U.S. President Barack Obama was clear that he wanted results, and not just rhetoric.
"The president has said, and I have said, that it's not words that will make a difference, it's actions.
"The actions clearly are going to have to be sufficient that the world will understand that not only will they not be able to be on the road to get a weapon but there's no ability to suddenly break up that," he said.
Last year Netanyahu used a cartoon drawing of a bomb to illustrate his warning at the U.N. that Iran was close to being able to build a deployable nuclear weapon.
There were no similar theatrics this time, but Iran hit back, warning Netanyahu that military action against it would be a "miscalculation".
After a cabinet meeting in Tehran on Wednesday, Rouhani, who took office in June on a pledge to repair strained relations with the international community, dismissed Netanyahu's comments as bluster.
"We don't expect anything else from the Zionist regime," Rouhani told reporters.
Israel is "upset and angry because it sees that its blunted sword is being replaced with logic as the governing force in the world, and because the Iranian nation's message of peace is being heard better," the moderate cleric said.
Rouhani's U.N. charm offensive culminated in a landmark 15-minute phone call with Obama, the first president-to-president contact between the two countries in more than three decades.
Photo Credit: AFP/Issei Kato