In Iraq, Displaced Christians Gather For A Somber Christmas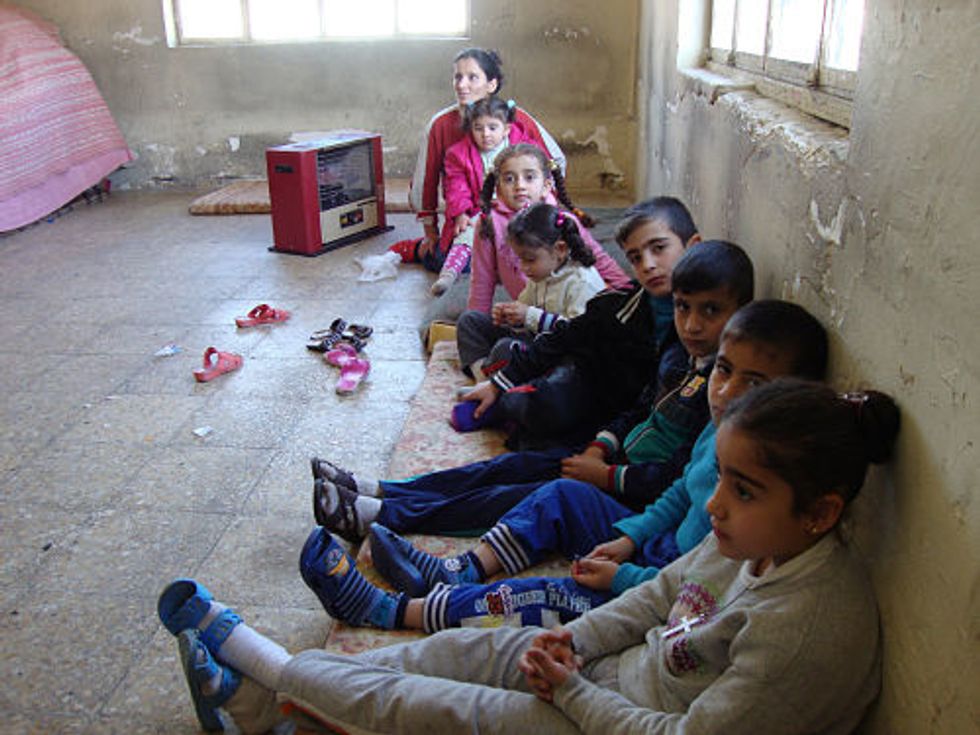 By Molly Hennessy-Fiske, Los Angeles Times (TNS)
BAGHDAD — The children awoke the day before Christmas behind blast walls and armed guards, in a dingy Syrian Catholic schoolhouse strung with clotheslines. Their families have been cooking on hot plates and sleeping on pallets there in recent months, forced from their homes in northern Iraq by Islamic State militants.
They took turns showering in the communal bathroom, dressed in donated clothes and prepared to meet Santa.
This year, there would be no big holiday parties at Our Lady of Salvation, a local landmark topped by a towering cross that's visible for miles. Christians are leaving Iraq, the population down from more than 1 million a decade ago to about 350,000, many of them displaced.
In the north, Islamic State fighters have forced thousands to flee. In Baghdad, the security situation is still so tenuous that priests worried that celebrations could provoke an attack. Last Christmas, three bombings targeted Christians, including a Roman Catholic church, and killed 38 people.
Shortly before the 6 p.m. Christmas Eve service, the children and their families filed out of the school past concrete barriers topped with barbed wire and into the packed church for several hours of singing and prayer, the highlight of their day, hoping the strangers they met meant them no harm.
"The guards and blocks can't do anything if something is about to happen," the Rev. Nabil Yako said.
Four years ago, suicide bombers walked into the church and took the assembled hostage, ultimately killing 58 people, including two priests. The church remained open afterward, but many parishioners fled to other parts of Iraq and overseas. Fewer than half of the 500 members remain.
Only a few who survived the attack stayed, including the man who made the nativity scene and would play Santa after the service.
Samir Bassem, 9, wearing a donated blue track suit and a large metal cross, planned to ask Santa for a toy car — a Ferrari. Chaeen Bassem, 7, wanted a motorcycle. Fullah Falah, 9, her curly hair freshly washed and corralled into a bun, wanted a red dress.
Their parents had no gifts this year. They had fled the northern city of Mosul after their homes were marked with an Arabic "N" for nasrani, or Christian, and seized by Islamic State during the summer. Homeless and unemployed, they shared the same Christmas wish.
"We want to travel," said Amil Noaman, 53, who hopes to immigrate to Turkey, Australia or the United States. "Even an animal lives better than us."
Her 4-year-old niece still fears Islamic State, known in Arabic by the acronym Daesh.
"She says Daesh will come for us," said her father, Falah Saaed, 50, "I can't say anything; my heart breaks."
The 94 families staying at the church don't know whom to trust. "We used to be like brothers with the Muslims. Then when Daesh came, they turned against us," Saaed said, "You don't know who's your friend or your enemy."
Yako comes from the same village in northern Iraq, Qaraqosh, as many of the displaced. He has relatives who fled to Baghdad in recent months. In addition to those at the church, he ministers to 120 others in eastern Baghdad. The church is helping more than 700 people citywide, he said.
Each receives about $22 (it goes fast, since Baghdad is expensive — a gallon of milk costs a little over a dollar), plus rations including oil, rice, sugar, tomatoes, spaghetti and tea.
This is the first time the church has hosted displaced families. It's a chance to give back, Yako said: Churches in Qaraqosh hosted Baghdadis who fled sectarian violence in 2006.
Those displaced now ask the priest the same question, over and over: "When can we go back to our towns, our government, our future?"
"I tell them I don't know. The problem is, they lost everything," the priest said, including their rights and faith in their fellow Iraqis.
There are stores in Baghdad devoted to Christmas decorations, and even corner markets hawk ornaments and lights. But the face of the holidays here is not Santa, it's Imam Hussein. On Christmas Eve, much of the city still had flags and signs bearing the visage of the martyred 7th century imam honored recently by Muslims with 40 days of mourning.
Shema Karomi, 55, and her two adult sons are among those who left Baghdad for Qaraqosh years ago, only to flee again after Islamic State descended, leaving with only the clothes on their backs and a bag of vital documents.
They stayed first in tents in a displacement camp outside the northern city of Irbil, but the camp repeatedly flooded. A month and a half ago, they were offered space at the church.
Karomi's husband died of cancer last year, and she is still in mourning, dressed in black.
On Christmas Eve, she was surrounded by more than 350 people in the pews. They sang "O Come All Ye Faithful" in Arabic, followed behind the archbishop as he carried a doll representing the baby Jesus from the altar to the nativity scene and listened intently as he addressed their concerns.
"This Christmas we are not happy because of the instability in Syria and Iraq," he said, "People living in these countries are frightened for their future."
The service ended without incident. Karomi smiled as she watched children rush to greet Santa, who offered candy and gifts, mostly clothes. Fullah, at least, got her wish: a dress, but purple instead of red.
Karomi has daughters in Lebanon, Sweden and the U.S. whom she would have liked to join this Christmas, and grandchildren in Detroit whom she has never met. She missed the clear air of Qaraqosh, the church's Christmas decorations, the lights and holiday processions with drums and fireworks.
If she were home, she would be making traditional Iraqi dishes: boiled sheep's head, vegetables stuffed with rice and meat, along with date cookies. Instead, she will take her turn cooking dinner on the communal hot plate in the hallway, with cats and rats underfoot.
After the church service, she returned to her temporary home, ducking under clotheslines and past the hot plate until she reached her room, a dark concrete box, the window covered with a tattered sheet.
"It's like a grave," she said.
Photo: Fullah Falah, 9, right, her curly hair freshly washed and corralled into a bun, wanted a red dress. She was one of several children who awoke on Christmas Eve day behind blast walls and armed guards, in a dingy Syrian Catholic schoolhouse where their families have been cooking on hot plates and sleeping on pallets there in recent months, forced from their homes in northern Iraq by Islamic State militants. (Molly Hennessy-Fiske/Los Angeles Times/TNS)