United States Carries Out 15 Air Strikes Near Iraq Dam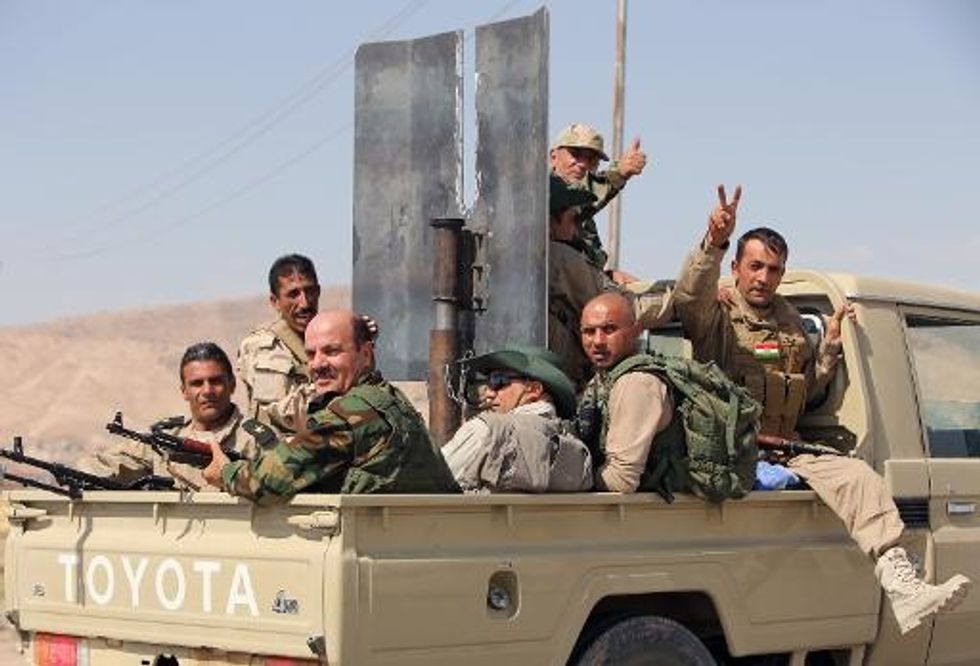 By Serene Assir
Badriyah (Iraq) (AFP) — U.S. warplanes and drones carried out 15 air strikes on Monday against Islamic State (IS) militants battling for control of a major dam in northern Iraq, the military said.
Fighter jets, bombers, and unmanned planes destroyed nine IS positions and eight vehicles around the Mosul dam, where insurgents are fighting Kurdish forces, US Central Command said.
Kurdish peshmerga fighters backed by federal forces and U.S. warplanes pressed a counter-offensive Monday against jihadists after retaking Iraq's largest dam, as the United States and Britain stepped up their military involvement.
The recapture of Mosul dam marks the biggest prize yet clawed back from Islamic State (IS) jihadists since they launched a major offensive in northern Iraq in June, sweeping Iraqi security forces aside.
U.S. aircraft are carrying out strikes in support of the forces battling IS militants, who have declared a "caliphate" straddling vast areas of Iraq and Syria.
The jihadists also came under attack in their Syrian stronghold of Raqa by Syria's air force for a second straight day on Monday.
In Iraq, "the planes are striking and the peshmerga are advancing," a Kurdish fighter told AFP on Monday near the shore of the lake formed by the vast Mosul dam.
AFP journalists heard jets flying overhead, and saw smoke rising from the site of a strike that a peshmerga member said targeted one of the entrances to the dam.
Fighting on Monday also broke out in an area south of the barrage while engineering teams worked to clear booby traps and bombs left by jihadists, said Kawa Khatari, an official from Iraq's main Kurdish party.
– 'Dam entirely liberated' –
And a senior peshmerga officer told AFP that there was sporadic fighting with militants in the town of Tal Kayf southeast of the dam, and that only a "small number" of jihadists remain in the area of the dam itself.
Iraqi security spokesman Lieutenant General Qassem Atta confirmed on Monday that Mosul dam was entirely liberated in a joint operation by Iraqi "anti-terrorism forces and peshmerga forces with aerial support".
Atta added on state television that while the dam had been retaken, fighting was continuing in adjoining facilities.
The Mosul dam breakthrough came after U.S. warplanes and drones at the weekend carried out their heaviest-yet bombing against IS militants in the north since they began launching air strikes on August 8.
The U.S. Central Command reported that the military had carried out 14 air strikes Sunday near the dam located on the Tigris river, which provides electricity and irrigation water for farming to much of the region.
Sunday's strikes destroyed 10 IS armed vehicles, seven IS Humvees, two armoured personnel carriers, and one IS checkpoint.
That military action followed nine U.S. strikes near Arbil and Mosul dam on Saturday.
U.S. President Barack Obama told Congress that the "limited" air strikes he has authorized on Iraq to support the fight for the dam protected U.S. interests there.
Highlighting the stakes at hand, Obama said: "The failure of the Mosul dam could threaten the lives of large numbers of civilians, endanger U.S. personnel and facilities, including the U.S. Embassy in Baghdad, and prevent the Iraqi government from providing critical services to the Iraqi populace."
IS also faced air strikes on the Syrian side of the border, the Syrian Observatory for Human Rights said.
In Raqa province, the Syrian air force on Monday carried out at least 14 raids against jihadist positions, a day after launching 16 strikes which killed at least 31 jihadists and eight civilians.
"The regime wants to show the Americans that it is also capable of striking the IS," said the Britain-based group's director, Rami Abdel Rahman.
British Prime Minister David Cameron described the Islamic State fighters sweeping across Syria and Iraq as a direct threat to Britain, and said all available tools must be used to halt their advance.
Cameron, writing in the Sunday Telegraph, said that while it would not be right to send an army into Iraq, some degree of military involvement was justified due to the threat that an expanding "terrorist state" would pose to Europe and its allies.
– 'Extreme form of terrorism' –
His Defense Minister Michael Fallon, in comments published Monday, said Britain's Iraq involvement now goes beyond a humanitarian mission and is set to last for months.
"We and other countries in Europe are determined to help the government of Iraq combat this new and very extreme form of terrorism," he was quoted as saying.
Two months of violence have brought Iraq to the brink of breakup, and world powers relieved by the exit of divisive premier Nuri al-Maliki are sending aid to the hundreds of thousands who have fled their homes as well as arms to the Kurdish peshmerga forces.
In the north, members of minority groups including the Yazidis, Christians, Shabak, and Turkmen, remain under threat of kidnapping or death at the hands of the jihadists, rights groups say.
Amnesty International, which has been documenting mass abductions in the Sinjar area, says IS has kidnapped thousands of Yazidis in this month's offensive.
Tens of thousands have fled, most of them seeking refuge in areas of northern Iraq still under Kurdish control, or in neighbouring Syria.
AFP Photo/Ahmad Al-Rubaye
Interested in world news? Sign up for our daily email newsletter!