Iraqi Forces Battle Islamic State Militants In Tikrit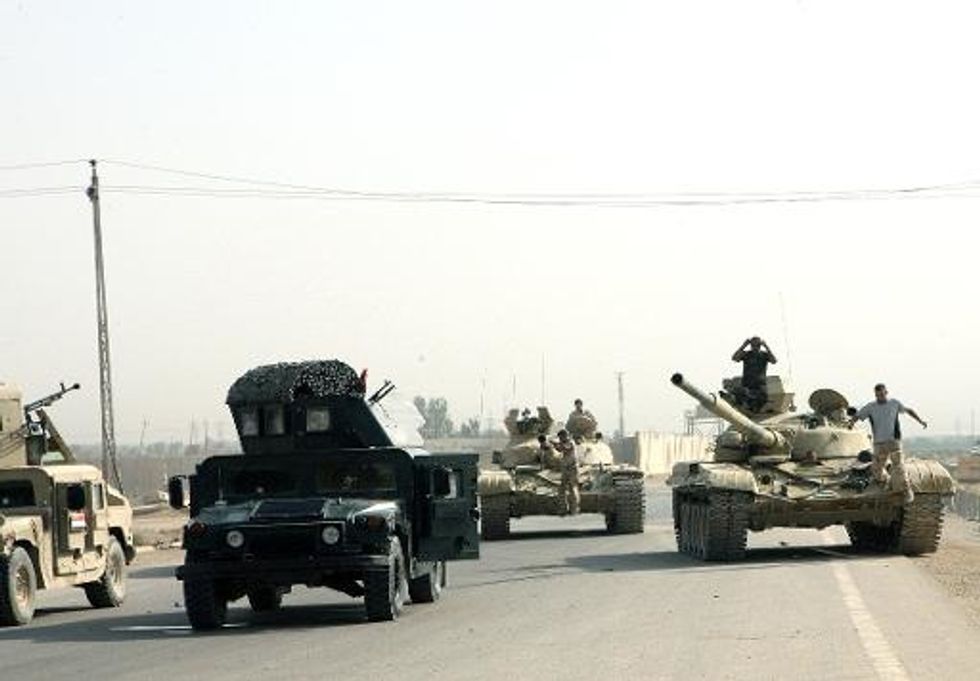 By Shashank Bengali, Los Angeles Times
BAGHDAD — Iraqi government forces and volunteer fighters mounted a fresh drive Tuesday to oust Islamic State fighters from the northern city of Tikrit but were facing stiff resistance from the militant group, news agencies reported.
The Iraqi news site Shafaq reported that three columns of Iraqi soldiers had advanced on Tikrit on Tuesday morning but had withdrawn after coming under withering fire from militants. Islamic State forces have held the city, about 80 miles north of Baghdad, since June.
"The army lost its positions in the southern area of Tikrit that it had controlled a few weeks ago," the news site quoted an Iraqi military official as saying.
The push to retake Tikrit, best known as the home of former dictator Saddam Hussein, came a day after pro-government Kurdish forces backed by U.S. airstrikes dislodged Islamic State fighters from the strategic Mosul dam in northern Iraq.
The battle in Tikrit, which Iraqi forces tried unsuccessfully to retake in June, suggested the Islamic State fighters would have better luck holding onto urban areas in northern Iraq, where they enjoy support among some Sunni Arab tribesmen.
Unlike the three-day battle for Mosul dam, during which U.S. forces launched 35 airstrikes against the Islamic State, American, and Iraqi warplanes were not part of the fight in Tikrit, officials said. U.S. officials have said airstrikes in urban areas are unlikely due to the risk of civilian casualties, making it more difficult for government ground forces battling the well-armed militants.
The Iraqi army has been joined by thousands of volunteer fighters, mostly Shiite Muslims, but many are ill-equipped and inexperienced, making them a liability on the battlefield. One volunteer fighter was killed in Tikrit and five others were injured, hospital officials in Samarra, 20 miles from Tikrit, told Shafaq news.
U.S. military advisors in Iraq have been wary of government forces attempting a ground battle in Tikrit because the militants are believed to be well entrenched. But the town carries significance for Baghdad not only as the birthplace of Hussein but also because it lies on a strategic highway between Samarra, home to a revered Shiite Muslim shrine, and Baiji, the country's largest oil refinery.
Also Tuesday, United Nations officials in Geneva announced a major relief operation aimed at helping half a million Iraqis who have fled their homes to escape the fighting.
Planes from Jordan were expected to begin a four-day airlift bringing tents, kitchen goods, and other supplies to northern Iraq, with land and sea shipments to follow in the coming days, officials said.
Half the displaced Iraqis have settled in the semi-autonomous northern Kurdish region, including about 200,000 people who fled their homes this month when Islamic State fighters seized the city of Sinjar and surrounding areas, according to the U.N. refugee agency.
"Emergency support is an urgent need that we are trying to meet," an agency spokesman, Adrian Edwards, said in a statement.
AFP Photo/Azhar Shallal
Interested in world news? Sign up for our daily email newsletter!