Iraqis Who Aided U.S. Military Seek To Resettle Here Amid New Violence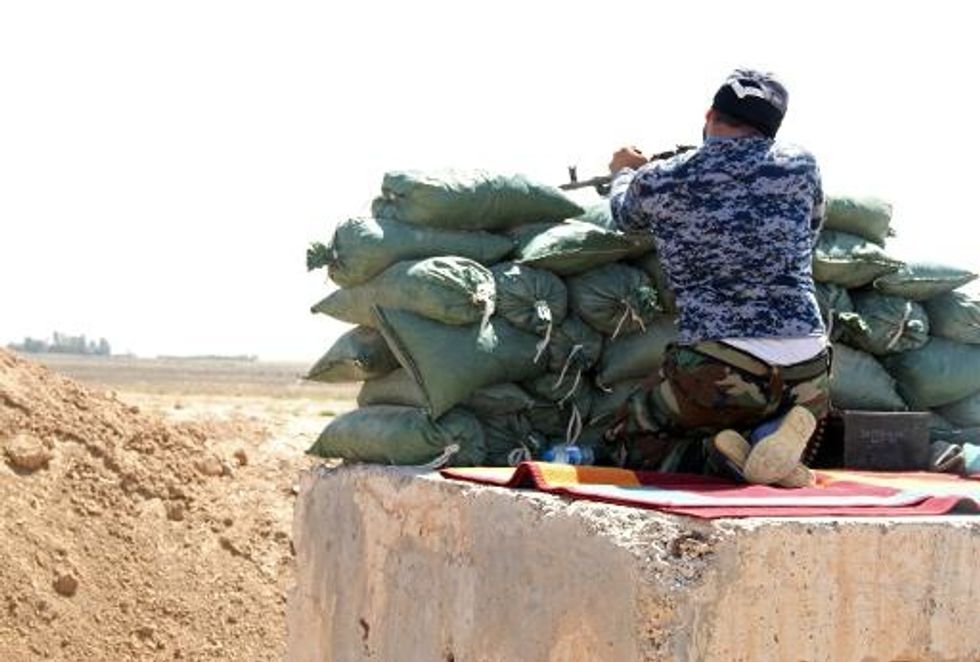 By Jeremy Redmon, The Atlanta Journal-Constitution
ATLANTA — Terrorists sought to kidnap and kill Hadi Lazim when he served as an interpreter for the U.S. military in Baghdad during the war in Iraq.
He fled to the United States with a special visa in 2010 and has steadily helped his five sons legally immigrate here since. Now the Stone Mountain, Ga., resident is scrambling to get his daughter and son-in-law out of Iraq as their native country splinters amid sectarian violence.
Lazim's son-in-law — who also served as a U.S. military interpreter — is among about 1,700 who have applications pending for Special Immigrant Visas for Iraqis who assisted the U.S. government during the war, according to the U.S. State Department. Like Lazim's son-in-law, some have been waiting for years for a decision. One applicant filed a lawsuit last month, seeking to force the government to act on his 2-year-old application.
State Department officials declined to comment on the lawsuit and the status of specific applications, citing a federal privacy law. But they said they have speeded up the process so that it now takes eight months on average. They are seeking to make it faster under pressure from Congress, which voted last year to extend the application deadline to Sept. 30.
The U.S. government is grappling with the backlog of visa applications as hard-line Sunni militants are battling to create an Islamic state straddling the border with Syria. In recent weeks, Iraqi security forces have abandoned their weapons and fled as the Islamic State in Iraq and Syria — an offshoot of al-Qaida — has seized large swathes of northern and western Iraq and imposed a harsh interpretation of Islamic law.
Since the beginning of June, at least 1,531 civilians have been killed, 1,763 have been wounded, and 600,000 have been displaced as a result of the violence in Iraq, according to a recent report by the United Nations Assistance Mission for Iraq Human Rights Office. The report documents executions and other violence committed by both the Islamic militants and Iraqi security forces.
Lazim, who worked with the U.S. military as an interpreter and cultural advisor for seven years, worries terrorists will harm his daughter because of his past work with the American government. He said he has contacted a U.S. senator's office for help.
"She is afraid for herself because everybody knows she is the daughter of that spy — they call me a spy for the U.S. Army," said Lazim, a former Iraqi airline pilot who now works for an Atlanta area refugee aid group.
Another former U.S. military interpreter, who asked that his name not be used for his family's safety, said he has been waiting for more than two years for his visa application to be processed. With the help of pro bono attorneys working in the United States — including one with the Iraqi Refugee Assistance Project — he filed a federal lawsuit last month seeking to force the government to take action on his application. The lawsuit says more than 1,000 interpreters who worked for the U.S. military and allied forces during the war in Iraq have been killed in combat or assassinated.
The plaintiff — who has also investigated and exposed torture, killings, and secret prisons in Iraq as a translator and researcher for Human Rights Watch — said he narrowly escaped a kidnapping attempt during the war and recently received a death threat from an Iraqi government official. He fled to Istanbul with his wife and two young children last month.
"How can you prove that your life is in danger? Should I get shot to prove that to you?" he said in an interview through Skype from his hotel room in Turkey last week. "Should I get kidnapped and pay money and get out so you can be convinced?"
Congress created the resettlement program for Iraqis and their spouses and children in 2007, allowing up to 5,000 special visas to be issued annually. To be eligible, Iraqis must have been employed by or on behalf of the U.S. government in Iraq for a year or more between 2003 and 2013. They must also submit a letter of recommendation from their supervisor and demonstrate they are experiencing "an ongoing serious threat" because of their work with the U.S. government. Interviews and background checks are part of the process.
Last year, Congress extended the application deadline to Sept. 30 and required the government to process applications within nine months, though it gave the government extra time to deal with "high-risk cases" involving national security concerns.
Since fiscal year 2008, 11,979 Iraqis have come to the U.S. with the special visas. State Department officials said the majority of the 1,700 pending cases are still awaiting decisions because the applicants have not filed all the required information.
"We are committed to supporting those who — at great personal risk — have helped us," the State Department said in a prepared statement. "An internal State Department review that began last year showed that we could, and should, do better. And we have. We identified inefficiencies that were causing delays, and cut the average waiting period for an SIV in half."
More than 30,000 other Iraqis with U.S. affiliations have resettled in this country as refugees since 2007, according to the State Department. Thousands of applications are pending for this program. On average, it takes the government 18 to 24 months to process each one.
AFP Photo/Ali Al-Bayati
Interested in world news? Sign up for our daily email newsletter!