Iraq's Largest Refinery Ablaze As Militants, Government Fight For Control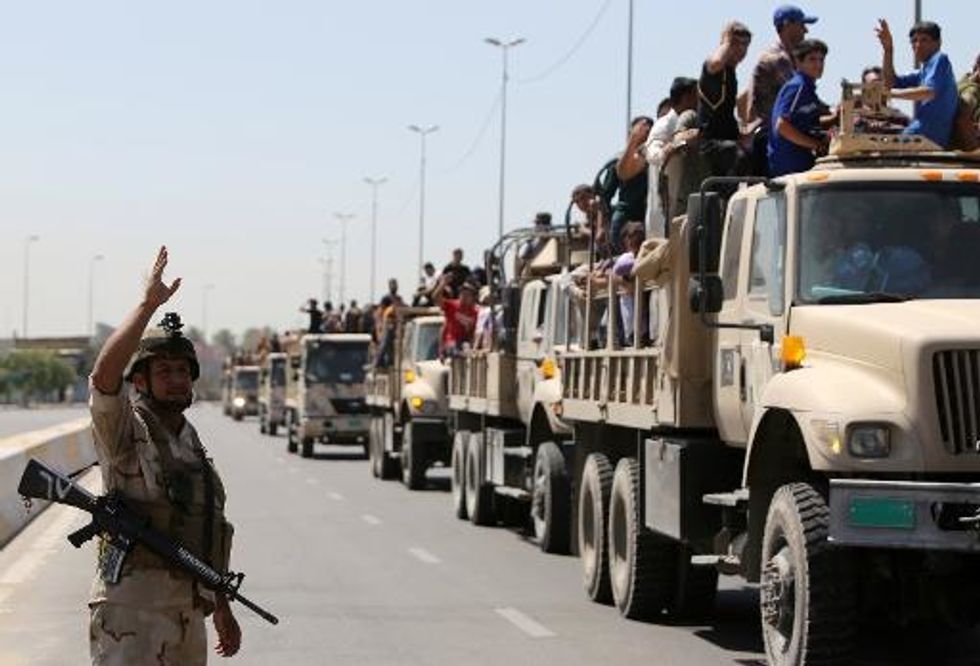 By Mitchell Prothero, McClatchy Foreign Staff
IRBIL, Iraq — Skirmishes over Iraq's largest oil refinery left part of the facility ablaze Wednesday as Islamic militants battled Iraqi security forces for control.
Iraqi state television reported that security forces remained in control of the refinery and electric-generation plants in Baiji, just north of the rebel-held city of Tikrit. But witnesses contacted by independent Iraqi media outlets reported that fighters from the Islamic State of Iraq and Syria and their Sunni Muslim tribal allies had taken over at least portions of the facility and sent home the workers trapped inside.
Black plumes of smoke could be seen from at least a dozen burning storage tanks on local television stations as much of Iraq went into a panic over the possibility of a sustained gasoline shortage in a country already forced to import more than 100,000 barrels of gasoline a day because of high demand and crumbling infrastructure.
In addition to Tuesday's announcement that the government had shut off the oil supply to the facility — either to stop the output from falling into ISIS' hands or to prevent the facility from exploding amid the fighting — the German firm Siemens and the security company Olive said they'd cleared dozens of foreign workers and security guards from the complex, which has been surrounded by militants since much of northern Iraq fell in last week's surprise takeover. The government, however, denied that foreign workers had left.
Government helicopters reportedly struck either the facility itself or rebel positions close by and, according to some witnesses talking to local media, caused the fires.
One executive with a Western oil-services company that's working in Irbil — who spoke only on the condition of anonymity so as not to annoy the Iraqi government, which he does business with — said control of the facility appeared to be split between militants and an army unit that had been sneaked into the area recently to reinforce the beleaguered security guards usually assigned to protect it.
"We don't exactly know, because Baghdad has lost all credibility with the oil industry this week," the executive said. "They keep announcing things they wish were true instead of giving us the information we need to make proper decisions."
He added: 'This does not inspire confidence in their competence or their handle on events on the ground."
Little in the performance of the Iraqi government has inspired much confidence of late, as tens of thousands of soldiers and police officers deserted their posts and fled the battlefield when ISIS — which previously had controlled large chunks of eastern Syria and the western Iraq province of Anbar — suddenly materialized in force on June 9. Within 24 hours, ISIS had overrun the northern city of Mosul, the country's second largest, capturing huge amounts of military hardware and perhaps hundreds of millions of dollars from banks.
Within days, the group's militants had reached the northernmost edges of Baghdad's suburbs, backed by what appears to be a broad Sunni rebellion against the Shiite-dominated government of Prime Minister Nouri al-Maliki, who's been widely accused at home and abroad of fostering unrest with sectarian political policies.
In Irbil — which remains quiet and under the control of the semiautonomous Kurdistan Regional Government despite a local gasoline refinery remaining online — the loss of the highway from Turkey through Mosul, on top of the loss of the Baiji facility, caused a mild panic. Motorists faced long lines and severe limits on gasoline purchases.
But the oil industry executive said an impending shortage was, at least so far, unlikely to be truly disruptive.
"It's a lot longer trip now (avoiding Mosul), but the Turks want to make money and can send it by land," he said. "This seems a combination of both prudent rationing and psychological panic as people realize the conflict isn't going away."
Ahmad Al-Rubaye via Flickr