Irony Alert: Koch Group Slams Democrat For Ties To Billionaire Donor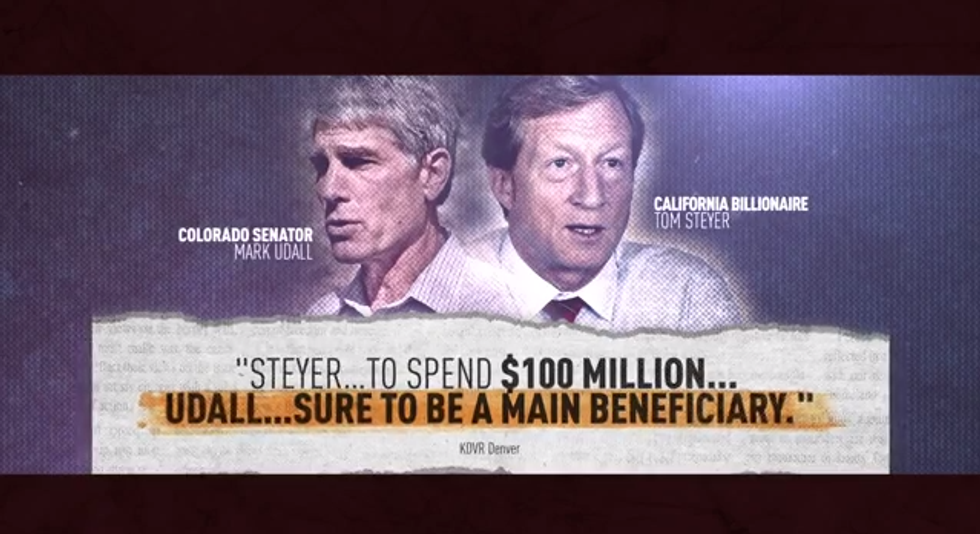 In what may be the most ironic ad of the midterm election cycle, a right-wing "dark money" group with deep ties to conservative billionaires Charles and David Koch is accusing liberal billionaire Tom Steyer of buying the allegiance of a Democratic senator.
The web ad, titled "Colorado Steyer Infection," was released on Wednesday by American Commitment, a conservative 501(c)(4) nonprofit that claims to be "dedicated to restoring and protecting the American Commitment to free markets, economic growth, Constitutionally limited government, property rights, and individual freedom." It slams Senator Mark Udall (D-CO) for his connections to Steyer, who has pledged to spend at least $100 million on making climate change — and, specifically, the Keystone XL pipeline — a major issue in this year's campaigns.
"California billionaire Tom Steyer is bankrolling Colorado senator Mark Udall's campaign. Steyer even hosted Udall for a fundraiser at his San Francisco mansion," the ad's narrator says. "Now Mark Udall is helping Tom Steyer kill the Keystone pipeline."
"Call Mark Udall. Tell him to put Colorado ahead of his billionaire backer, and support the Keystone pipeline," it concludes.
The ad is certainly right about one thing: Steyer is not shy about his intention to use his vast personal fortune to influence policy.
That's a concept with which American Commitment is intimately familiar. The group is led by Phil Kerpen, who had previously spent over five years as vice president for policy at Americans for Prosperity — the Koch brothers-backed group that spent $122 million trying to swing the 2012 elections, and has led the tidal wave of outside spending that has dominated the 2014 midterms.
The group's ties to the Koch brothers don't stop there. According to reporting by ProPublica, American Commitment has received at least $11,341,559 in grants from Freedom Partners Chamber of Commerce, the Center to Protect Patient Rights, and Americans for Responsible Leadership — all of which are part of the Kochs' complex network of organizations through which they spend money to influence elections.
So ultimately, the scathing anti-Steyer ad amounts to billionaire outside spenders complaining that Mark Udall has a billionaire backer of his own.
The Kochs' reasons for attacking Steyer and Udall are relatively straightforward: Koch Industries would stand to make a tidy profit from Keystone XL's construction (one report suggested the potential profits could total $100 billion). There could be a personal motivation as well; both Steyer and Udall have sharply criticized the billionaire brothers throughout the midterm campaigns.
Screenshot: YouTube