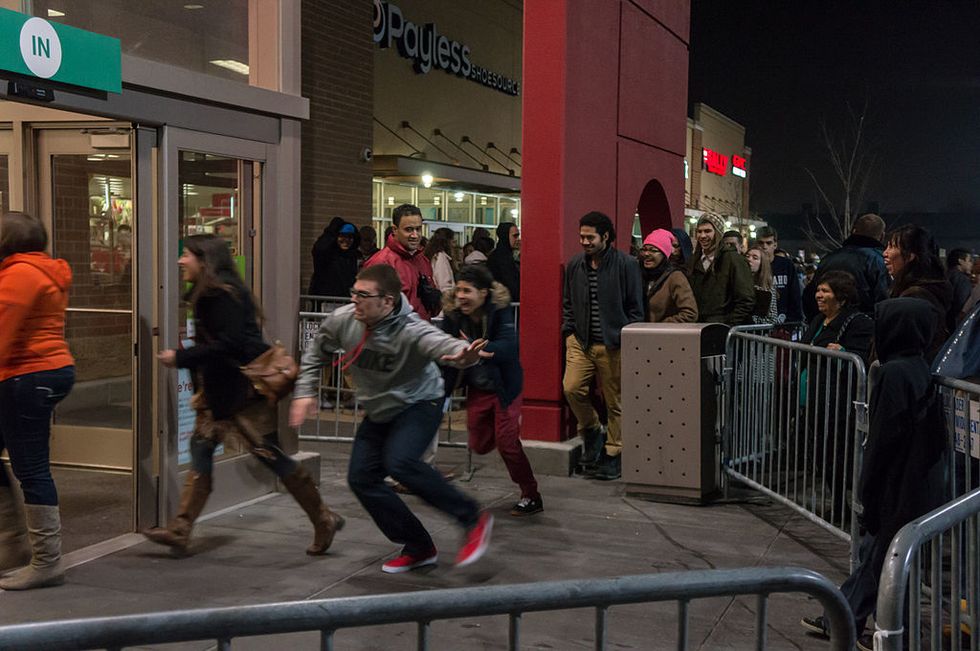 By Gregory Karp, Chicago Tribune (TNS)
Black Friday shopping this year will continue to have sizzle for the serious shopper, but the urgency to hit the stores early could be diminished because door-buster deals won't happen only on Friday — and won't necessarily involve doors, as more bargains are duplicated online.
That's why experts say it might not be worth fighting store crowds this year, unless you're the type who enjoys a little retail blood sport en route to scoring bargain TVs, video games and Star Wars toys.
"Black Friday is quickly losing its meaning on many fronts," said Neil Stern, senior partner at Chicago-based retail consulting firm McMillanDoolittle. "Yes, there will be deals and door busters Friday morning, but they are really becoming an antiquated concept."
For example, Black Friday has decidedly spilled backward into Thursday, with Thanksgiving store hours the norm among major retailers. Although for the first time in years, they aren't pushing to go much earlier, with many sticking with openings around 6 p.m., presumably after many turkeys are already carved and consumed.
"A fairly decent number of retailers have pretty much thrown in the towel and are opening on Thursday," Stern said.
If Black Friday is dying, that doesn't mean holiday shopping is too.
An estimated 135.8 million people are expected to shop online and in stores over Thanksgiving weekend, which includes Thanksgiving, Black Friday, Small Business Saturday — invented as a seasonal nod to smaller retailers — and Sunday. Yet more people may shop on Cyber Monday than any of the other days, according to a retail federation survey.
Holiday spending in general is expected to rise 3.7 percent this year, to $630.5 billion, or an average of about $805 per shopper, according to the National Retail Federation. That's above the 10-year average of 2.5 percent.
Retailers, however, are posting mixed results leading into the holiday season.
Bellwethers like Nordstrom and Macy's recently posted disappointing third-quarter profits, and their share prices hit multiyear lows as investors worried about sales over the crucial Black Friday period. But days later Wal-Mart, Target and discount retailer TJX (T.J.Maxx and Marshalls) posted strong sales numbers.
Whatever retail results turn out to be, Black Friday from a consumer standpoint might be different this year, with more shoppers skipping the long lines outside a retailer early Friday morning. Indeed, Black Friday doesn't even represent the kickoff to Christmas shopping anymore.
"Thanksgiving weekend shopping has evolved tremendously over the past few years and can no longer be seen as the start of the holiday season, though there's no question it's still important to millions of holiday shoppers and retailers of all shapes and sizes," said Matthew Shay, CEO of the National Retail Federation. "There is a real sea change happening in retail when it comes to the how, when, where and why of holiday shopping."
Two primary factors diminish the importance of Black Friday: spreading out the bargains to other days and putting door-buster deals online.
"A large number of retailers are already doing pre-Black Friday sales, where they are effectively going on promotion now," Stern said.
Some 60 percent of shoppers had started holiday shopping by Nov. 10, a retail federation survey showed.
Even some of the nation's largest bricks-and-mortar retailers, Wal-Mart and Target, are offering the same deals online as in-store. "So, the need to wake up early, join the line and stampede, becomes less relevant," Stern said.
Another factor is the realization that Black Friday prices don't even represent the best of the year, deal watchers say.
And the frenzy, secrecy and gamesmanship of Black Friday ads — door-buster deals being "leaked" online, sometimes on purpose — seems to be a thing of the past, with more stores openly releasing ad circulars far ahead of when printed ones appear in newspapers. Wal-Mart, for example, released its circular on Nov. 12 through its mobile app. Target released its ad on its website a couple of days earlier.
Some of the largest retailers demonstrate the diminished importance of Black Friday.
—Wal-Mart. Open all day on Thanksgiving, this year Wal-Mart will begin Black Friday deals online at 2 a.m. on Thanksgiving morning, long before deals in its stores begin at 6 p.m. that day.
"For the first time ever, you'll be able to get the vast majority of our Black Friday deals, available online and in stores," said Steve Bratspies, Wal-Mart's new chief merchandising officer. Specifically, 96 percent of deals will be available both places, he said.
Although, to promote simplicity, Wal-Mart is concentrating its deals this year around Black Friday instead of spreading out the deals across several events like it has in the recent past and as many other retailers are doing.
—Target. Target, also opening stores at 6 p.m. on Thanksgiving, is taking the opposite tack, spreading deals over 10 days, Nov. 22 to Dec. 1. As it did last year for the first time, Target will have all its holiday deals both online and in-store.
Tina Tyler, Target's chief stores officer, said those moves could diminish the importance of Black Friday itself, but from a business standpoint, that's not the intent. "It's about getting more trips with the guest," she said. "It's not about spreading the one trip out."
Target is offering a goody for shopping specifically on Friday. Those who spend $75 or more on Black Friday online or in-store get a 20 percent one-use discount coupon for a future purchase — not just one item but the whole shopping trip — on any day between Dec. 4 and Dec. 13.
—Kmart. Its door-buster deals will start an hour later than many others, at 7 p.m. on Thanksgiving, and go until 2 p.m. the next day. It, too, is spreading out deals to days other than Black Friday. For example, its Shop Your Way club members have access to Kmart's Black Friday door busters online on Nov. 21 and 22. And for the first three Wednesdays of December, it will host Black Wednesday sales online. That's in addition to bringing back its famed Bluelight Special flash sales, which will endure beyond the holiday shopping season.
—Sears. Kmart sister company Sears also offered an early members-only sale, in-store 6-9 p.m. Sunday and online 3 p.m. Sunday until noon Monday. Then closer to Black Friday, it will have two rounds of door busters, from its opening at 6 p.m. on Thanksgiving to 2 a.m., and then again starting at 5 a.m. on Black Friday.
—Best Buy. The chain bucked the trend and will open slightly earlier on Thanksgiving, at 5 p.m. for door busters, followed by a second round of door busters 8 a.m. Friday at most stores.
—Toys R Us. The retailer also opens at 5 p.m. Thursday. It planned early access to deals in-store and online for its loyalty members, starting Sunday. The "majority" of its deals will be online as well as in-store, beginning 10 p.m. Wednesday, it said. Sister store Babies R Us will be closed on Thanksgiving.
—Macy's. Black Friday deals at most stores start at 6 p.m. on Thanksgiving through 1 p.m. Friday, as well as all day Thursday at macys.com. Deals start up again Saturday 8 a.m. to 1 p.m.
—Amazon. The online megaretailer started a week before Black Friday, with deals every five minutes and continuing for eight days, through Black Friday. It also has 10 "Deals of the Day" sales starting at midnight on Thanksgiving, and up to 10 more on Black Friday, it said.
This year, one major retailer decided to just abstain from Black Friday.
Outdoors outfitter REI made a splash about not only staying closed on Thanksgiving — as are Nordstrom, Costco, Sam's Club, T.J.Maxx and Pier 1 Imports, among others — but also closing its 143 stores on Black Friday this year while paying its employees to "go outside."
"We believe that being outside makes our lives better," REI CEO Jerry Stritzke wrote in a note on the retailer's website. "And Black Friday is the perfect time to remind ourselves of this essential truth.
"We're a different kind of company — and while the rest of the world is fighting it out in the aisles, we'll be spending our day a little differently. We're choosing to opt outside…"
Of course, if you don't like the outdoors and by Friday you've had your fill of turkey and relatives, perhaps recreational shopping and throwing a few elbows in the aisles might be just the diversion you're looking for.
©2015 Chicago Tribune. Distributed by Tribune Content Agency, LLC.
Photo: Powhusku via Wikimedia Commons