Is Jon Stewart Done With Being A Political Figure?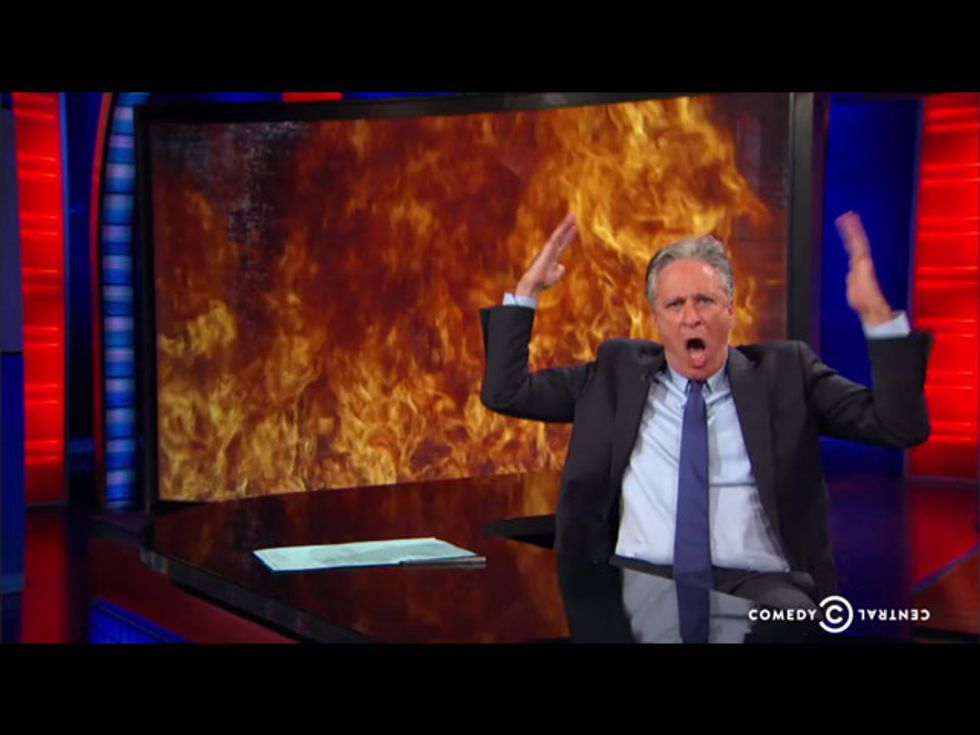 By Will Leitch, Bloomberg News (TNS)
As anyone who has ever watched an episode of The Daily Show With Jon Stewart for the last 15-plus years could have predicted, Jon Stewart ended his show Thursday night with a lecture to the camera.
But it wasn't a diatribe, or a polemic against Fox News, or an indignant screed. It was a simple, charming fable basically imploring viewers, on his last night to talk to them with this forum, to keep their guard up.
It distilled Stewart's essence into the Good Stewart rather than the occasionally self-righteous Stewart, and if anything, it channeled his longtime hero and mentor George Carlin, whom Stewart famously interviewed before an anniversary stand-up set back in 1997. It's an insightful interview featuring two smart men who, despite all their skepticism and their despair about the world around them, truly believe they can make a difference, or at least they'll never stop trying.
That was where Stewart ended it, with an entreaty to our better selves, to question what we are told and accept nothing at face value. That Stewart did it with a smile and moist eyes, rather than an angry wag of the finger, made it resonate more deeply. It was, all told, a lovely way to go out.
It was also the only real political moment of the final episode, such as it was; like many talk show finales before it, the primary focus of the final Daily Show was giving everyone a chance to say goodbye to everyone else. (Stewart even nodded to the idea that the show would ordinarily cover the Republican debate but, you know, last show.) Almost every previous correspondent popped in to say goodbye, including Steve Carell, Ed Helms, John Oliver, Rob Corddry, and even Wyatt Cenac, a cause of considerable headache in Stewart's final days. (They appeared to be cool now.) Stephen Colbert gave a warm-hearted speech comparing their relationship to Sam and Frodo in The Lord of the Rings. Various politicians appeared on video to send him off, including, most amusing, Sen. John McCain communicating through hand puppet. (He called Jon a "jackass.") And the show even did the "say goodbye to all the staff" montage correctly, with a clever Goodfellas parody that even featured a cameo from Martin Scorsese.
We wrapped up with Stewart promising that we haven't heard the last from him and a performance of "Land of Hope and Dreams" and "Born to Run" by Bruce Springsteen. (It is starting to seem as if the only rock gigs left are goodbyes to retiring white talk-show hosts.) And then Stewart waved goodbye and the world went back to talking about Donald Trump. It was a low-key, personal sendoff for a show that, in its final days, spent more time with its comedy friends than its political ones. The Jon Stewart who looked like he wanted to run for office at one point was gone. The one riding off into the New Jersey sunset looked far more content, and ready to be done with all of this, than that restless, earnest soul. Jon Stewart is done being a political figure, for now, and probably forever. He seemed relieved by it. He seemed relieved to be away from all the nonsense, relieved to go home.
(c)2015 Bloomberg News. Distributed by Tribune Content Agency, LLC.