Is Trump's Curious Behavior Caused By Sleeping Drug Ambien?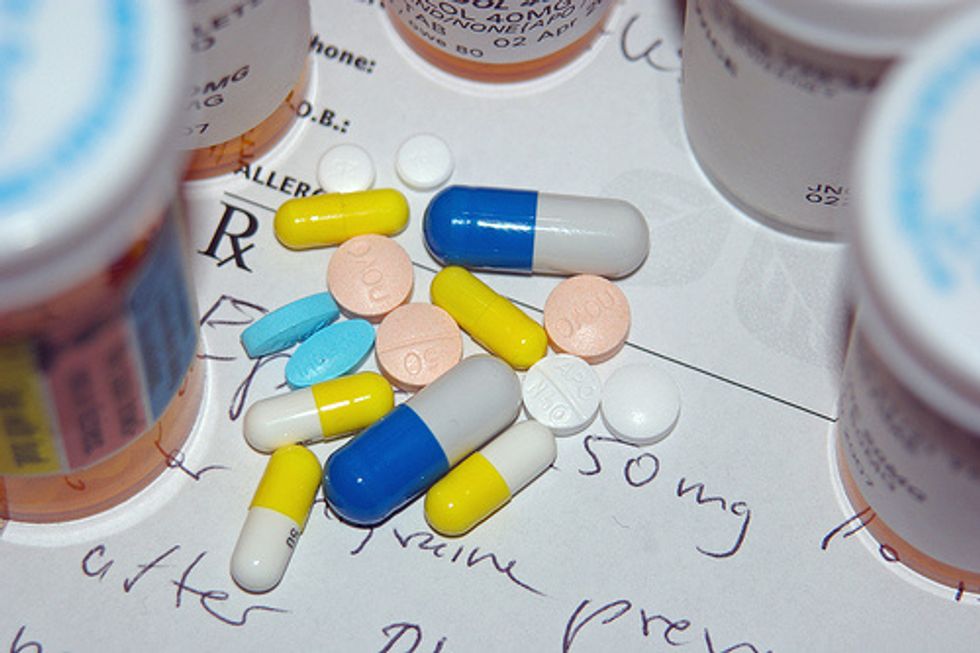 Reprinted with permission from DCReport.
Does Trump have a drug problem?
An overlooked footnote to Trump's highly publicized health checkup earlier this month was a passing reference at a news conerence to his use of the widely abused sleep aid, Ambien.
Dr. Ronny Jackson, the White House doctor, then said Trump takes Ambien when he goes on long flights. The drug, approved by the Food and Drug administration in 1992, was meant for short-term use to treat insomnia.
"The President does take some Ambien on occasion" when he travels overseas, Jackson said. "Only during travel."
Since sleeping pills come with a range of dangerous side effects that can linger into the following day, experts suggest using them sporadically and only in specific instances to avoid health risks. The drug is known to sometimes turn people into "Ambien zombies" who have fixed meals, had sex or gotten in their cars and driven away with no memory of the activities the next day.
Attorney Susan Chana Lask, who has represented people in lawsuits against the manufacturer of Ambien, said the drug could explain some of Trump's long history of erratic behavior, tweets, and slurred speech.
"Ambien may be the reason he has at times been unable to recall names and events, and had to later correct himself," Lask said.
Trump slurred his words toward the end of a speech in December announcing that the United States would recognize Jerusalem as the capital of Israel. Three weeks before that incident, Trump had spent a busy 10 days traveling in Asia. He also flew to Florida, Missouri, New York and Utah in the days prior to the speech. A spokesman later said Trump had a dry throat.
He appeared to forget the words to the national anthem in January at the college national football championship in Atlanta.
Daniel Kripke, an emeritus professor of psychiatry at University of California San Diego, said he couldn't speak about Trump's taking Ambien but that in general a person who habitually wakes up after less than eight hours of sleep or who wakes up in the middle of the night would have increased risk of impaired alertness, confusion and impairments of memory and judgment.
Jackson said Trump typically gets 4 to 5 hours of sleep a night. He usually is up by 5 a.m. and has tweeted at 3 a.m.
Conservative commentator Michael Levy has speculated that Trump's insomnia could be the result of a dangerous mixing of Ambien with an amphetamine.
"Amphetamines cause lack of impulse control, irritability, inability to control temper, and unbalanced hyper-focus on certain subjects which borders on obsession," Levy opined on the social media network Quora. "A person on amphetamines can exhibit exactly the type of bizarre behavior we see in Trump."
Former President Barack Obama took an undisclosed medication to help with jet lag while traveling.
Ambien is manufactured by Sanofi Aventis. The generic versions of zolpidem were released in 2007. In 2014, Kerry Kennedy, who said she mistakenly took Ambien, was acquitted of drugged-driving in Westchester County in New York. Kennedy, the daughter of Robert F. Kennedy, had swerved her Lexus SUV into a tractor-trailer. Lask questioned why Trump is taking Ambien.
"There are safer and healthier alternatives to Ambien, such as exercise, meditation, yoga and melatonin that the leader of our country should be promoting," she said. "Quick big pharma fixes like Ambien are exactly the reason we have so many confused people and problems in this country."
"The Ambien actually helps matters," said Levy. "When Trump isn't sleeping, he really goes off the rails… You can actually see it coming. Just look at the bags under his eyes. When they get really puffy, boom! Trumpocalypse!"