Is Trump's 'Space Force' Just A Campaign Merchandising Scam?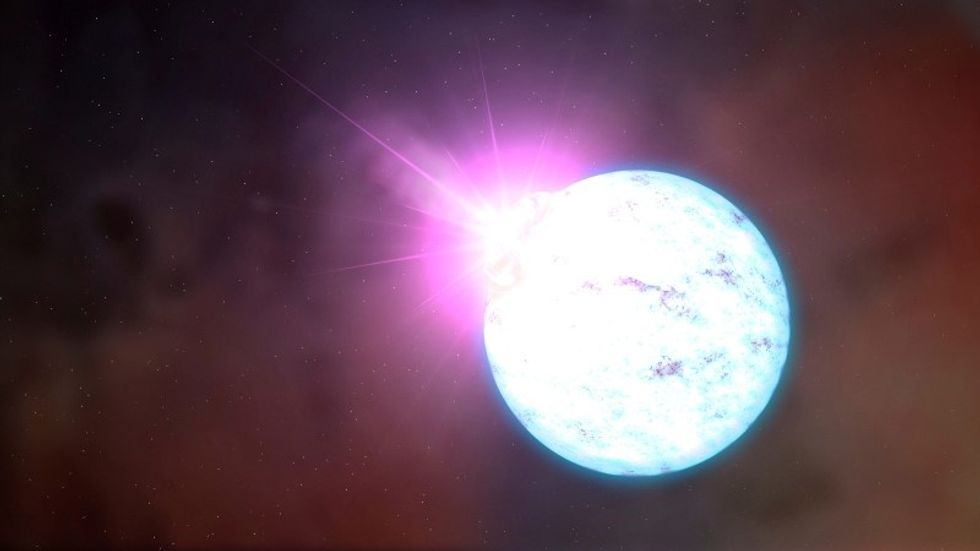 Serious American space policy is being derailed because of Trump's obsession with a "space force," which he is using to push campaign merchandise and cheap applause lines.
HuffPost noted on Tuesday that Trump's childish rhetoric has sidelined real space policy, prompting consternation from space policy experts and lawmakers from both parties.
Trump's reelection campaign has sold "space force" gear (hats and T-shirts with unofficial logos) to coincide with his mentions in speeches at his rallies, bringing in money for his campaign — money which is often spent at Trump's own properties, not coincidentally. Trump is even selling "space force" merch at Trump Tower in Manhattan.
But the "space force" message has made a mess of things, with Trump's political gimmick now interfering with real U.S. policy.
"He's conflated civilian space with national security space," Todd Harrison, a space policy expert at the Center for Strategic and International Studies, told HuffPost. "He has conflated these things with his campaign emails and his stickers… It has made people think this is a joke."
Since 1982, Air Force Space Command has been involved in activities like launching rockets and providing support for satellites in Earth orbit, providing vital information on navigation, weather, and communications.
HuffPost and others have noted, however, that based on Trump's public ramblings, it is unclear if he is even aware of the Air Force Space Command, because he keeps pushing "space force" to handle similar job functions.
Members of Congress have pointed out that the bureaucracy involved in implementing Trump's "space force" doesn't make sense.
Current projections estimate nearly $14 billion in tax dollars could be used to create the bureaucracy, even as Congress questions the idea.
"I don't understand how adding a box to an organizational chart is going to give us some kind of qualitative military edge," Sen. Angus King (I-ME) said of the "space force" at an April meeting of the Senate Armed Services Committee.
"I think what a lot of us on the committee are trying to figure out is what's the incremental advantage of having a separate space force," Sen. Tom Cotton (R-AK), a staunch Trump ally and apologist, said at the same hearing.
Yet just a few days later, Trump made a public pronouncement that he was "hereby directing" the Department of Defense "to immediately begin the process necessary to establish a Space Force as the sixth branch of the Armed Forces."
But HuffPost noted that the directive merely told the government to "create a 'space traffic management' plan to limit and track orbital debris."
Further muddying the waters has been rhetoric from Trump's allies, like Sen. Ted Cruz (R-TX), who was widely ridiculed for pushing "space force" so that America can combat space pirates.
"Pirates threaten the open seas and the same is possible in space," Cruz said in May.
There is no such thing as a space pirate.
Serious policy debate was once again tainted by a Republican leader making nonsensical space-based commentary.
America is a global leader in space exploration and business, which affects millions of livelihoods in both the public and private sector, and the military is already deeply involved.
Trump's use of "space force" to generate campaign merchandise sales and cheers at rallies is perverting that mission for the most selfish and craven reasons.
Published with permission of The American Independent.