Is Wendy Davis Running For Governor? 'Credible Sources' Say 'Yes'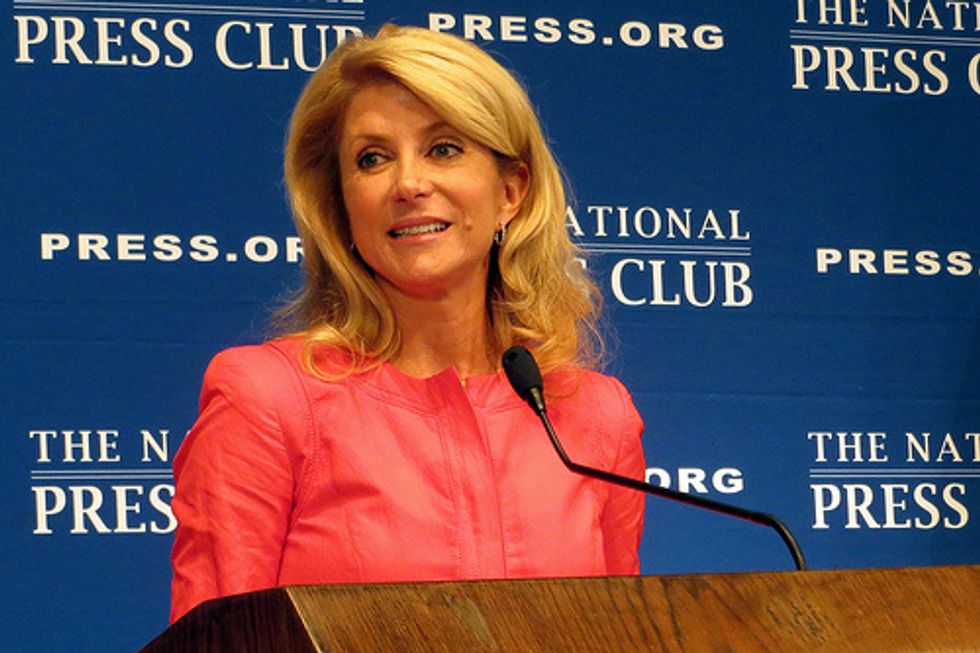 State Senator Wendy Davis (D-Fort Worth) will run for governor, lawyer and lobbyist Robert Miller writes on his blog.
Miller cites anonymous "credible sources" who believe Davis will be Texas Democrats' standard-bearer against Attorney General Greg Abbott in November 2014. Abbott declared his candidacy shortly after Governor Rick Perry announced that he would not seek a fourth term.
Miller suggests that Davis has more to gain from a losing run for the governor's mansion than losing her state senate seat, which she has won twice in a Republican-leaning district. After her 10-hour filibuster forced Governor Perry to call a second special session to pass a ban on abortions after the 20th week and a series of new restrictions on clinics that perform abortion, Davis became a national hero for liberals and a national target for Republicans.
No Democrat has been elected governor of Texas since Ann Richards in 1990. No Democrat has won 50 percent of the vote since Mark White in 1982.
The Democratic group Battleground Texas, fronted by former Obama advisor Jeremy Bird, has been working on organizing the large number of minority voters in the state, under the premise that it's only a few elections away from being a swing state. Many politicians, including Senator Ted Cruz (R-TX), have stated that once Texas goes Democratic that would be the end of the GOP as a national party.
But The New Republic's Nate Cohn doesn't see that happening "any time soon."
Though Davis likely doesn't have great odds of defeating Abbott, whom she trailed in a recent poll 48-40, she does offer Democrats a "pied piper" with an "Elvis factor" to organize around. Her campaign would be a voter registration drive for future presidential elections and a chance for Davis to prove she's ready for the national spotlight in a future Democratic administration, Miller suggests.
But for now, this is all just speculation.
Photo: Alan Kotok via Flickr.com