Iselle Weakens To Tropical Storm As It Hits Hawaii's Big Island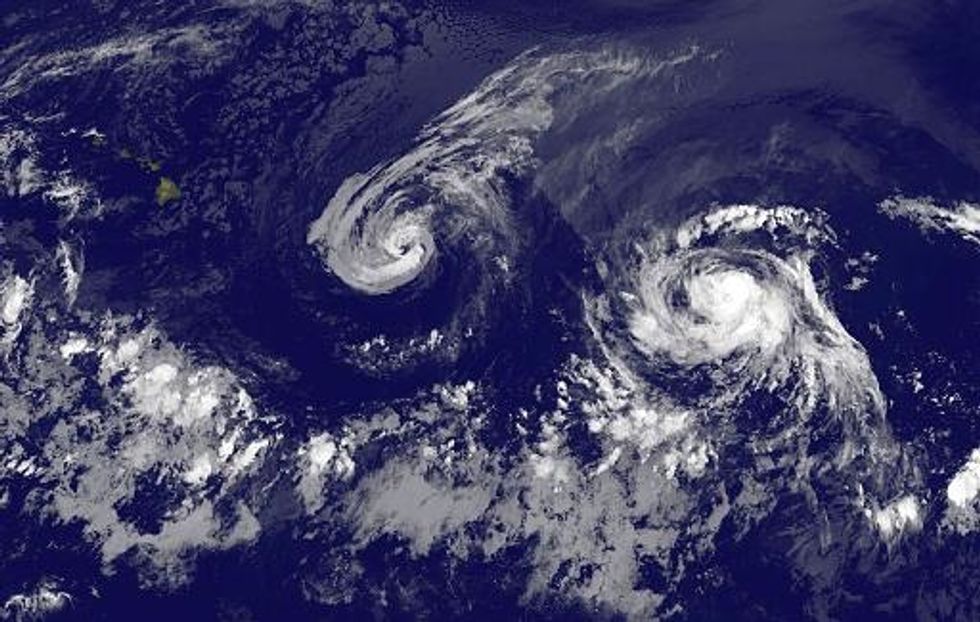 By Maya Srikrishnan, Los Angeles Times
Tropical Storm Iselle reached Hawaii's Big Island and Maui early Friday morning, bringing heavy rain, strong winds, downed trees, and scattered power outages as the state also braced for a second storm on Sunday morning, a rare one-two punch for the islands.
Iselle, which has weakened from a Category 4 hurricane since Monday, is expected to continue traveling northwest to Oahu and Kauai on Friday and is expected to dump 5 to 8 inches of rain or more on Hawaii. Local meteorologists warned residents to stay vigilant as the slow-moving storm has the potential to bring damaging flash floods and road closures.
"Iselle so far has kind of parked itself over the Big Island," said Lt. Col. Charles Anthony of the Hawaii National Guard. As of 3 a.m. local time, Iselle was 40 miles southeast of Hilo, moving at 11 mph, according to the National Weather Service. It sustained maximum winds of 60 mph.
So far, the damage has been minor, Anthony said. There have only been a few reports of downed power-lines and trees and some minor flooding. No injuries have been reported. Heeding storm warnings, more than 1,200 people gathered at an evacuation shelter on the Big Island, according to County of Hawaii Civil Defense.
"Seems like everyone listened and hunkered down and we've been able to withstand the main effects of the storm," he said.
The storm was weakening because of several factors, including wind shear chopping at the system and the Big Island's terrain above the water, said Chris Brenchley, meteorologist with the National Weather Service in Honolulu.
But the winds and rain are strong enough that nearly all flights in and out of the island have been canceled. Public schools, universities, beach parks, and national parks in the entire state have been closed until the storm passes. All state offices are closed and will reopen on Monday.
Bruce Kim, executive director for the state Office of Consumer Protection, announced there is a price freeze on all commodities and any reports of price gouging will be investigated and, if substantiated, will be prosecuted to the fullest extent.
Hawaii Tourism Authority President Mike McCarthy said that hotels are prepared to implement their emergency plans and guests are advised to remain at their accommodations.
Attorney General David Louie announced that state elections will proceed on Saturday as planned, although some polling places may change. Current weather forecasts do not indicate that voting will be adversely affected, but officials are watching the storm closely.
Hawaii Electric Light Co. said it had about 5,000 customers without power. Maui County said that due to a power outage at the Olinda Water Treatment plant, around 700 customers were advised to conserve water.
Hurricane Julio, which has been traveling close behind Iselle, is now a Category 3 hurricane, sustaining maximum winds of 120 mph. Julio is expected to veer north of the Big Island, bringing rain and strong winds to the island, according to the National Weather Service.
Julio was last reported to be 970 miles southeast of Hilo and is moving northwest at 16 mph.
AFP Photo
Interested in national news? Sign up for our daily email newsletter!