ISIS Is On The Defensive, Territory Shrinking In Syria and Iraq: U.S. Official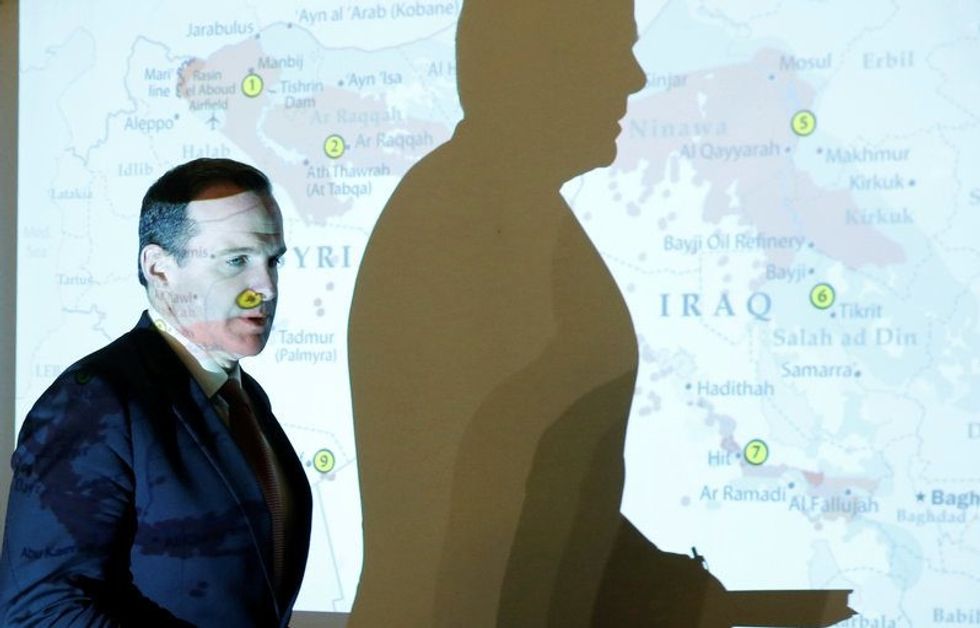 Islamic State has not gained significant ground since it took the Iraqi city of Ramadi a year ago, which it then lost in December, as the U.S.-led coalition in Iraq and Syria has been helped by better intelligence and better equipped local forces, a senior U.S. official said on Sunday.
Islamic State "is shrinking so they are very much on the defensive," Brett McGurk, U.S. President Barack Obama's special envoy in the fight against Islamic State, told a news conference in Amman.
Islamic State controls the cities of Mosul in Iraq and Raqqa in Syria and is proving a potent threat abroad, claiming credit for major attacks in Paris in November and Brussels in March.
McGurk said that U.S.-led coalition effort to capture Mosul and Raqqa was making progress.
"We are doing precision strikes in Mosul almost every day," he added. "There is constant synchronized pressure," he said.
McGurk cited a recent operation in which the coalition located and targeted Islamic State's cash stores in Mosul and "took out hundreds of millions of dollars out of their coffers."
This triggered a cash crunch that forced the militants to cut the pay of their fighters by half. He did not say when the operation took place.
Islamic militants' nervousness was evidenced by the recent public executions in the city's main square and a widespread clamp down on internet services in Mosul, McGurk said.
In Raqqa, McGurk said valuable intelligence gathered from a major trove of data and information obtained by U.S. special forces in a raid in eastern Syria last year allowed the coalition to better target militants, McGurk said.
"We will be beginning over the coming weeks and months a pressure campaign on Raqqa in all its aspects," said McGurk.
President Barack Obama's decision last month to raise the number of special forces in northern Syria [L2N17R0K4] which was the biggest expansion of U.S. ground troops since its civil war began, would help accelerate recent gains by U.S.-backed local forces, McGurk said.
He cited the militants' loss of the strategic town of Shadadi in northeast Syria in February to the U.S.-backed Syria Democratic Forces formed from Kurdish and Arab forces.
"We don't want U.S. forces cleaning these cities… We believe a sustainable model is for local people to take back their territories and homes and it's took some time to organize local forces to do that. You can see we are starting to have some real momentum now," he added.
Reporting by Suleiman Al-Khalidi; Editing by Cynthia Osterman
Photo: Brett McGurk, the United States' envoy to the coalition against Islamic State, arrives to attend his a news conference in Amman, Jordan, May 15, 2016. REUTERS/Muhammad Hamed