With Islamic State Advancing, Kurds Prepare For Last Stand Outside Capital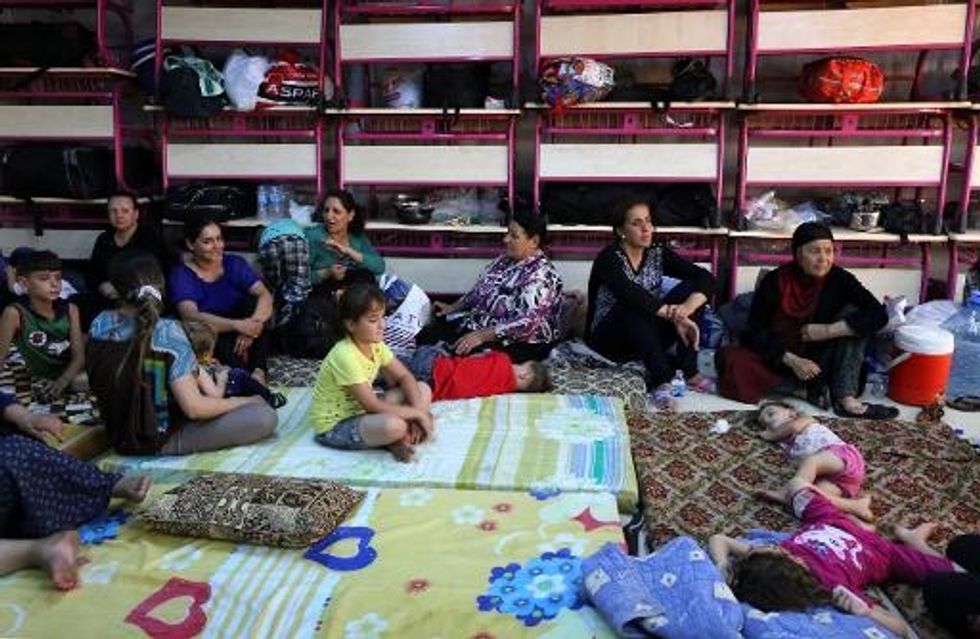 By Mitchell Prothero, McClatchy Foreign Staff
KALAK, Iraq — Kurdish fighters scrambled to set up a defensive line Thursday after militants from the Islamic State seized four strategic towns on a key highway and advanced to positions just minutes from Irbil, the capital of Iraq's autonomous Kurdish region.
Hundreds of Kurdish peshmerga militiamen built earthen berms near Kalak on the highway that links Irbil with Mosul, the Iraqi city whose fall to Islamic State militants in early June touched off a sweep across northern and western Iraq that until Thursday had spared Kurdish areas.
But that quiet appeared to be over, with the Islamic State boldly saying in an Internet posting Thursday that it intended to capture Irbil, a city previously thought so secure that the United States two months ago chose it as one of two Iraqi cities safe enough to receive scores of staffers evacuated from the U.S. Embassy in Baghdad.
From Kalak, about 25 miles northwest of Irbil, the front line of the Islamic State — which everyone here refers to as "Daash," an Arabic acronym — could be seen slightly more than a mile away.
"Daash is testing our defenses," said Rosg Nuri Shawess, a top Kurdish military commander, pointing to two towns that had fallen to the Islamic State, Qaraqosh, and Bartella, that were visible in the distance. "And if we don't show them we are strong here, then we have lost Irbil."
Shawess, who also is a member of the Iraqi government's national security council, called the situation "extremely critical" as he examined the foremost strong point along the highway. He described the Kurdish military plight as "too much distance to protect, with too few men and not enough weapons."
"The Americans keep saying they will help us," he added as surveillance planes or drones, likely American, circled far above the clouds. "Well, if they plan to help they had better do it now."
It was unclear if the United States planned to do anything to help fend off an Islamic State thrust at Irbil, where the United States also has recently expanded its CIA station and set up a Joint Operations Center to coordinate military activities with the Kurdish and Iraqi governments.
There were reports from Washington that "military options" were under consideration, and U.S. officials said specifically that the United States was considering dropping supplies to refugees trapped on a mountain near the Islamic State-controlled city of Sinjar.
But there were no specifics about military steps to counter the Islamists' move toward Irbil. At the White House, spokesman Josh Earnest stuck closely to the administration's months-old position that Iraq's problems must be solved politically.
"There are no military solutions to the problems of Iraq," he told reporters. He said the United States would move to protect American personnel but that American military action "would have to be closely tied to Iraqi political reforms."
A sense of dread fell over the Kurdish capital as the magnitude of the threat became clear.
Western oil companies based in Irbil shut down operations and restricted their employees' movements out of concerns for safety, while makeshift shelters popped up in public parks and churches in the Ain Kawa neighborhood to accommodate hundreds of people who'd fled the newly occupied towns. There was a noticeable increase in the presence of the Kurdish peshmerga militia in the city, and there were reports that hundreds of residents flooded the airport in hopes of buying tickets to elsewhere.
A refugee camp at Kalak that only two days ago was filled with tens of thousands of refugees who'd fled Mosul when it fell to the Islamic State was empty Thursday as the area became the new front line of a conflict that went from occasional clashes to a full-scale war between the Kurds and the Islamic State in less than a week.
AFP Photo/Safin Hamed
Interested in world news? Sign up for our daily email newsletter!