Islamic State Doesn't Destroy All Antiquities — It Saves Some To Sell On The Black Market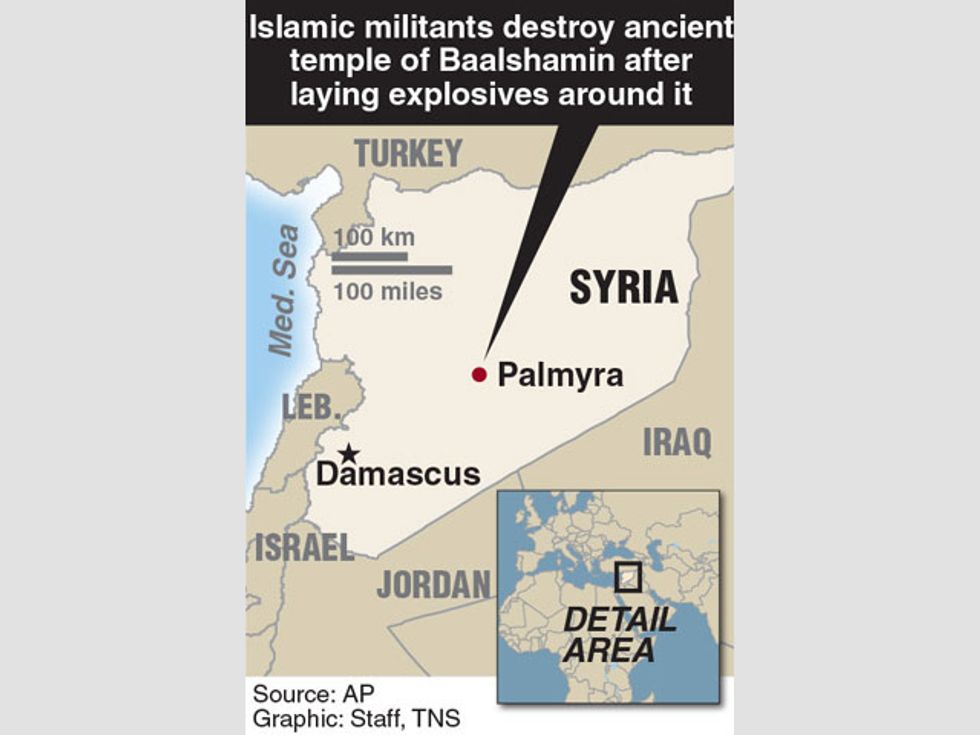 By Laura King and Nabih Bulos, Los Angeles Times (TNS)
BEIRUT — The war against antiquities being waged by Islamic State militants is part of a codified, systematic campaign of cultural annihilation, experts say, that reached a new apex with the demolition of a 1st century temple in Syria.
The Sunni Muslim extremists' appetite for destruction of priceless historical sites and artifacts, however, may be checked by their hunger for the lucrative spoils of the black-market antiquities trade. Illicit sales reportedly have provided a major revenue stream for the self-declared caliphate, despite international efforts to choke off trafficking in ancient treasures.
The latest episode of wanton cultural vandalism — the blowing up of the Temple of Baalshamin, situated within the majestic ruins of the Syrian desert oasis of Palmyra — was widely condemned Monday by historians and preservationists. Islamic State militants, who seized the site in May, had last week beheaded a longtime curator of the Palmyra ruins, octogenarian Khaled Assad.
The wrecking of the temple was confirmed Sunday by the Syrian Observatory for Human Rights, a British-based monitoring group, and Syria's director of antiquities, Maamoun Abdul Karim. Explosives placed in the temple, one of Palmyra's best-preserved structures, devastated its interior and damaged Roman columns nearby, they said, though differing accounts emerged as to exactly when the attack had taken place.
Islamic State, which controls large swaths of Iraq and Syria that contain some of the Middle East's most precious ruins, has declared that it is striking a blow against paganism and idolatry, which are anathema to its radical interpretation of Islam.
The Temple of Baalshamin, for example, is consecrated to a Phonician storm god. Last week, militants used a bulldozer to tear apart the St. Elias Monastery in central Syria, which housed the saint's fifth century tomb and had been a major Christian pilgrimage site.
Amid the jihadists' well-documented human atrocities, destruction of antiquities has been a recurring pattern for months. Other wrecking rampages have targeted statuary and artifacts from the Assyrian and Akkadian empires, as in February's ransacking of the museum in Mosul, Iraq's second-largest city.
An Islamic State video released at the time of the Mosul rampage, showing militants wielding sledgehammers and pickaxes, featured a spokesman for the group declaring that the smashed objects had glorified polytheism. The footage was prefaced by a reading from the Koran on idol worship.
Showing an attention to detail that points to both the monetary value and religious significance of the archaeological sites under its control, the Islamic State's office in charge of concessions for mining and investigation issues special credentials for in-house experts to examine any given set of ruins or artifacts.
"You are asked to allow the bearer of this letter to search and excavate for artifacts with the knowledge that he is an archaeological expert," said one such document issued by the office's Artifacts Section, which was circulated recently on social media.
Experts said that both the selling of looted antiquities and gleeful destruction of those considered offensive to Islam are potential recruiting tools for the militants – much like mass trafficking in "infidel" sex slaves, whose abuse is described by the group as not only permissible but spiritually laudatory.
Islamic State makes skillful propaganda use of the destruction of cultural heritage, said Amr Al-Azm, an associate professor of Middle East history and anthropology at Shawnee State University in Ohio.
"You can't sell a building like the temple, big huge statues, so might as well benefit from them in other ways – it's all about exploiting a resource here," he said by Skype. "What you cannot sell, you destroy for propaganda, through what I call 'atrocity-class' events, usually associated with very glossy, fancy videos and with people speaking and explaining the act itself."
Likening such showmanship to Islamic State's choreographed beheadings of captives, Al-Azm said the message sent by destruction of antiquities resonates powerfully with the "narrow base" of the group's supporters, conveying a sense of impunity in the face of international outrage.
At Palmyra, more destruction is feared. The wreckage of the Baalshamin Temple lies only a little over a quarter-mile from one of the ruined city's most spectacular structures, the Temple of Bel, celebrating a Semitic god. It also lies close to a restored amphitheater already put to grim use by Islamic State fighters after they overran Palmyra: It served as an execution ground for more than two dozen captured Syrian soldiers, an event captured on video.
The United Nations cultural agency UNESCO, which designated Palmyra a World Heritage site, has called the destruction of ancient antiquities the worst such campaign since World War II. It says such acts amount to war crimes.
"The systematic destruction of cultural symbols embodying Syrian cultural diversity reveals the true intent of such attacks, which is to deprive the Syrian people of its knowledge, its identity and history," UNESCO's director-general Irina Bokova said in a statement Monday condemning the Temple of Baalshamin's destruction.
Trading in looted antiquities is a major source of income for Islamic State, though it is difficult to estimate earnings, London School of Economics research fellow Rim Turkmani wrote in a paper this summer about Syria's war economy.
"They only destroy traceable items, and attempt to sell the rest," Turkmani wrote. As a single example, she said, memory sticks obtained after an arrest of Islamic State militants in Iraq revealed $36 million in revenues from the selling of antiquities from a single venue — Syria's Nabek district, 50 miles north of Damascus and the site of an Abyssinian monastery.
Although some of Palmyra's treasures were spirited away for safekeeping, Abdul Karim, the Syrian antiquities director, fears that the litany of loss in Palmyra and elsewhere has only begun.
"The only thing we now expect from these people is destruction," he said by telephone from Damascus. "I have never felt as weak as I do now… as I see the place destroyed before my eyes, and the eyes of the Syrian people and humanity.
"It's like we're back in the Middle Ages."
(Special correspondent Bulos reported from Beirut and Times staff writer King from Cairo.)
Picture: Locator map of Palmyra, Syria where Islamic State militants destroy ancient temple, via Tribune News Service.