Israel Bombs Syria Army Targets After Golan Attack
@AFP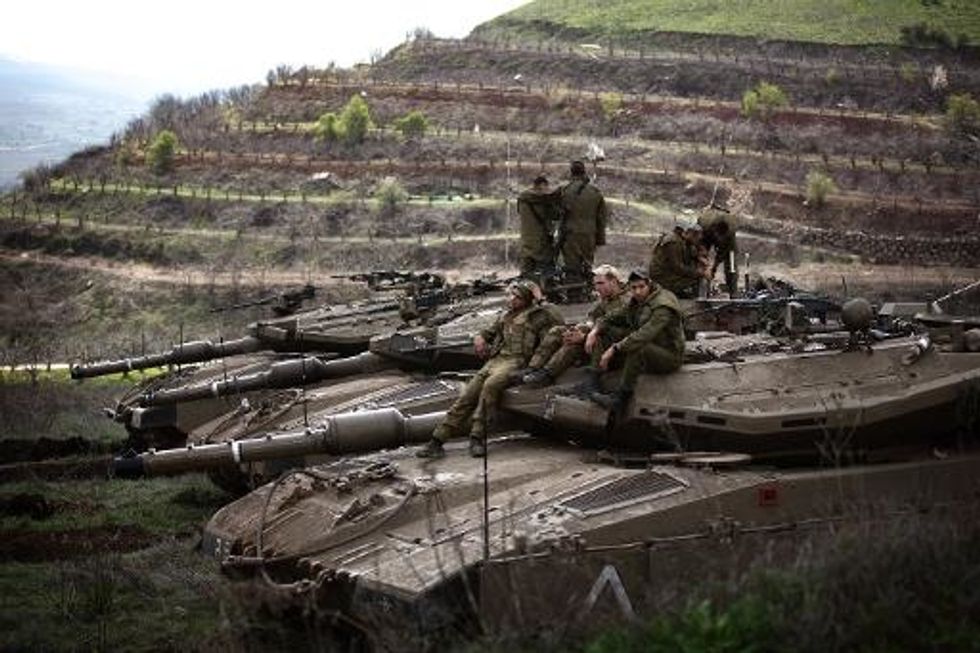 Jerusalem (AFP) – Israel launched air raids against Syrian army positions early Wednesday and issued a stark warning to Damascus just hours after a bomb on the occupied Golan wounded four Israeli soldiers.
The Syrian army said the air strikes killed one soldier and wounded seven, cautioning that the assault endangered "the security and stability of the region."
The bombing marked the most serious escalation along the ceasefire line with Syria since the 1973 Middle East War, with Israel's defence minister warning that Damascus would pay a "high price" for helping militants bent on harming the Jewish state.
Fighters from Lebanon's powerful Shiite movement Hezbollah, which fought a bloody war with Israel in 2006, are battling alongside regime troops in Syria's civil war and are credited with a string of recent battlefield successes against the rebels.
Israeli officials have been careful not to directly blame Hezbollah at this stage, but Prime Minister Benjamin Netanyahu said Tuesday there was a growing number of "jihadists and Hezbollah elements" on the Syrian Golan, which "represents a new threat" for Israel.
Following the Golan attack, Netanyahu had warned that Israel would act "forcefully" to defend itself.
Israel's military said a Syrian army training facility, a military headquarters and artillery batteries had been targeted in the response.
Syria's army command confirmed strikes on its bases in the Quneitra region, which it said led to "the martyrdom of one soldier and the wounding of seven others."
"We warn that these desperate attempts to escalate and exacerbate the situation in these circumstances by repeating these acts of aggression would endanger the security and stability of the region," a statement added.
The early morning air strikes took place 12 hours after four soldiers who were patrolling the Israeli side of the ceasefire line were wounded, one of them severely, by a roadside bomb.
It was the third such incident in two weeks along Israel's northern frontier, with Israeli military officials blaming the Syrian army for complicity in the attack.
Two previous attempts to strike soldiers along Israel's northern borders on March 5 and March 14 were blamed on Hezbollah.
Defence Minister Moshe Yaalon said Israel held Syria's regime accountable for the attack.
"We see the Assad regime as responsible for what is happening under its authority, and if it continues to cooperate with terror elements who seek to harm Israel, we will make it pay a high price," he said in a statement at dawn.
Israel would not tolerate any "breach" of its sovereignty and would continue to strike anyone seeking to harm its forces or civilians, Yaalon said.
"We will react with determination and force against anyone operating against us, at any time and any place, as we have done tonight," he said.
And Netanyahu said Wednesday that Israel would not hesitate to take "forceful action" to ensure calm on its northern borders.
"Our policy is very clear: we hurt those who hurt us. We also thwart, to the best of our ability, the transfer of weapons whether by sea, by air or by land, and this activity will continue," he said in comments released by his office.
Although no one has claimed responsibility for Tuesday's bomb, analysts pointed to similarities with an explosion on Friday that targeted troops along the Lebanese border, prompting Israel to shell Hezbollah positions over the border.
And on March 5, Israeli troops on the Golan opened fire on Hezbollah members who were allegedly trying to plant a bomb near the ceasefire line, hitting two of them. Syrian sources said 11 people had been wounded.
Israel occupied the strategic Golan Heights plateau in the 1967 Six Day War and annexed it in 1981, in a move never recognized by the international community.
Writing in Yediot Aharonot daily, defense correspondent Alex Fishman said Israel was being "dragged into a brawl" with the Syrians and Hezbollah.
With no policy for halting the deterioration along the border, Israel should consider sending a clear message in the form of "one or several hammers that will pound Damascus or Beirut powerfully and shake up somebody over there," he wrote. "A policy of 'sit-still-and-do-nothing'… is an invitation to the next incident."
AFP Photo/Menahem Kahana