Israel 'Bombs' Syria As Envoy Presses Peace Talks Bid
@AFP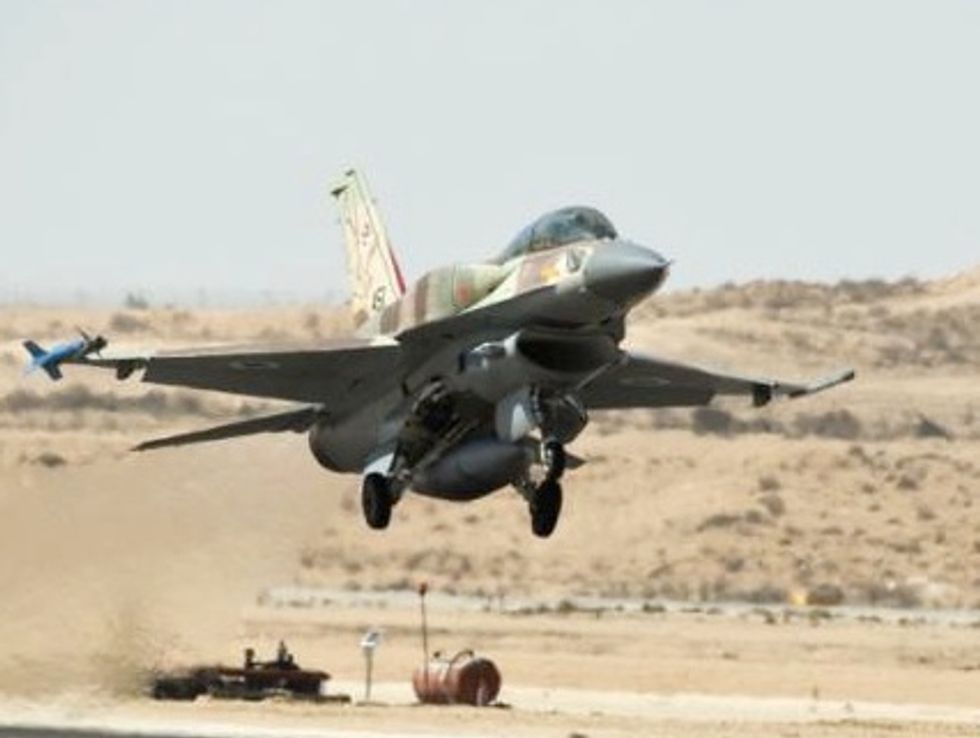 Damascus (AFP) – Israel has reportedly bombed a Syrian base to halt an arms shipment to Hezbollah, while the international Syria envoy said Friday there could be no peace talks without the opposition.
The reported air strike on a military base in regime stronghold Latakia on Wednesday would be the first Israeli strike on Syria since a U.S.-Russian accord on chemical weapons averted punitive U.S. military action last month.
Israel did not comment on the reports that emerged Thursday, but it has struck Syria in the past and warned it will continue to take action to prevent sophisticated weapons from falling into the hands of Hezbollah — a key Damascus ally — and other militant groups.
Saudi-owned Al-Arabiya television said Israel had targeted a shipment of surface-to-surface missiles destined for Hezbollah, the powerful Lebanese Shiite movement fighting alongside the regime.
A U.S. official confirmed to AFP that "there was an Israeli strike" but gave no details on the location or the target.
Syria, which has cooperated with international disarmament efforts, has vowed to retaliate against any attack but did not respond when Israel carried out two air strikes in May.
Hoping to build on the momentum of last month's U.S.-Russian accord to destroy Syria's chemical arsenal by mid-2014, U.N.-Arab League envoy Lakhdar Brahimi has meanwhile been criss-crossing the region to rally support for the so-called Geneva II talks.
But Syria's opposition has refused to attend unless President Bashar al-Assad's resignation is on the table — a demand rejected by Damascus — and powerful rebel groups have warned that anyone attending the talks will be viewed as a traitor.
"If the opposition does not participate there will be no Geneva conference," Brahimi told reporters in Damascus before travelling to Beirut.
The veteran Algerian diplomat, who met with Assad on Wednesday, said the government had agreed to take part in the talks and that the opposition was "trying to find a way to be represented".
The main opposition National Coalition plans to meet November 9 to decide whether to attend the Geneva talks, but a key member of the bloc, the Syrian National Council, has said it will leave the umbrella group if it does so.
Chemical arms under 'tamper proof' seals
The reports of the Israeli strike came as the Organisation for the Prohibition of Chemical Weapons said all of Syria's chemical arms were under "tamper proof" seals.
Some 1,000 tonnes of chemical agents and 290 tonnes of chemical weapons "have been placed under seals that are impossible to break," OPCW spokesman Christian Chartier said Thursday.
The OPCW also said Syria's chemical arms production equipment had been destroyed.
Inspectors had until Friday to destroy all production and filling equipment in accordance with a timeline laid down by the OPCW and a U.N. Security Council resolution.
The resolution, stating that the arsenal must be destroyed by mid-2014, followed a U.S.-Russian deal to avert military strikes on Syria after chemical weapons attacks near Damascus in August that killed hundreds of people.
The West blamed those attacks on Assad's regime, which denied responsibility.
IHS Jane's, a defence consulting firm, hailed the OPCW "milestone" but cautioned the work was far from over, noting Syria's entire arsenal was still under regime control.
More than 120,000 people have been killed in the 31-month rebellion against the Assad regime triggered by his bloody crackdown on Arab Spring-inspired democracy protests.
On the ground, troops loyal to Assad battered rebel-held areas of southern Damascus in a bid to completely cut them off from rear bases in the countryside, said the Syrian Observatory for Human Rights.
The reports come a day after Sfeira in Aleppo province fell from rebel to army hands, after a 27-day siege, activists said.
Aleppo-based Abu Omar told AFP he blamed states that backed the revolt for Sfeira's fall.
"The reason why Sfeira fell is fundamentally because there has been no support for the rebels on that front," he told AFP over the Internet.
Sfeira is strategic because it is on the route to Aleppo, Syria's second city, and because chemical and other heavy weapon stockpiles are kept in defence factories there.
AFP Photo/Jack Guez