Israel Exit Polls Show Virtual Tie Between Netanyahu And Herzog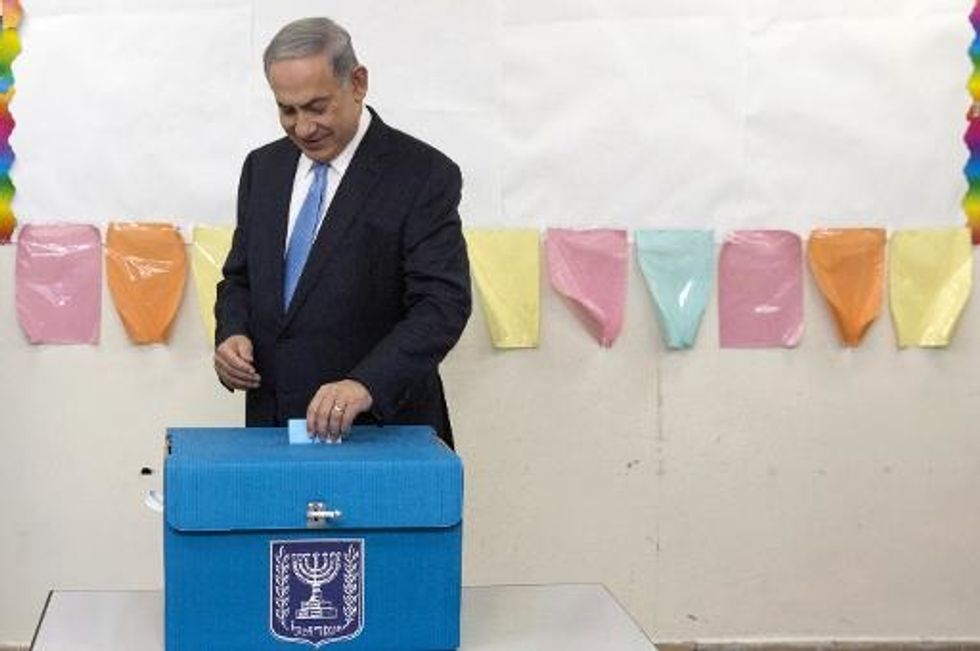 By Laura King and Batsheva Sobelman, Los Angeles Times (TNS)
TEL AVIV, Israel — Exit polls on Tuesday night suggested that Israel's divisive and hard-fought election campaign had resulted in a virtual tie between the two main competitors, which could open the way for Prime Minister Benjamin Netanyahu to remain in office.
The exit polls, released moments after balloting ended, indicated that Netanyahu's conservative Likud Party and the Zionist Union, led by Isaac Herzog, each took about 27 seats in the 120-member parliament, or Knesset. One TV channel said its poll indicated 28 seats for Likud.
The results, if borne out, would represent an enormous relief for the prime minister's camp, after opinion polls last week suggested that Herzog's party had pulled ahead by up to five seats. Netanyahu in recent days had made a frantic push to retain support from conservative and nationalist voters.
However, the early picture pointed to a highly fragmented political scene that could make it difficult for any leader to remain in power for long.
The exit polls by the three main television channels may not prove completely accurate; some previous elections have seen substantial divergence in the final count from initial indications.
Ballots were being tallied through the night, and a preliminary tally was expected early Wednesday. Final official results will take days.
Earlier in the day, Netanyahu had engaged in an extraordinary election day outburst directed at the country's Arab minority, his political rivals and what he called foreign opponents seeking to engineer his downfall, leading to speculation that he believed he was in danger of losing the election.
Throughout the day, soldiers in rumpled uniforms, ultra-Orthodox Jews in long black coats and twentysomethings in nose rings made their way to polling stations across the country, propelling what was reported by election authorities to be a strong turnout as the vote stretched well into the evening. Election day was a national holiday, with nearly 6 million people eligible to vote.
Netanyahu, who as head of the conservative Likud Party has served as prime minister for the last six years, had lagged behind in pre-election opinion polls as he faced off against Herzog, whose party is considered center-left.
Under Israel's political system, people vote for party lists, not individuals, so the real result will not be clear-cut even once the ballots are tallied. With the race so closely fought, some said they couldn't make up their minds until they were in the polling booth.
One such voter was Michael Doron, a 46-year-old social worker from Mevaseret Zion, a town west of Jerusalem. She had intended to back her choice in the last elections — the centrist, pocketbook-minded party Yesh Atid, led by former Finance Minister Yair Lapid — but made a last-minute switch to the Zionist Union and Herzog.
"Why? Before anything else, we need to get rid of Bibi," she said, using the nickname by which Netanyahu is known to friend and foe alike.
Although election rules ban the release of opinion polls while the vote is going on, parties make internal assessments of the voting trends, and Likud appeared alarmed by what it was seeing as the day wore on. The prime minister sought to summon the media to his residence for a live early-evening broadcast, but the Zionist Union obtained an injunction banning it as improper electioneering.
Earlier, in remarks that were swiftly and widely condemned by opponents, the prime minister contended in a video posted on Facebook that "Arab voters are moving en masse to the polling places" — referring to indications of a strong turnout among Israel's Arab minority after the formation of a political alliance meant to give them more clout in the Knesset.
After being rebuffed in his efforts to go on live TV, Netanyahu's campaign posted a second Facebook video in which he warned that "we are in a fateful battle … the only way to reduce it is go to vote Likud." He repeated allegations that foreign money has buoyed left-wing organizations seeking to push him from office, and insisted that his main opponents would make "every concession" to the Palestinians.
Netanyahu backed down slightly on his remarks regarding Arab voters, saying that they had a right to cast ballots, but suggested that transportation to the polls had been organized by outside groups targeting him and his party.
"Netanyahu's panic is embarrassing," said Herzog, making an appearance in the town of Modiin. "Anyone wanting a prime minister who cares about the citizenry, and doesn't divide and incite, must get up, go out and vote."
The voting results herald a fresh battle. No single political party has ever captured a majority of the 120 seats in the Knesset. So the popular vote is only the first step in the painstaking process of assembling a governing coalition. Usually the head of the biggest vote-getting party is tapped to do so, but not always.
Opinion polls conducted last week gave the Zionist Union an edge going into Tuesday's vote, but even if Herzog's party wins the largest number of seats, Likud has more potential allies among right-wing and nationalist parties. Thus, Netanyahu could be asked by the country's president to form a government even if his party stumbles. Smaller centrist parties such as Lapid's will probably emerge as kingmakers.
In the waning hours of the campaign, Netanyahu hammered on a theme surprising to few Israelis, declaring that no Palestinian state would be created on his watch. Although the Israeli leader had endorsed a two-state solution six years ago, the peace process has been stymied since, and his rhetoric was read as an attempt to siphon off votes from other right-wing parties and shore up Likud.
The new government that emerges from this maneuvering will be faced immediately with a daunting set of challenges at home and abroad: economic woes that played an outsized role in the campaign; a damaged relationship with the United States, Israel's most important ally; external threats such as Iran's nuclear program, which Netanyahu sought to frame as the most crucial threat to Israel's existence.
Herzog has said he will attempt to engage diplomatically with the Palestinians, a process that will be complicated by simmering anger over the summer war in the Gaza Strip and Palestinian moves to challenge Israel in the International Criminal Court.
For nearly all of the campaign, Herzog had publicly teamed up with running mate Tzipi Livni, a former Cabinet minister and peace negotiator. But on the eve of the vote, the two quietly dropped a proposed arrangement to rotate the premiership between them, a deal that might have alienated some of the smaller parties the Zionist Union would need to form a coalition.
More than two dozen parties contested Tuesday's vote, with only about half forecast to muster enough votes to pass a threshold for representation in the Knesset.
Despite the signs of Netanyahu's growing personal unpopularity, some supporters remained loyal. In Tel Aviv's open-air Carmel market, traditionally a Likud bastion, 46-year-old Adi Hayek, who runs a stall with cheap cosmetics and drugstore goods, said he would not abandon the prime minister now.
"It's Bibi or nothing," he said. "We are in good hands."
___
Special correspondent Sobelman reported from Jerusalem and Times staff writer King from Tel Aviv.
Photo: Israeli Prime Minister Benjamin Netanyahu casts his vote (AFP/Sebastian Scheiner)