Israel Fury As Kerry Heads To Iran Talks In Geneva
@AFP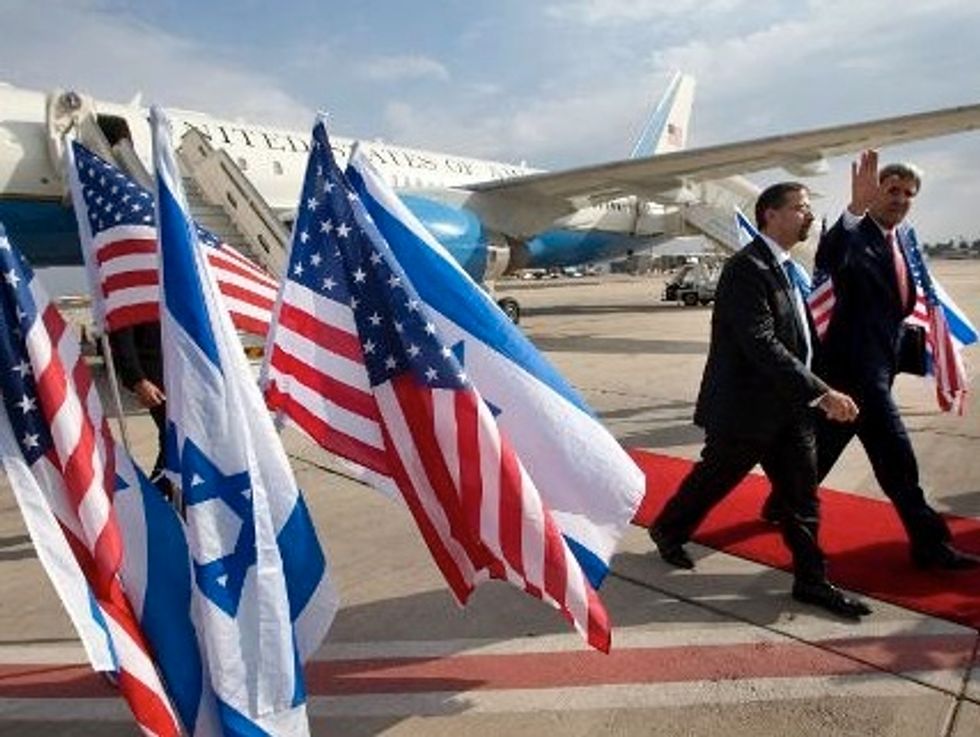 Ben Gurion (Israel) (AFP) – Israeli Prime Minister Benjamin Netanyahu warned John Kerry Friday he was offering Iran the "deal of the century" as the U.S. top diplomat headed to landmark talks in Geneva seeking a nuclear agreement.
Netanyahu vowed that Israel would not be bound by any international agreement on Iran's nuclear program and reserved the right to do whatever is necessary to defend itself — a clear allusion to a pre-emptive military strike.
Meeting with the U.S. Secretary of State on the tarmac of Ben Gurion airport near Tel Aviv, the Israeli leader, a fierce opponent of any let-up in sanctions, lashed out at the world powers' cautious rapprochement with Iran and denounced the proposed agreement being hammered out in Switzerland.
Kerry flew in from Amman for a brief stopover in Tel Aviv where he held a two-hour meeting with Netanyahu in a bid to soothe Israeli anger ahead of his arrival in Geneva for a landmark three-way meeting with Iranian Foreign Minister Mohammad Javad Zarif and EU foreign policy chief Catherine Ashton.
"Iran got the deal of the century and the international community got a bad deal, this is a very bad deal. Israel utterly rejects it," Netanyahu told reporters of the proposals under discussion.
"Israel is not obliged by this agreement and Israel will do everything it needs to defend itself and the security of its people."
Israel, which has the Middle East's sole if undeclared nuclear arsenal, views a nuclear-armed Iran as an existential threat and has consistently refused to rule out a pre-emptive military strike to prevent that from happening.
"I reminded him (Kerry) that he said that no deal is better than a bad deal. And the deal that is being discussed in Geneva right now is a bad deal," Netanyahu said after meeting the U.S. top diplomat.
"Iran is not required to take apart even one (uranium enrichment) centrifuge. But the international community is relieving sanctions on Iran for the first time after many years.
"I urge Secretary Kerry not to rush to sign, to wait, to reconsider, to get a good deal," Netanyahu said.
Washington has made clear that Kerry's arrival in Geneva does not signal that there is a done deal with Iran.
"In an effort to help narrow the differences in negotiations, Secretary Kerry will travel to Geneva, Switzerland today at the invitation of EU High Representative Ashton to hold a trilateral meeting with High Representative Ashton and Foreign Minister Zarif," State Department spokeswoman Jen Psaki said.

Western governments — and Israel — suspect Iran of seeking to develop a nuclear weapons capability under cover of its civilian program.
Tehran denies any such ambition and, since President Hassan Rouhani took office in August, has made overtures suggesting it is prepared to scale back its enrichment of uranium in return for the easing of crippling Western sanctions.
Washington, which has not had diplomatic relations with Iran for three decades, has repeatedly said it is going into the talks with eyes wide open, seeking to explore the diplomatic possibilities of bringing its suspect nuclear program under international control.
A senior State Department official said that since the first round of talks with the Rouhani administration last month, Kerry has been open to the possibility of travelling to Geneva for this current round if it would "help narrow differences."
So far, Western officials have described the current talks as "substantive" and "productive."
"There is a window of opportunity now that has been created by the Iranian people… and that opportunity needs to be seized," Zarif said after the first day of talks on Thursday.
Iran is anxious for relief from crippling Western economic sanctions that have cut oil revenues by more than half, caused the value of the rial to plunge and pushed inflation above 40 percent.
The West is keen to seize a rare opportunity to build bridges with Iran after decades of hostility, opening the door to engaging with Tehran on other issues like the conflict in Syria, where Iran has backed President Bashar al-Assad against insurgents.
AFP Photo/Jason Reed