Israel, Hamas Slide Towards Major Gaza Conflict
@AFP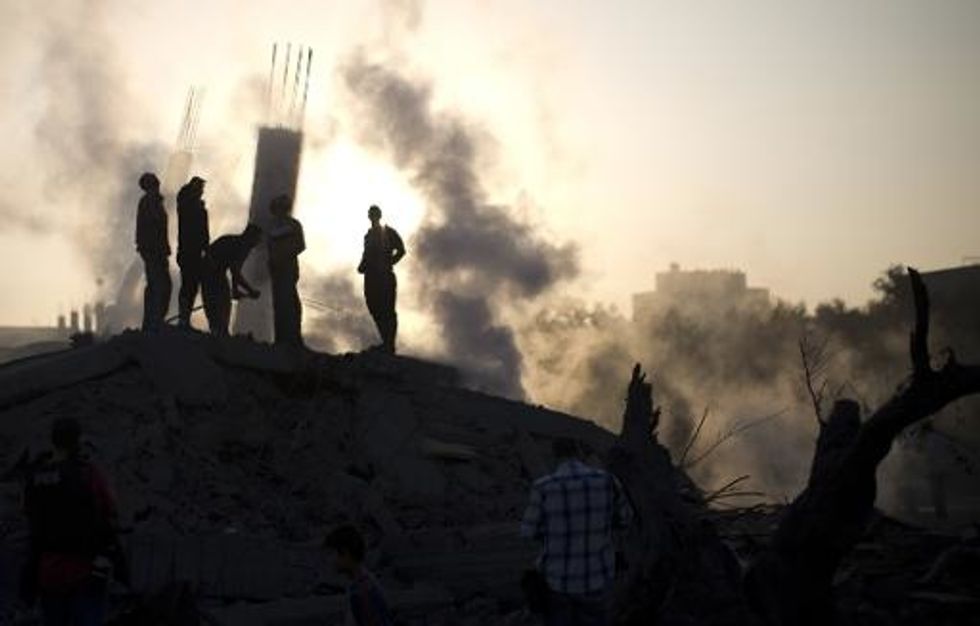 Gaza City (Palestinian Territories) (AFP) – Israeli warplanes killed 13 Palestinians in Gaza on Tuesday, with Israel weighing "all options" in a new drive to stamp out Hamas rocket fire as the two sides slid toward another major conflict.
The most serious flare-up over the Gaza Strip since November 2012 comes as Israel struggles to contain a wave of violence in Arab towns over the grisly murder of a Palestinian teenager by Jewish extremists.
Palestinian president Mahmud Abbas demanded that Israel "immediately stop" its air campaign, dubbed Operation Protective Edge.
But Prime Minister Benjamin Netanyahu was expected to order a "significant broadening" of the operation, army radio said, quoting a source close to the premier.
After nearly four weeks of intensifying rocket fire on the south, Israel appeared bent on dealing the Islamist Hamas movement a heavy blow, with the cabinet authorizing the call-up of some 40,000 reservists.
In the worst strike, a missile slammed into a house in the southern city of Khan Yunis killing seven people, among them two teenagers, and wounding 25, emergency services spokesman Ashraf al-Qudra told AFP.
Witnesses said an Israeli drone fired a warning flare, prompting relatives and neighbors to gather at the house as a human shield.
But shortly afterwards, an F-16 warplane fired a missile that leveled the building.
In response to the pounding, Hamas spokesman Sami Abu Zuhri said all Israelis would be potential targets for retaliation.
"The Khan Yunis massacre… of children is a horrendous war crime, and all Israelis have now become legitimate targets for the resistance," Abu Zuhri wrote on his Facebook page.
In another strike, east of Gaza City, two people were killed, Qudra said, without giving details on their identities.
Earlier, three people were killed in a separate strike on a car in central Gaza City, he said, correcting an earlier report of four fatalities.
Relatives told AFP all three were Hamas militants. One was identified as Mohammed Shaaban, 32, a senior commander who ran the Brigades' naval unit.
Meanwhile, the military was preparing all options to stamp out rocket fire from Gaza, including a ground assault, a senior Israeli official told AFP.
"The army is preparing for all possible scenarios, including an invasion or a ground operation," he said.
Military spokesman General Moti Almoz also confirmed preparations for a possible ground offensive.
"We have been instructed by the political echelon to hit Hamas hard," he told army radio, saying the campaign against Hamas would happen "in stages."
"All options are on the table; all these steps are being considered. Two brigades, which are currently stationed around the Gaza Strip, are prepared and ready, and in the coming days, more will arrive," he said.
An army statement said the government authorized the call-up of 40,000 reservists.
Around Gaza, dozens of tanks and soldiers could be seen massing along the border, AFP correspondents reported.
Defence Minister Moshe Yaalon warned it was likely to be a protracted campaign.
"We are preparing for a campaign against Hamas, which will not end in just a few days," he said in a statement which defined the aim as being "to exact a very heavy price from Hamas."
Since June 12, when the current round of tit-for-tat violence began, more than 250 rockets have hit southern Israel, with another 40 intercepted by the Iron Dome air defense system.
So far no Israelis have been killed.
Since midnight Monday, militants have fired more than 130 rockets, an army spokeswoman told AFP.
All schools and summer camps were cancelled within a 25-mile radius of Gaza, except those being held in protected spaces, army radio reported.
"We have to hit Hamas because our power of deterrence has been reduced," Interior Minister Gideon Saar told public radio. "No one is enthusiastic about the idea of a military confrontation, but we cannot hesitate any more."
The rocket fire drew a strong reaction from Washington and Brussels.
"We strongly condemn the continuing rocket fire into Israel, but we also support Israel's right to defend itself against these attacks," U.S. State Department spokeswoman Jen Psaki said.
On a visit to southern Israel, EU Ambassador Lars Gaza Andersen also denounced the ongoing fire, expressing "unreserved solidarity" with those living there.
"Indiscriminate shooting of rockets against innocent civilians can never be a legitimate response," he said in remarks broadcast on army radio.
British Foreign Secretary William Hague added his condemnation.
"I condemn the firing of rockets into Israel by Gaza-based militants. The UK calls on Hamas and other militant groups to stop these attacks," he said.
The Arab League, meanwhile, called for the UN Security Council to hold an urgent meeting on the Israeli air campaign in Gaza.
Amnesty International also weighed in, urging both Israel and Gaza militants to avoid all harm to innocent civilians.
"All sides to the conflict have an absolute obligation under international humanitarian law to protect the lives of civilians caught up in the intensifying hostilities," it said.
AFP Photo/Mahmud Hams